1957 Alfa Romeo Giulietta Sprint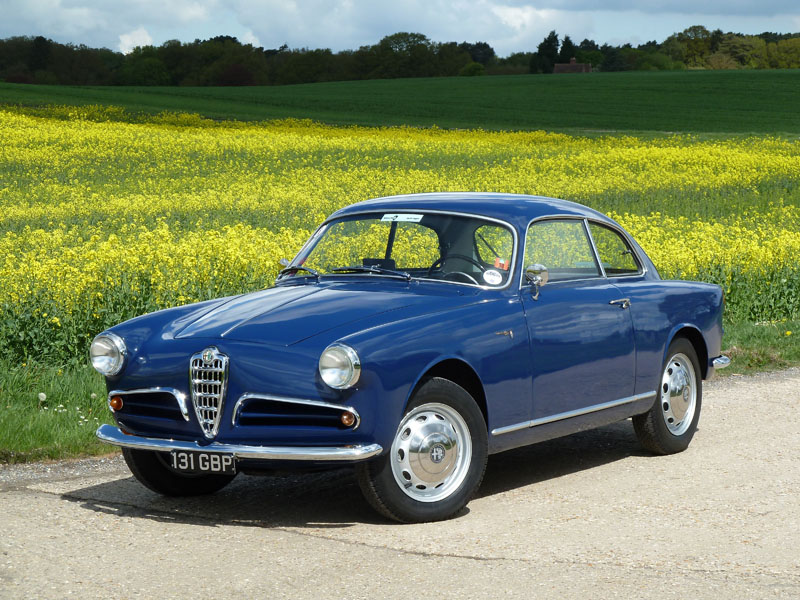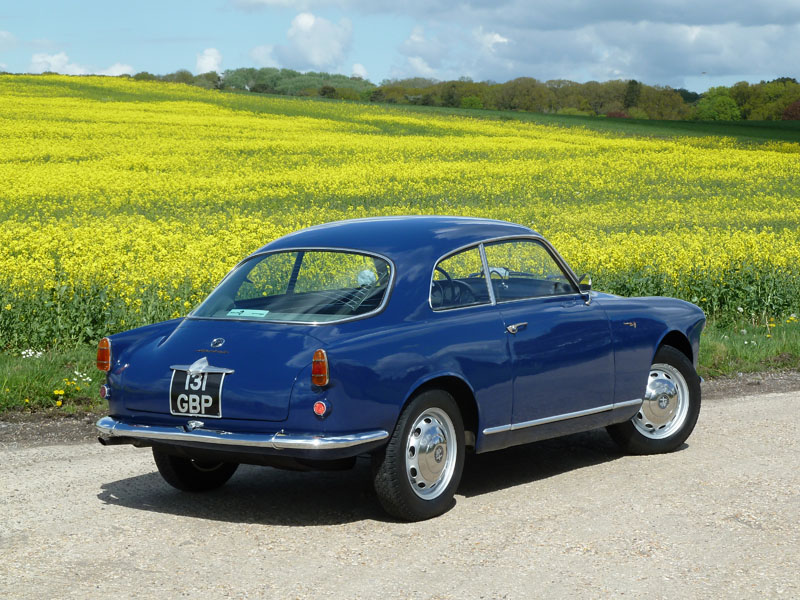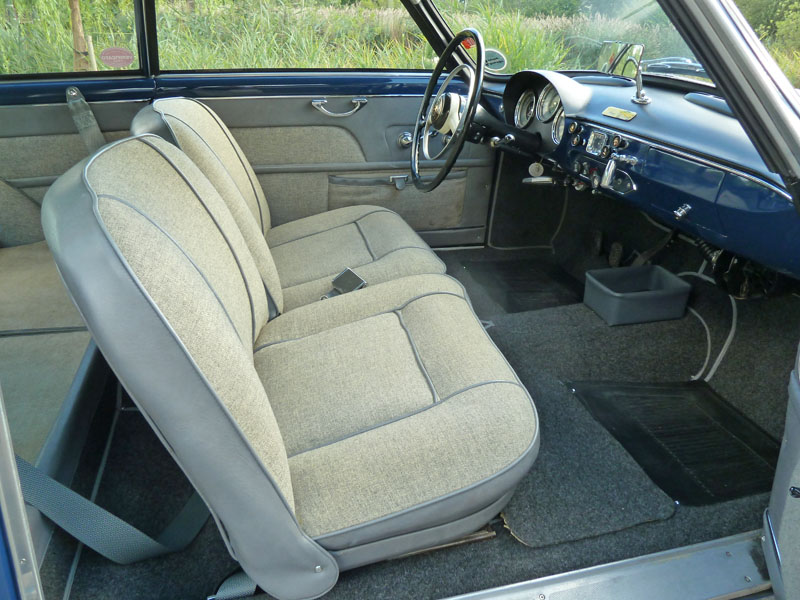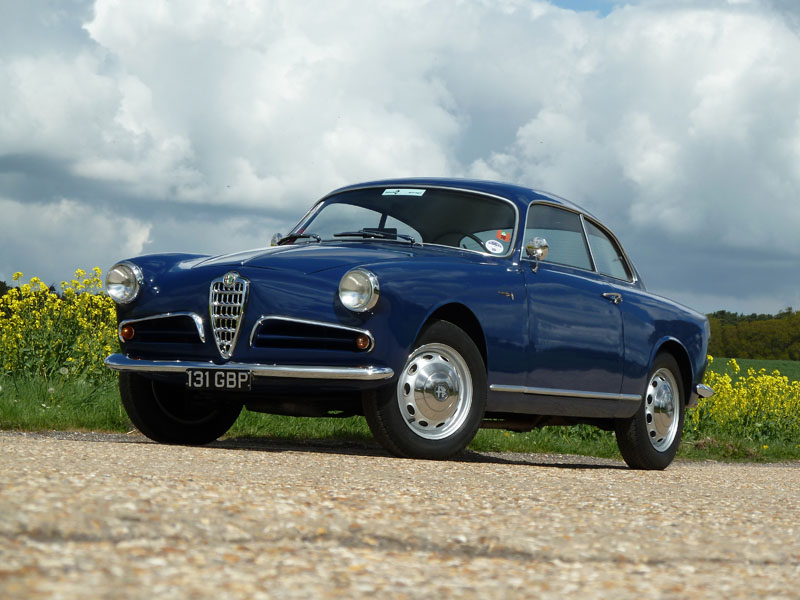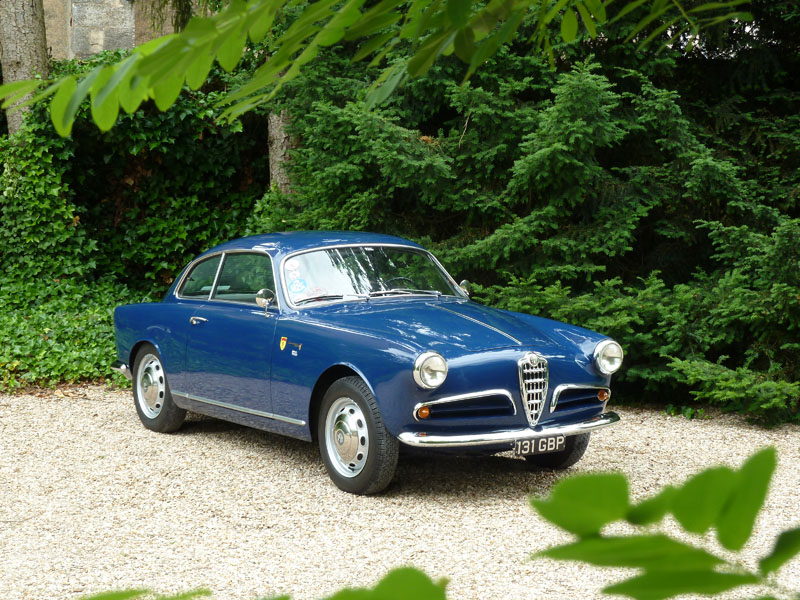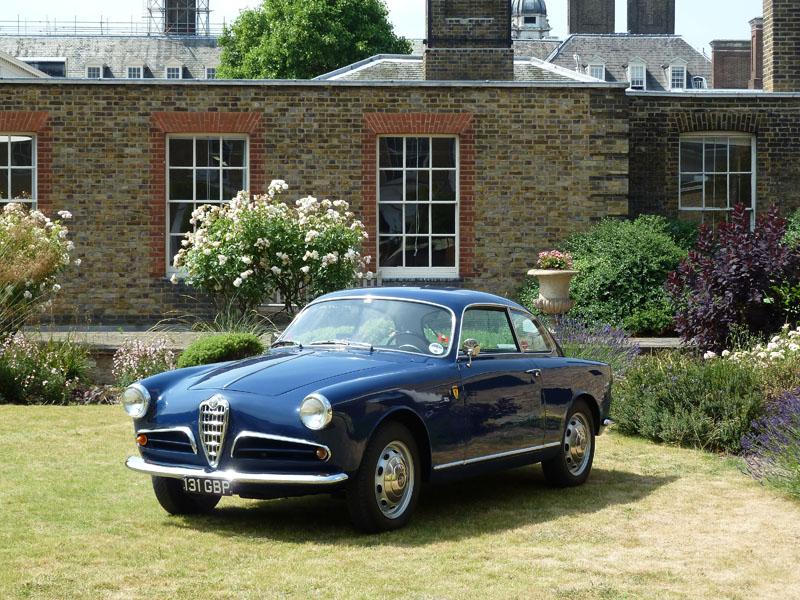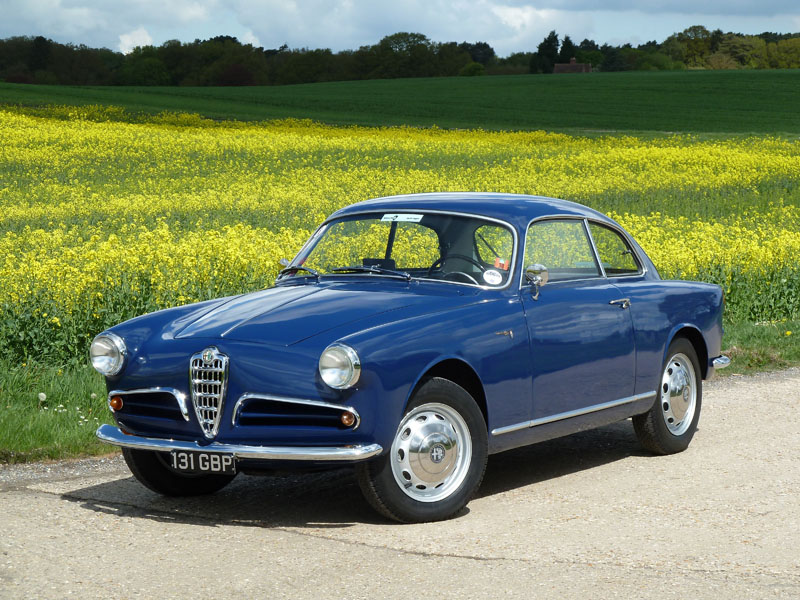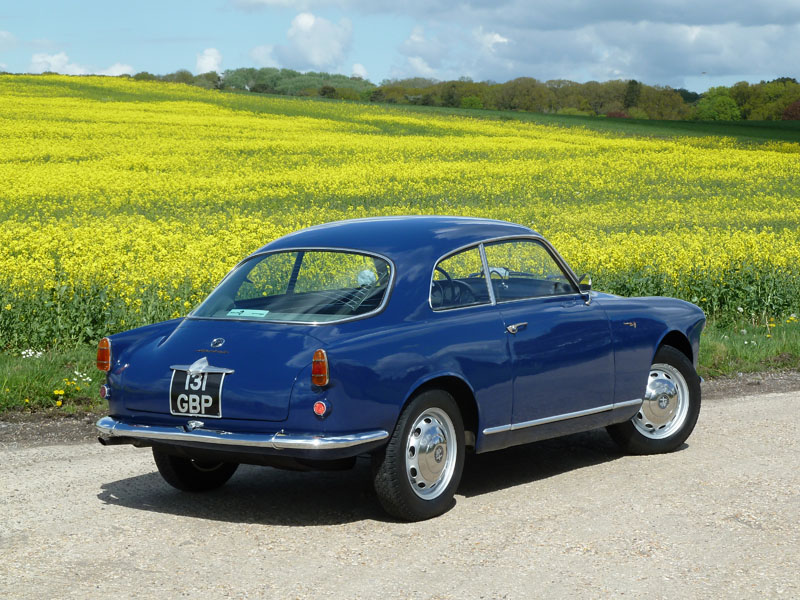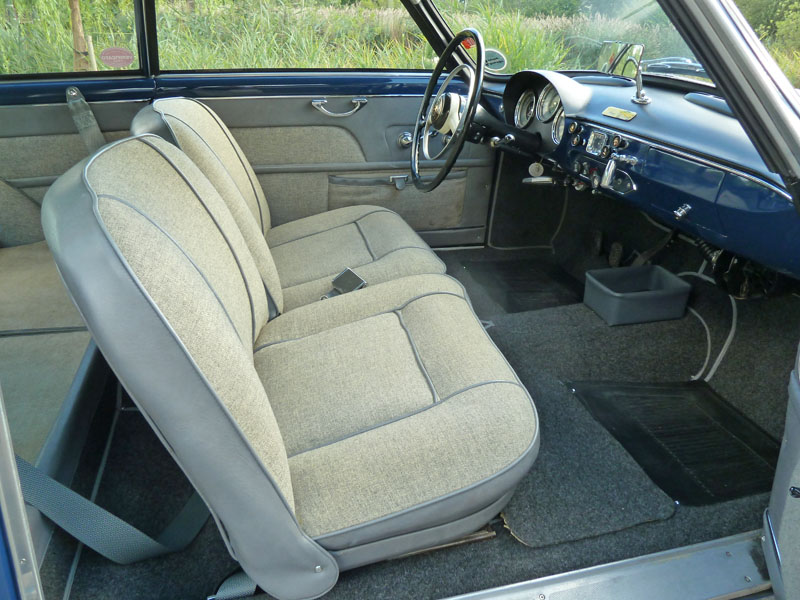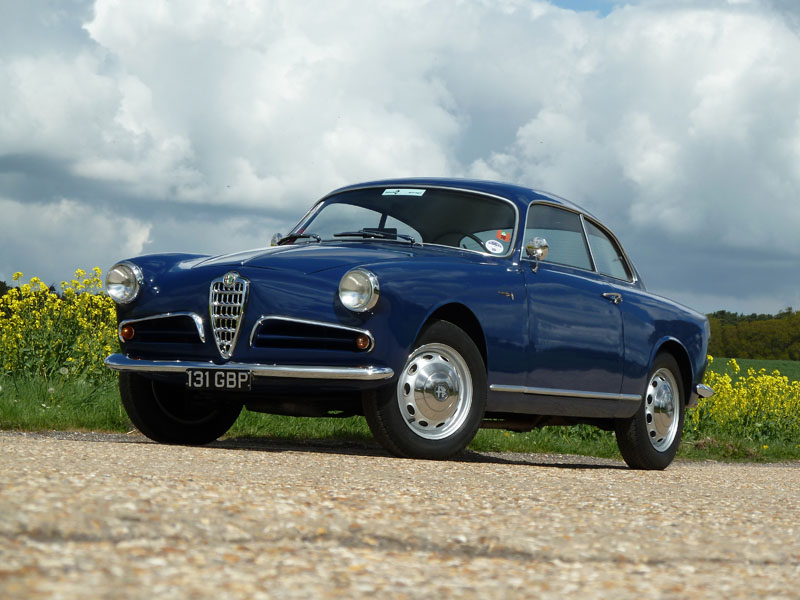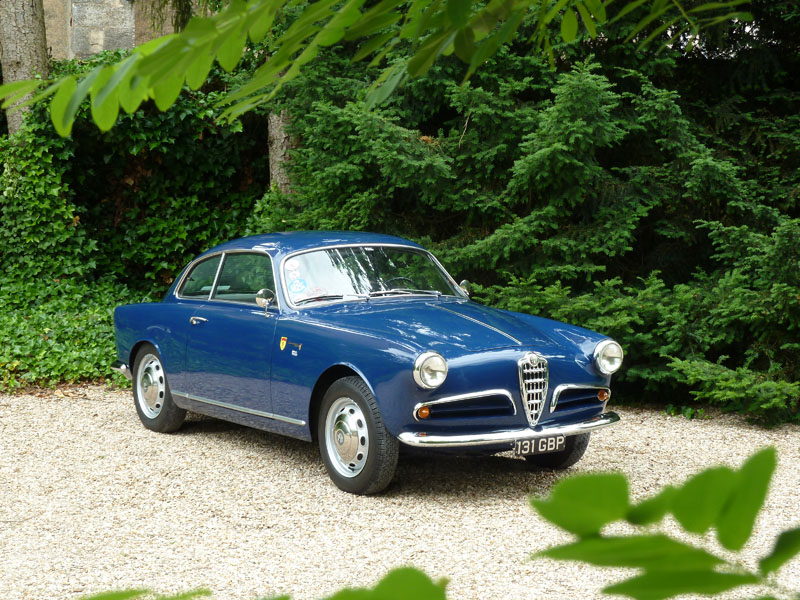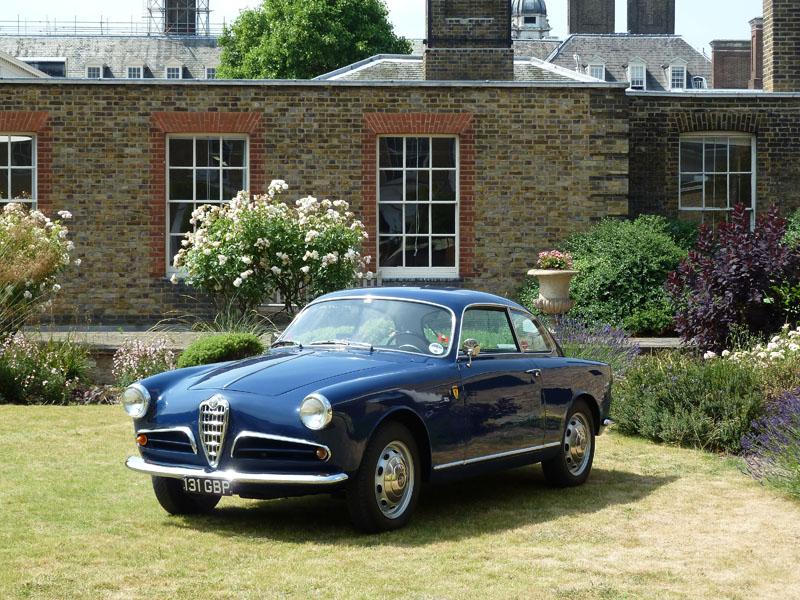 1957 Alfa Romeo Giulietta Sprint
Engine: 1290cc twin-cam four cylinder
Transmission: 4 Speed Manual
Year: 1957
Chassis #: AR1493*05439
Engine #: AR1315*04879
Registration: 131 GBP
Mileage: 232,000
Exterior Colour: Winter blue
Interior colour and material: Grey cloth / vinyl
- I acquired this early 750 series Sprint in August 2012 from the widow of Michael Payne, the first and only owner of the car (other than myself). I very sadly sold it in March 2018 due to a home renovation project.
- According to the Alfa Romeo Museum archives this Giulietta Sprint was manufactured on September 20th 1957 and bought new by Michael in Paris on October 28th 1957.
- In early October 1957 during one his regular visits to the Parisian office of his employer Schlumberger Oil, Michael visited the Salon de l'automobile at the Grand Palais in Paris. There he fell in love with the relatively new and rarely seen Giulietta Sprint on the Alfa Romeo stand. Shortly after the show he contacted the Michel Rouillon Alfa Romeo dealership in Paris' Avenue Kleber (just around the corner from the Arc de Triomphe), and asked them to reserve a new Giulietta Sprint for him. He arranged to collect the Sprint (which was registered in France on the plate 2428-TTB-75) on October 28th 1957, the first day of over fifty years of Giulietta motoring in a car that was soon to be named Giulie.
- One of the reasons for the rarity of the Giulietta Sprint was its price. When the English average wage was £12 per week and the average house price was £2,330, the Giulietta Sprint cost 50% more than a Jaguar MkII 2.4 and two and a half times the price of an MGA. As Michael purchased the car tax free for export in France it cost him $2,965 (he had to pay in US Dollars) which worked out to be just over one thousand pounds.
- Michael was smitten with his new motorcar (the only new car he was ever to purchase), and promptly drove to Heemstede in Holland to show it off to his girl friend Marianne. She must have liked the car too because it was not long before Michael and Marianne were married!
- During the end of 1957 and early 1958 after his trip to Holland, Michael attended a training course in northern France (where he was able to fully test the handling characteristics of a Sprint in the snow) prior to starting a new job contract in Libya. After that course, another was attended in Pau before he drove along the French Riviera and down to southern Italy before catching a ferry to Benghazi in Libya, a country that was to become Giulie's home for the next two and a half years.
- Giulie was registered in Libya as LB-8487 on April 5th 1958 and was driven enthusiastically up and down the coastal roads and also to visit oil rig sites for Michael's work.
- During mid-contract leave, Giulie was shipped to Italy and driven across Europe to England, via Holland. The return trip was even more adventurous, with Michael and Marianne driving down through France to Marseille where they caught the boat to Tunis, followed by what must have been a fabulous drive across the coast of Tunisia, into Libya, and back to Benghazi, via Tripoli. Imagine doing that.....in 1957.....in a Giulietta Sprint! The car must have looked incredible racing along the dusty roads.
- When the contract finished, Michael and a friend went to Parma in Italy in October 1960 to have some maintenance carried out on Giulie at an Alfa Romeo specialist he had been recommended to visit. There he had the Solex carburettor replaced by a Weber unit and some more sporty cam-shafts fitted. A growing family meant that a two door coupe was no longer practical as an only car, so Michael purchased a one year old 1959 Alfa Romeo Giulietta Ti. Tina, as the Ti was soon to be called, had had a busy first year having covered over 100,000 kilometres in the exacting care of a travelling salesman. After the Ti had been bought and Giulie had been serviced, Michael and his friend set off for Rome to meet his family at the airport. Unexpectedly this journey turned out to be one of the most enjoyable drives of his life, as Michael in Giulie and his friend in Tina formed a convoy with an unknown lady in an Alfa Romeo 1900 shortly after leaving Parma. "For a couple of hours we unashamedly raced each other. First one and then the other leading on the twisty mountainous roads". What fabulous fun!
- Michael's next contract saw he and Marianne posted to Nigeria and they decided that Giulie would remain in England this time. After Tina was prepared by Thomson and Taylor for her Nigerian expedition in May 1961 and taken by them to Tilbury Docks for shipping to Port Harcourt, a deposit was paid to Customs and Excise in December 1961 to allow Giulie to stay in England. Sadly though, when Michael and Marianne decided to return to England a few months later, the hassle of bringing Tina back to England and dealing with Customs and Excise made them sell her to a friend of theirs near Enugu.
- On returning to England in around July 1962 and residing in Ferring, West Sussex, Michael and Marianne got Giulie registered in England as 131-GBP and continued to use her for daily driving duties.
- Michael clearly carried out most of the maintenance on Giulie himself as the majority of the invoices in the enormous history folder for the car are relating to the purchase of parts. Invoices from garages and Alfa Romeo dealers of the time (some on lovely period headed paper) are from many names that are now famously linked with the marque, such as: Antonio Bombarda of Tripoli, Libya, Thomson and Taylor (Brooklands) Limited of Surrey, K.N. Rudd (Engineers) Limited of Worthing, West Sussex, Brook Lane Garage of Ferring, West Sussex, Vandervell Products Limited, E.L. Bouts Motors Limited of Wolverhampton, and two early invoices (dated 1970 and 1971) from E.B. Spares in Wiltshire.
- After many years and 171,600 kilometres of thoroughly enjoyable motoring and continuous repairs, it became obvious to Michael that Giulie was in need of a full restoration. Disassembly of the car started in the early 1970's but then the repairs ground to a halt due to both work commitments and several house moves, firstly to Orpington in Kent, then Sherston in Wiltshire, and finally to Dauntsey in Wiltshire. Fortunately Michael had the foresight to accurately document and box all of the parts he removed from the car, which naturally made reassembly slightly easier when he was to resume the restoration about twenty five years later.
- Shortly after retiring, Michael resumed Giulie's restoration in around 1998, and after three years of committed hard work, Giulie was effectively reborn in 2001 into the car she was over forty years earlier. The first MOT test which Giulie had was in March 2001, and it was understandably a very exciting time for Michael and his family. However there were still some items the needed to be finished in order for the restoration to be complete, but at least he could enjoy driving his cherished car once again. Michael kept several diaries of the restoration, accurately documenting which jobs were done on what day, and how long each one of them took, along with sketched diagrams for certain tasks in case steps needed to be retraced.
- After Giulie's restoration was completed Michael and Marianne certainly did enjoy the delights of Giulietta Sprint motoring once more. In January 2008 Michael wrote an article for Classic and Sportscar Magazine (that was published in their April 2008 edition) about his fifty years of Giulietta ownership, and by then he had added an incredible 42,000 kilometres to Giulie's already high reading odometer. In addition to general enthusiastic usage, this had been achieved by visiting many Giulietta meetings organised by both the English and Dutch Registers, as well as attending the fiftieth anniversary celebrations of the Giulietta in Milan in 2004. To celebrate both Giulie's fiftieth birthday and his fifty years of ownership, Michael and one of his sons took Giulie to Milan in September 2007 to visit the Alfa Romeo Museum, amongst other things. It is amazing to learn that during Michael's fifty years of driving Giulie, he visited at least ten countries both in Europe and North Africa.
- Very sadly Michael Payne passed away in late 2008 and his family were understandably reluctant to let the car leave their care. After one of his Sons and his Daughter drove the car to Italy for the Alfa Romeo Centenary celebrations in Milan in June 2010, the car had very little use. In July 2012 I was kindly and fortunately contacted to see if I wanted to acquire Giulie, an opportunity that I could not refuse.
- Between January and April 2013 I had several mechanical jobs carried out on the car to prepare it for the motoring season, including rebuilding the gearbox in my workshop, having the rear axle rebuilt by Cloverleaf Transmissions, having the prop-shaft balanced by Propshaft Services, having the front and rear bumpers rechromed by Derby Plating, having the wheels repainted, and fitting four new Pirelli Cinturato tyres.
- Having covered 61,000 miles since Michael's restoration was completed in 2001 it is understandable that the car is now in good rather than excellent condition. The bodywork and interior have aged well and although showing a few minor blemishes in places, the car is very presentable.
- Of great note are the documentation and history that accompany the car. The history file is volumous, starting with purchase documents and invoices from the dealership in Paris, the registration documents for its time in Libya, photographs of the car both in France and Holland when it was a few weeks old and also of its time in Libya, the original French and Libyan licence plates (plus some unused replicas of the Libyan ones I had made), photographs and a diary of the restoration, automobilia from many events and tours, and a large electronic file of magazine articles and photographs.
- This immensely charming Sprint is a very early example and is complete and original with its smaller European headlights and column change gearbox, as well as its original engine. Finished in its original and very rare Winter Blue colour, this Giulietta Sprint is a wonderfully special car, and even more so when it's extraordinary history is considered.

Events I have exhibited and participated this Alfa Romeo at:
- 96 Club Chelsea Rendezvous, The Royal Hospital Chelsea, London, October 14th 2012.
- 96 Club Chelsea Rendezvous, The Royal Hospital Chelsea, London, November 25th 2012.
- Alfaholics Track Day, Castle Combe, Wiltshire, April 13th 2013 (static display only).
- Giulietta Register AGM, Fossebridge, Gloucestershire, April 14th 2013.
- Silver Flag Hill Climb, Piacenza, Italy, June 28th to 30th 2013.
- 96 Club Chelsea Rendezvous, The Royal Hospital Chelsea, London, July 14th 2013.
- Silverstone Classic, Northamptonshire, July 27th 2013.
- Spettacolo Sportivo, Zandvoort, Holland, August 24th and 25th 2013.
- The Alfa Romeo Register Summer Lunch, Motcombe, Dorset, August 31st 2013.
- 96 Club Grand Chelsea Rendezvous, Royal Hospital, Chelsea, London, September 8th 2013.
- Goodwood Breakfast Club Italian Sunday, Chichester, West Sussex, October 6th 2013.
- Giulietta Register AGM, Cothill, Oxfordshire, April 27th 2014.
- Brooklands Italian Car Day, Brooklands, Surrey, May 3rd 2014.
- Southern Alfa Day, Osterley Park, London, September 7th 2014, won the members favourite car award.
- The Giulietta Register Tour of Wales, October 3rd to 5th 2014.
- 96 Club Rendezvous, The RAC Club, Woodcote Park, Epsom, Surrey, October 12th 2014.
- 96 Club Rendezvous, Belgravia, London, August 9th 2015.
- The Alfa Romeo Register Summer Lunch, Newbury, Berkshire, June 25th 2017.
- Alfa Romeo Owners Club National Day, Knebworth House, Hertfordshire, July 9th 2017.