1963 Alfa Romeo Giulia 1600 Spider RHD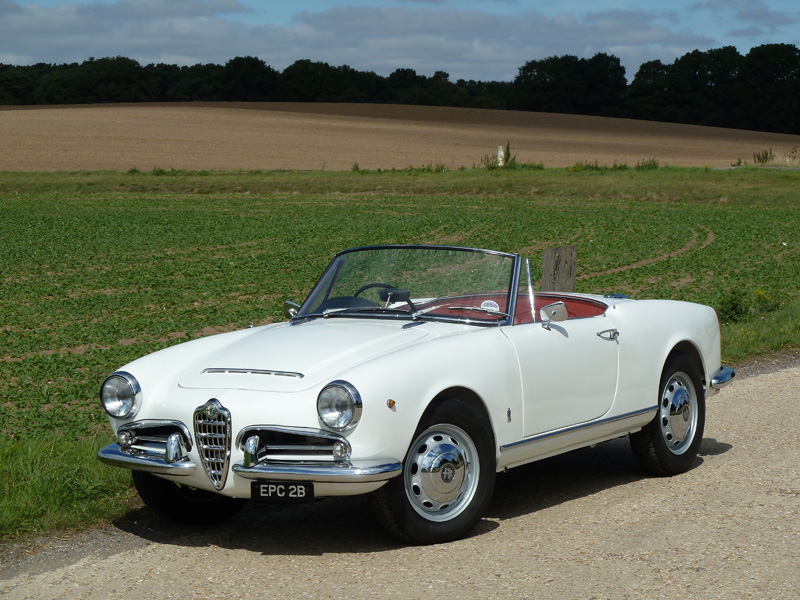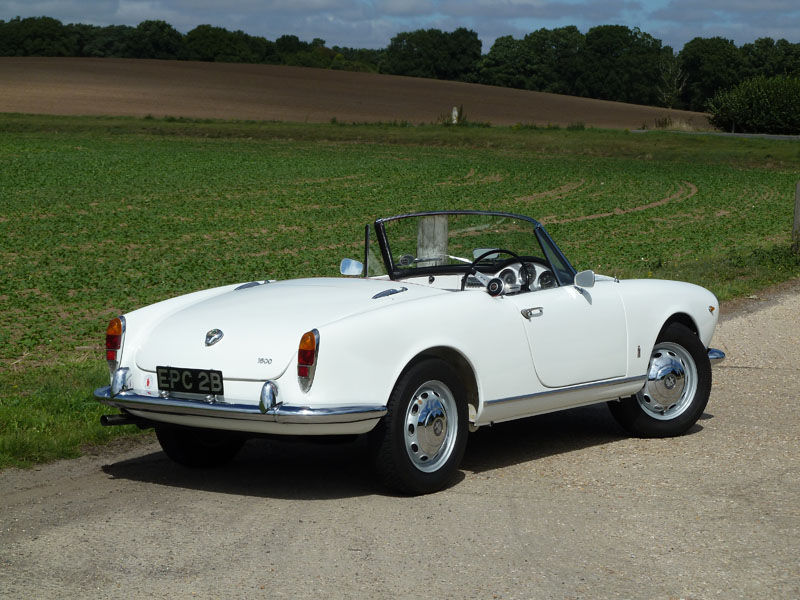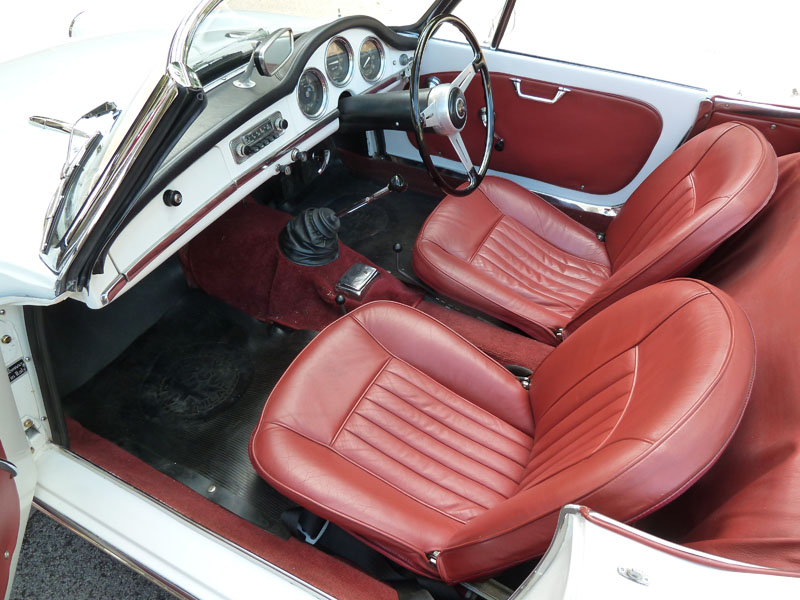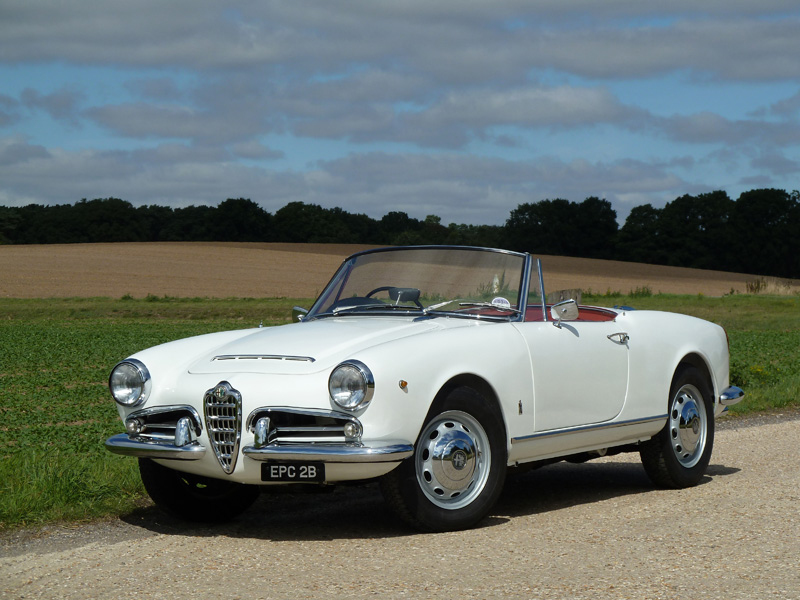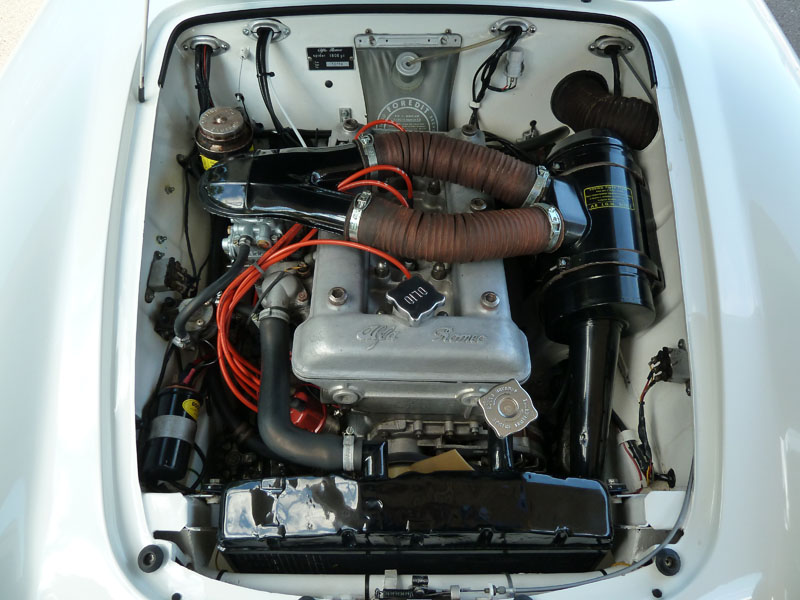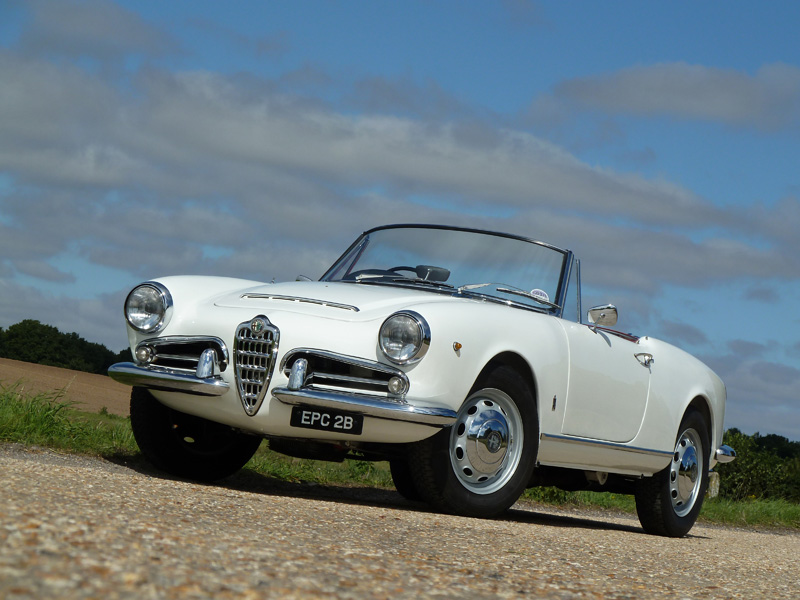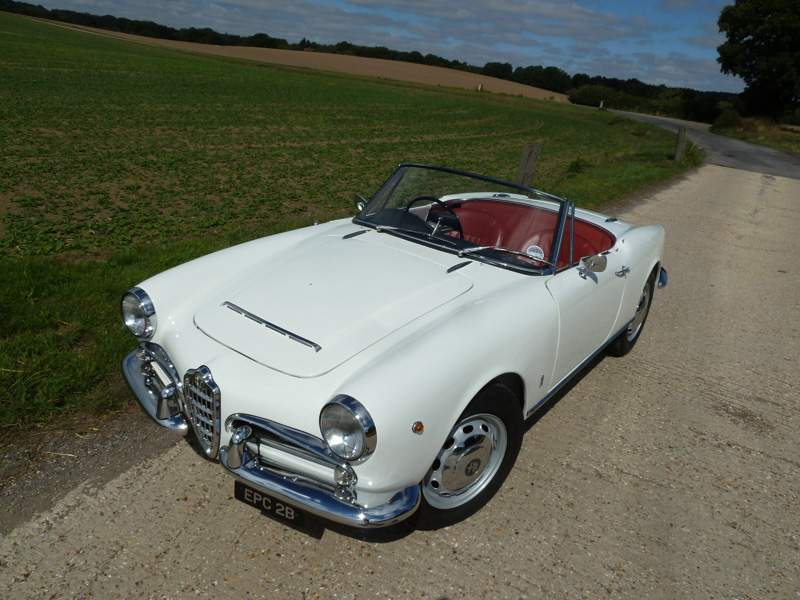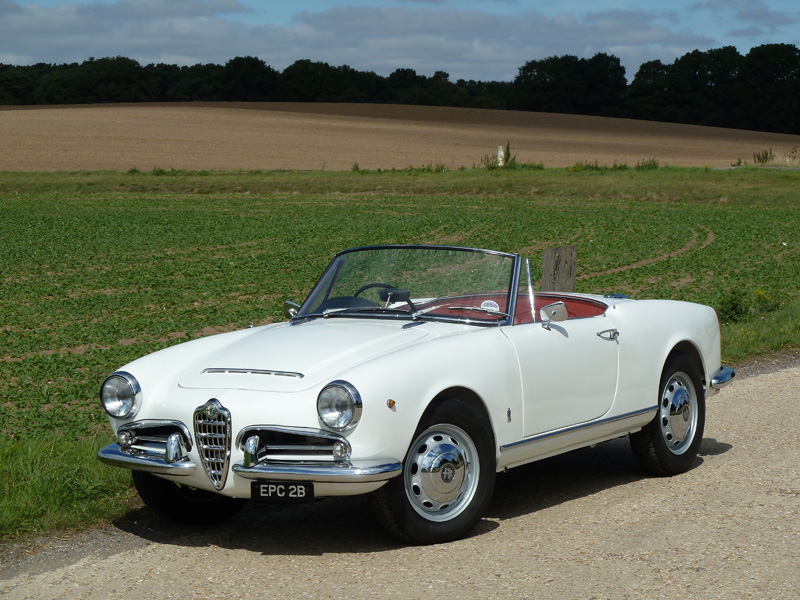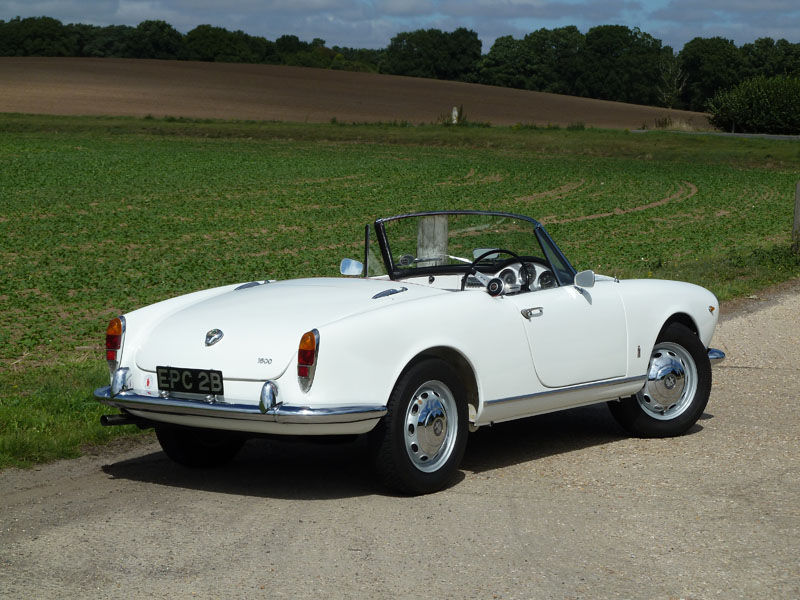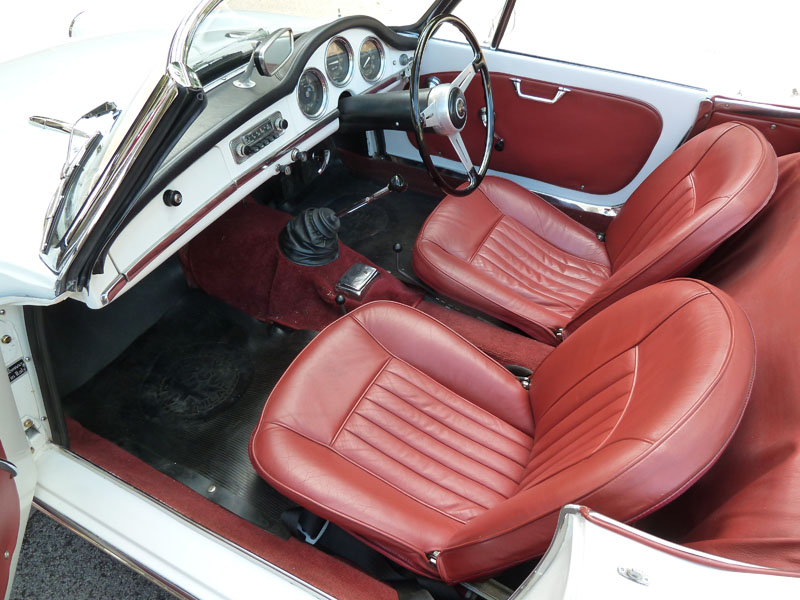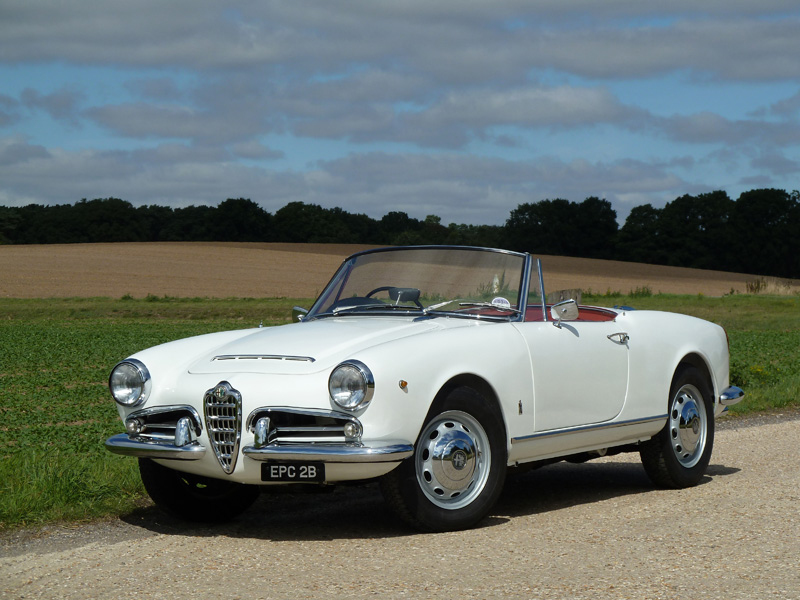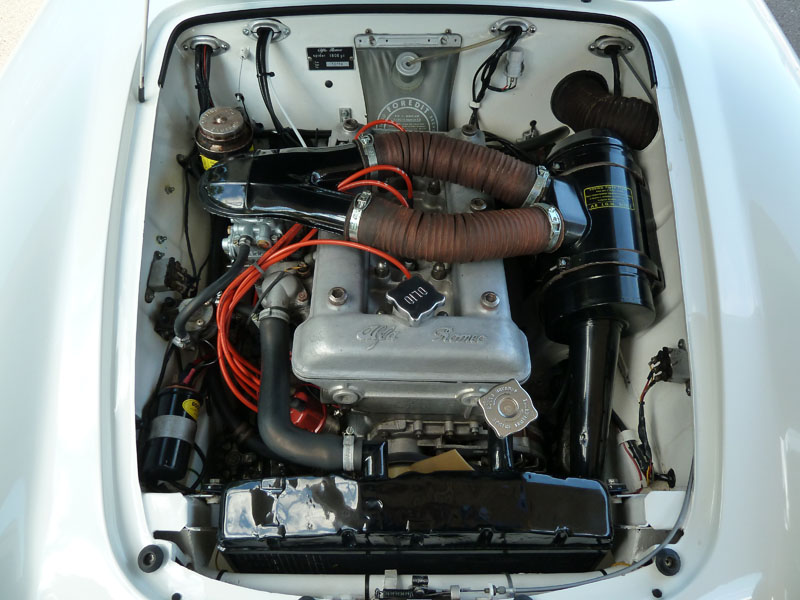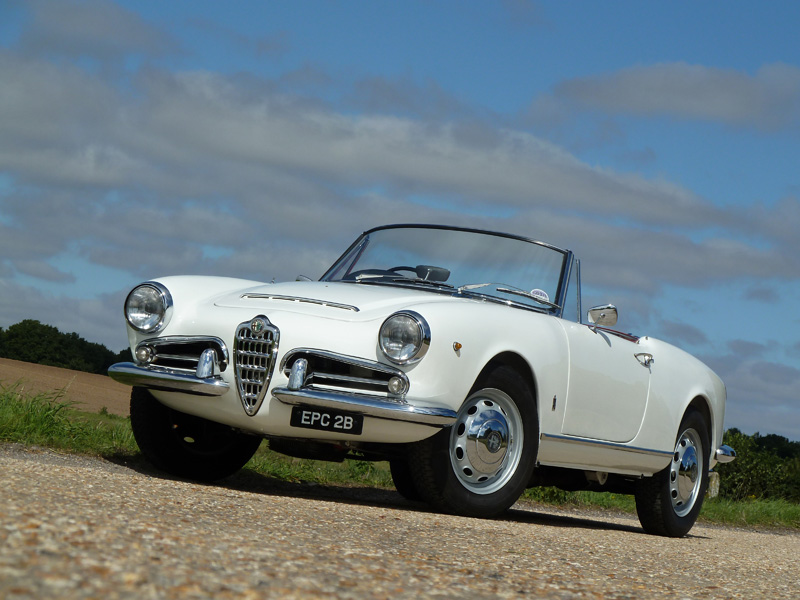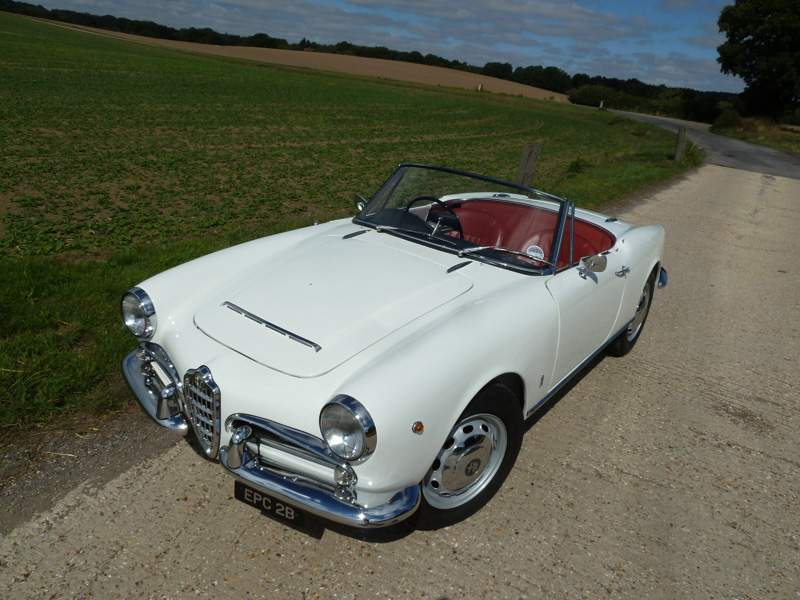 1963 Alfa Romeo Giulia 1600 Spider RHD
Engine: 1570cc twin-cam four cylinder
Transmission: 5 Speed Manual
Year: 1963
Registration: EPC 2B
Mileage:
Exterior Colour: White
Interior colour and material: Red leather
VIEWING BY APPOINTMENT ONLY PLEASE.
- According to the Alfa Romeo Museum archives this Spider was manufactured on October 29th 1963 and sold by Alfa Romeo on June 24th 1964 to Thomson and Taylor of Surrey, who were the Alfa Romeo importers at the time.
- First registered new in England on September 2nd 1964 as EPC-2B.
- This car is a very rare factory produced right hand drive version (Giulia 1600 Spider Normale), of which only 404 were made, and all in 1963.
- The original buff registration document on file shows the first owner of the car as a Sidney Miller of Rowhook, near Horsham, West Sussex, although less than a year later the car was registered to a John Rocke of Pendomer, near Yeovil, Somerset.
- Making its way further west again, the Spider was then registered in 1967 to a Claude Vallee of Cardiff in South Wales. Mr Vallee seemed to keep the registration authorities busy as he changed address three times before selling the car in 1973 to a John Gibbs of Maesteg, near Swansea, South Wales.
- The lovely and original MOT certificates on file from February 1976 (when the recorded mileage is shown as 96,330 miles) to August 1981 (4,819 miles) indicate that the car was still in the Maesteg area during this time.
- In August 1997 the Spider was purchased by Giulietta enthusiast and expert restorer Simon Gunney of Cardiff in August 1997. A letter on file to Mr Gunney from someone he had met at a show, states that the car had been purchased from "the well known Welsh comic Wayne McCarthy". Mr Gunney has confirmed to us that this was the case, and although Mr McCarthy had owned the car for some years after purchasing it from John Gibbs, he had never registered it in his name. Mr McCarthy was one of the founders of the Giulietta Register.
- Photographs on file show the car before and during Mr Gunney's restoration, and it is clear that the car was in need of much work prior to restoration. During the next three years the body and mechanicals of the Spider were expertly restored (including an engine rebuild) and an MOT certificate on file shows that the car was back on the road in July 2000 when the speedometer recorded 5,418 miles. During the restoration the interior trim had been supplied by Alfa Romeo expert trimmers Coburns of Swindon. The very skilled Mr Gunney certainly did a superb job or bringing a very rare car back to life.
- Mr Gunney continued to work on the car whilst managing to enjoy about two to three thousand miles a year in it. However once the restoration was fully completed the Spider's annual mileage increased dramatically with 6,900 miles recorded as being covered between the June 2003 and July 2004 MOT certificates, and 8,400 miles being covered between then and the September 2006 MOT certificate. The reasons for these high mileages were taking the car to Italy for the 50th Anniversary of the Alfa Romeo Giulietta in 2004, and also a couple of other European journeys, both with and without the Giulietta Register.
- After almost exactly ten years of ownership, Mr Gunney sold the car to a Gentleman who lived near Godalming in Surrey. However, after only covering about 420 miles in his six years of ownership, the Gentleman realised that the Spider clearly was not being used very much so he contact us and we purchased the car from him.
- This is a very rare car in excellent condition that has had only seven owners from new and has a very large history file. It is a rare find.