1963 Alfa Romeo Giulia 1600 Spider RHD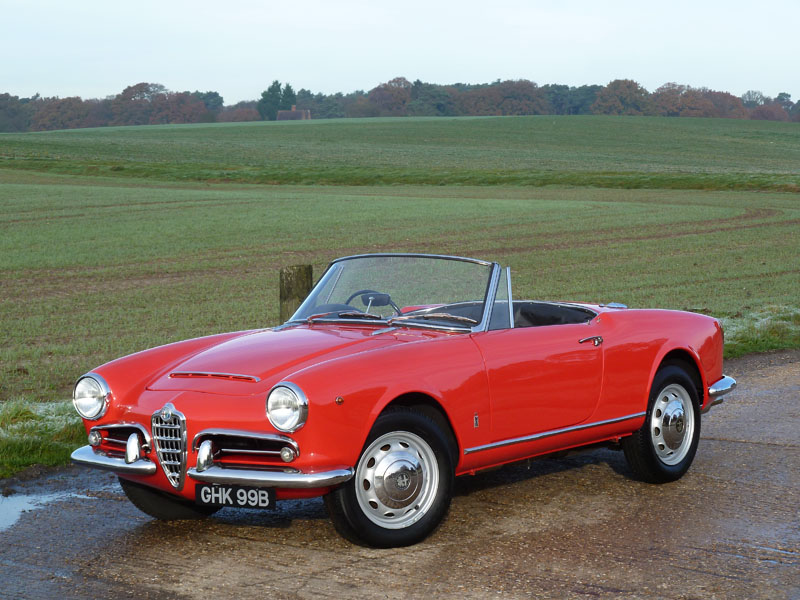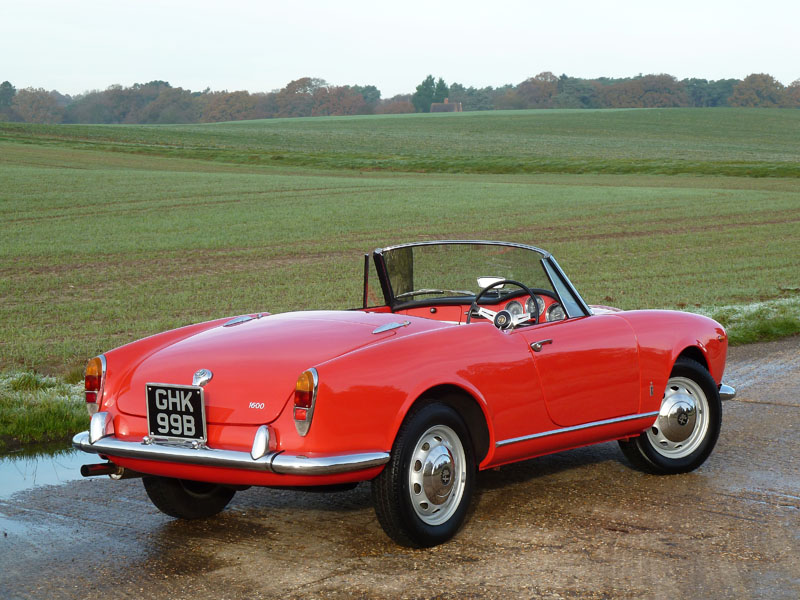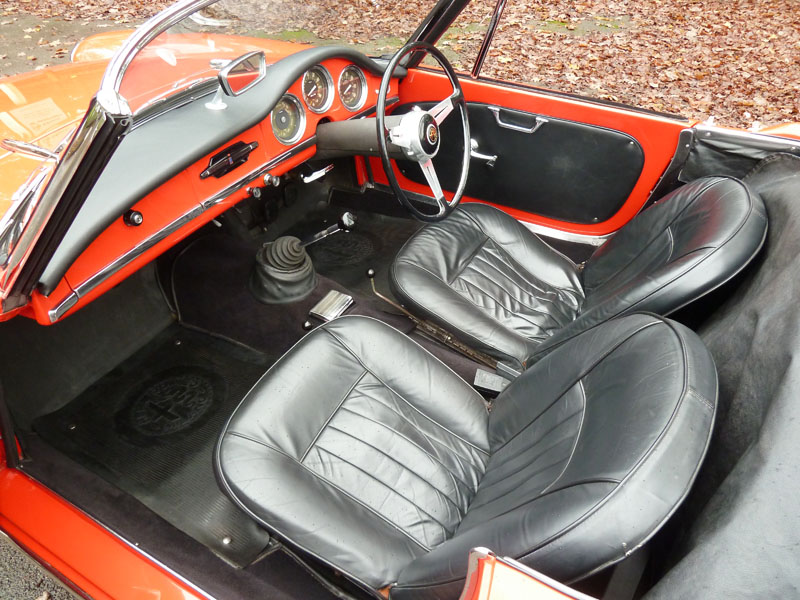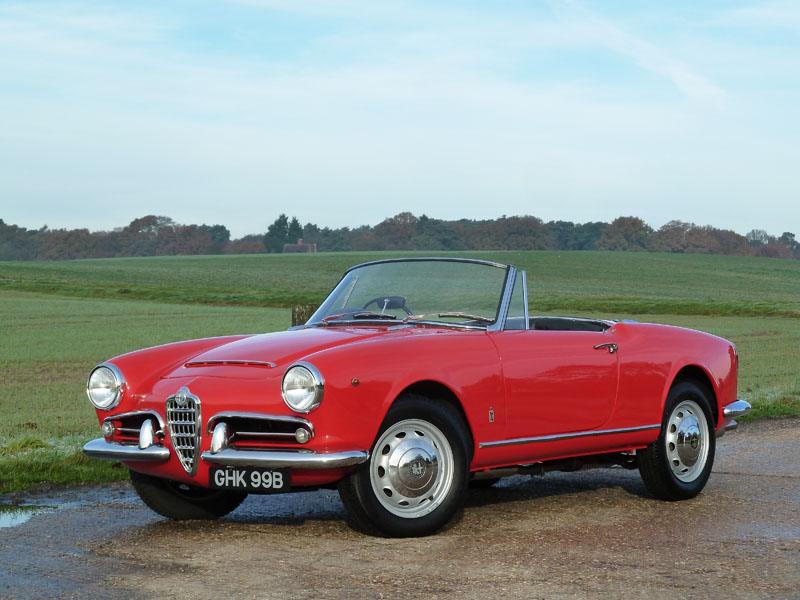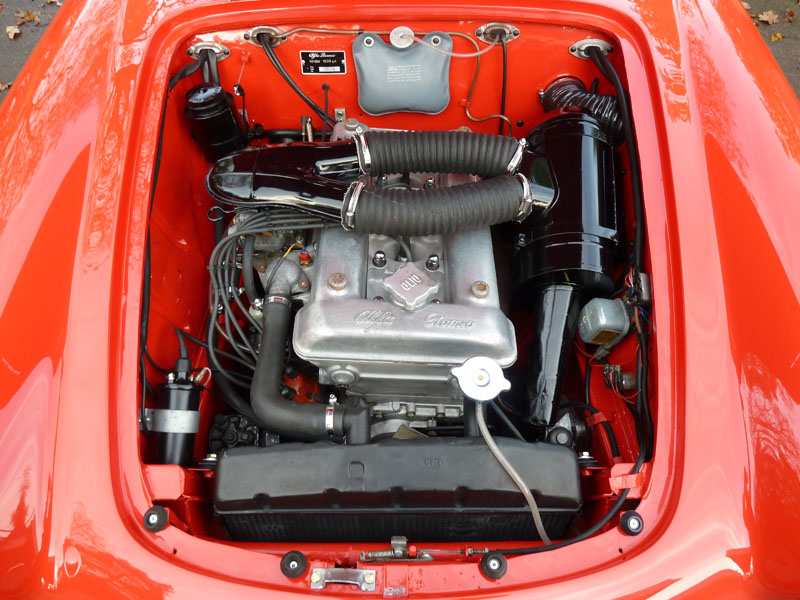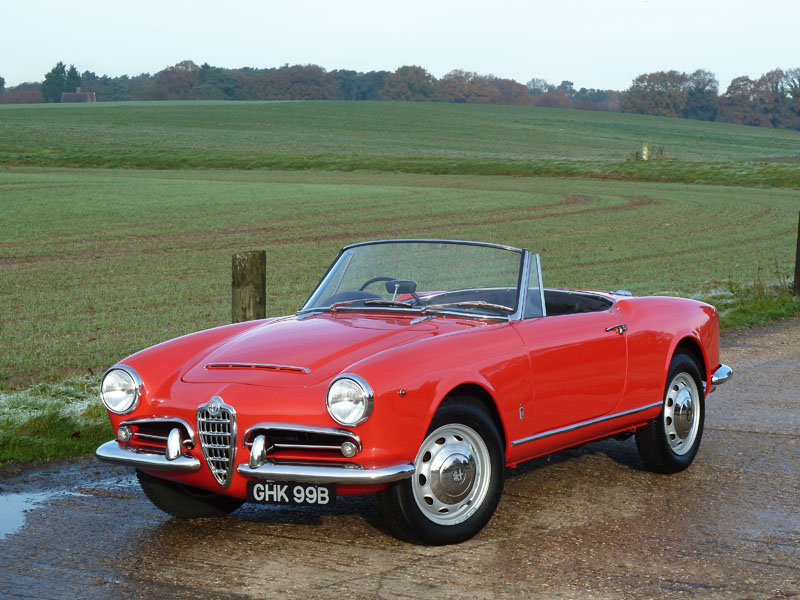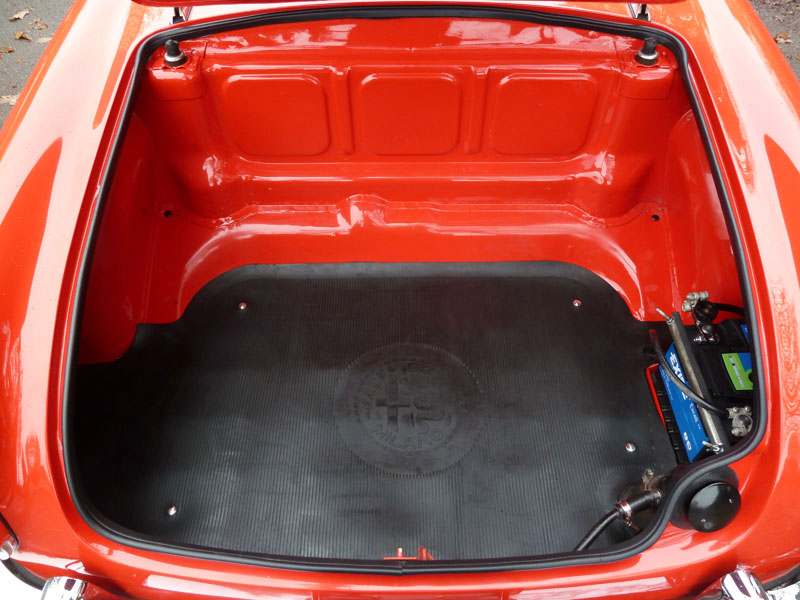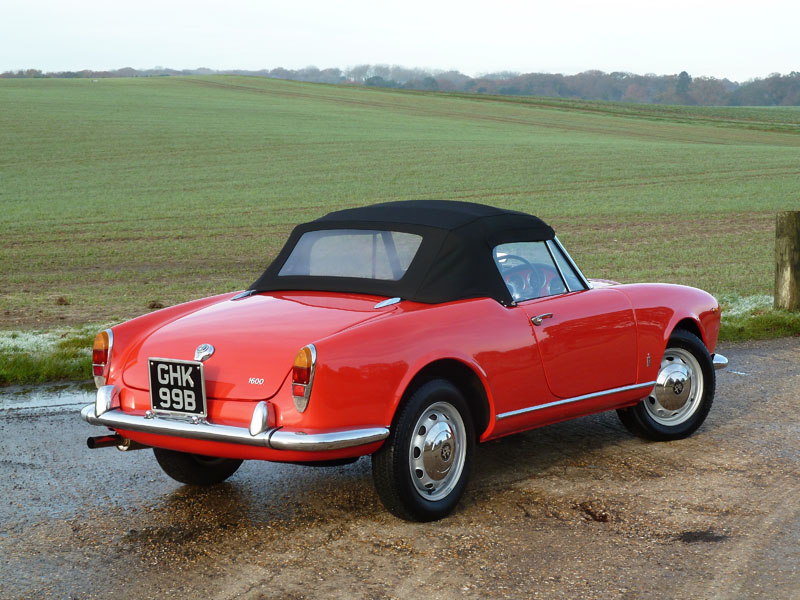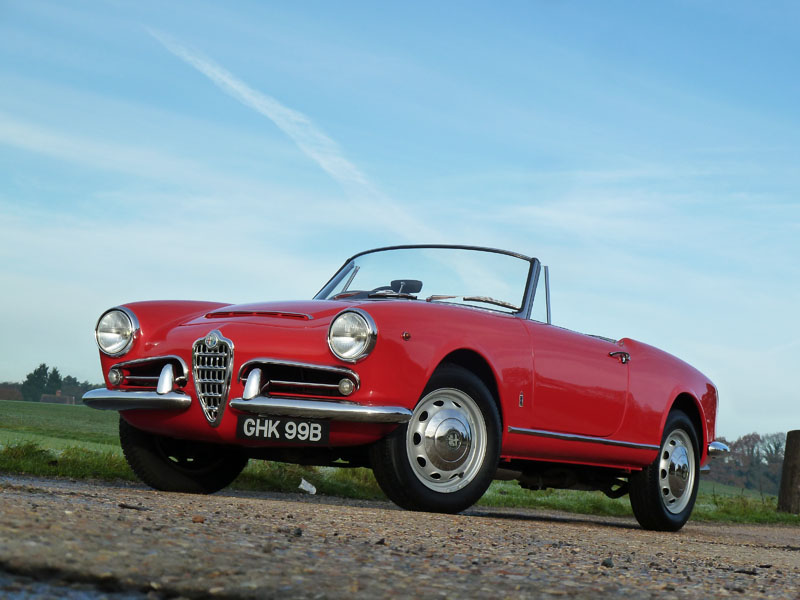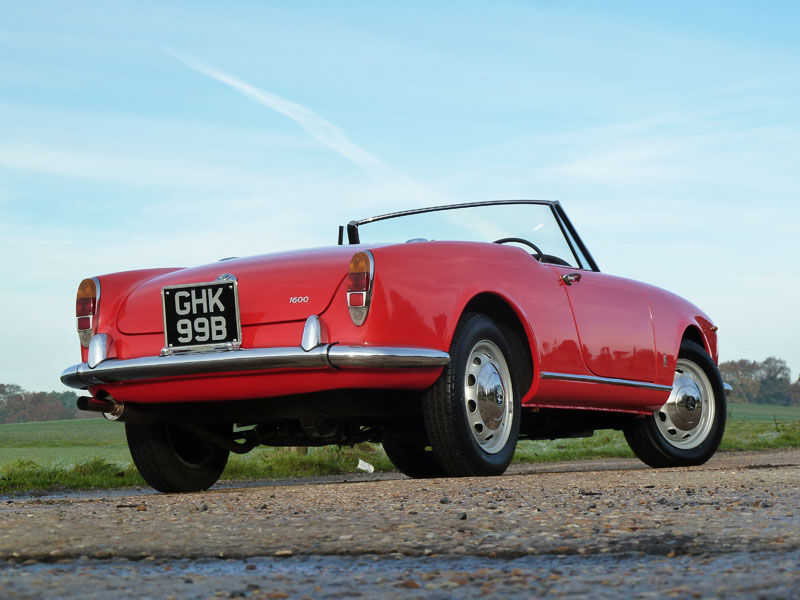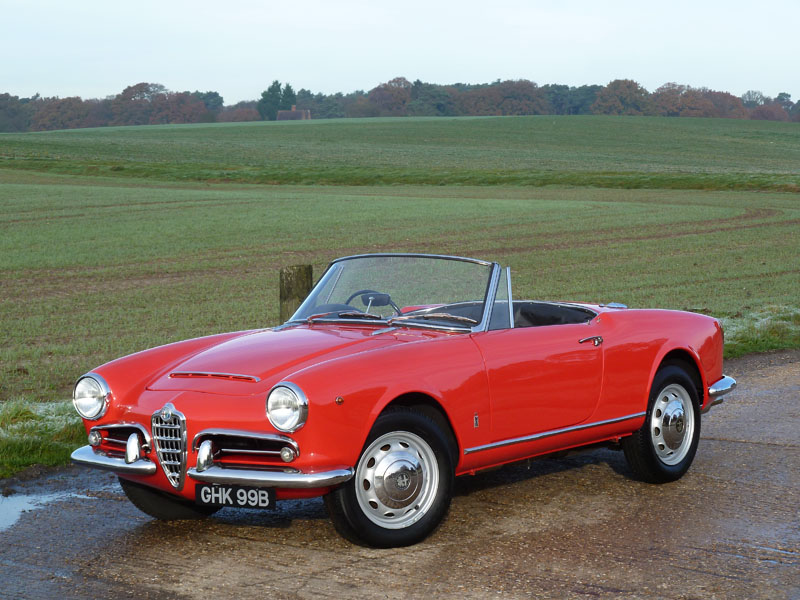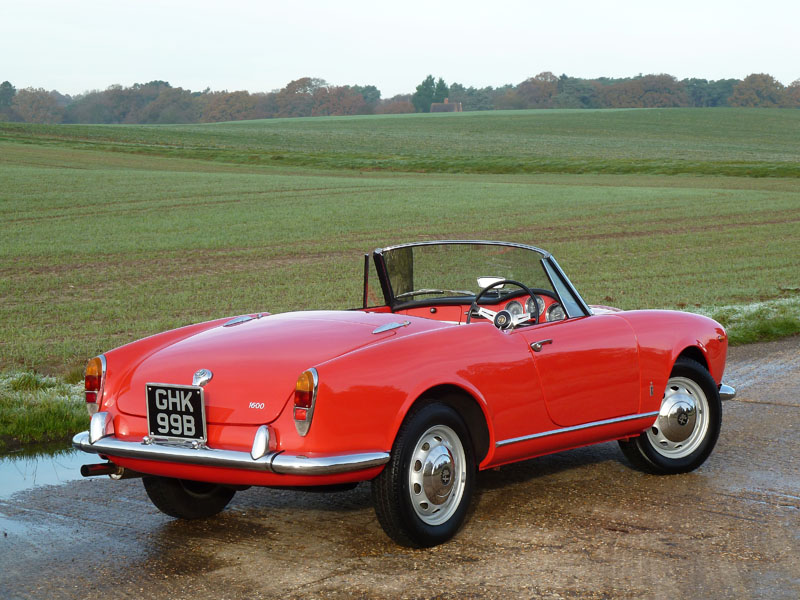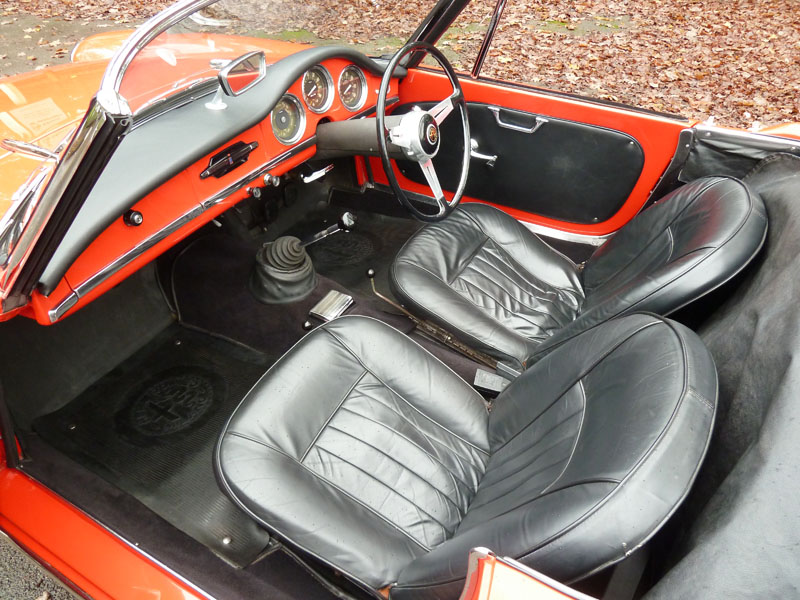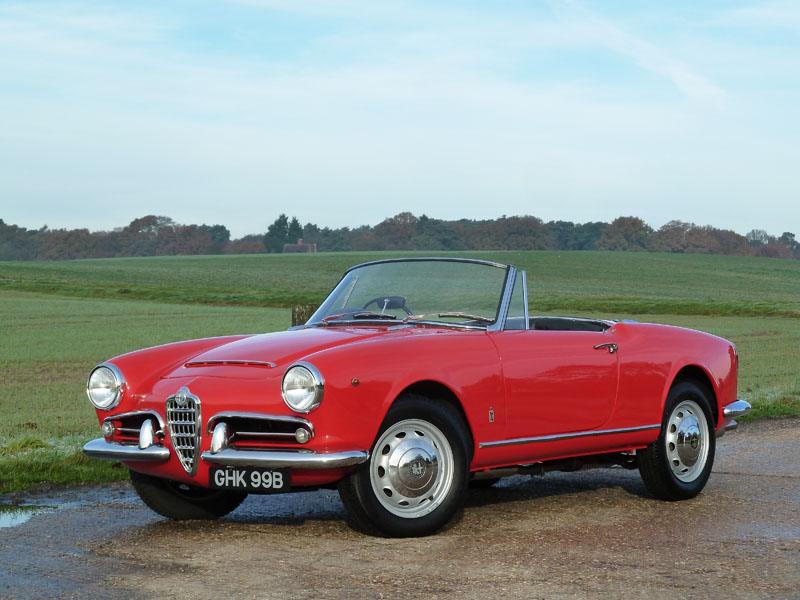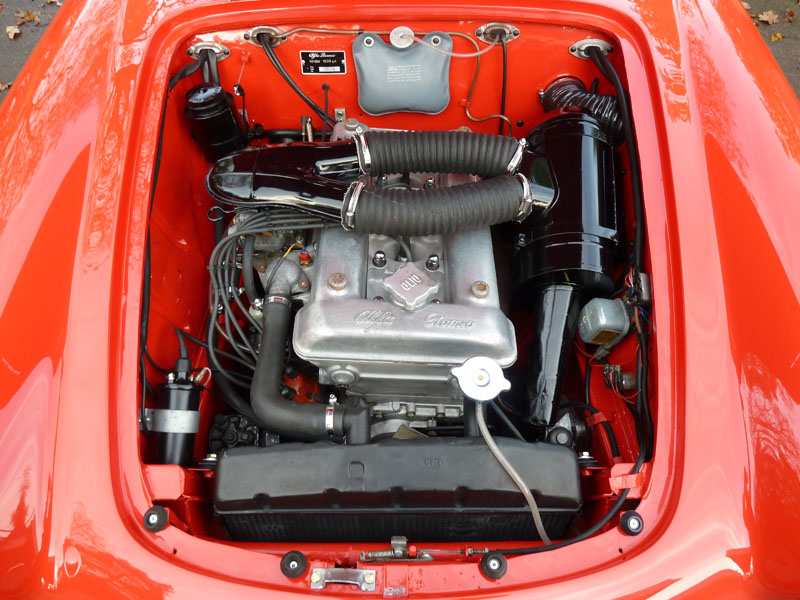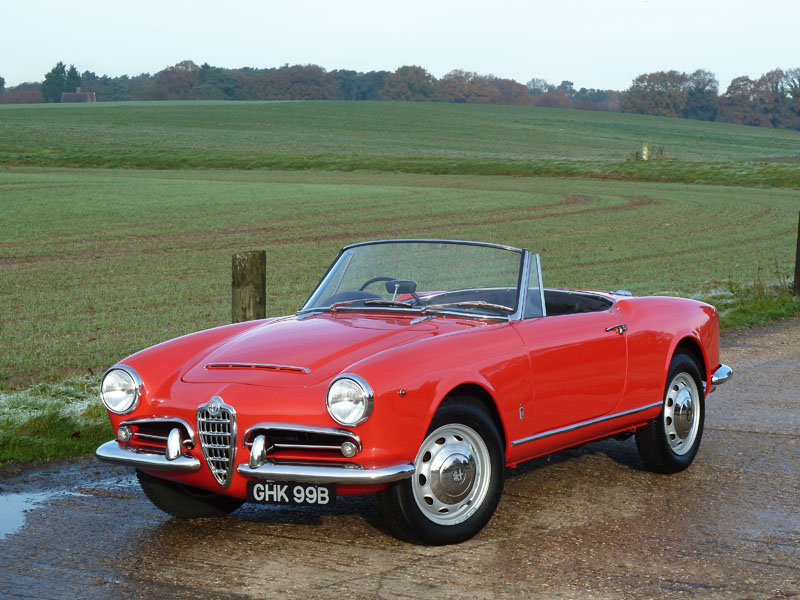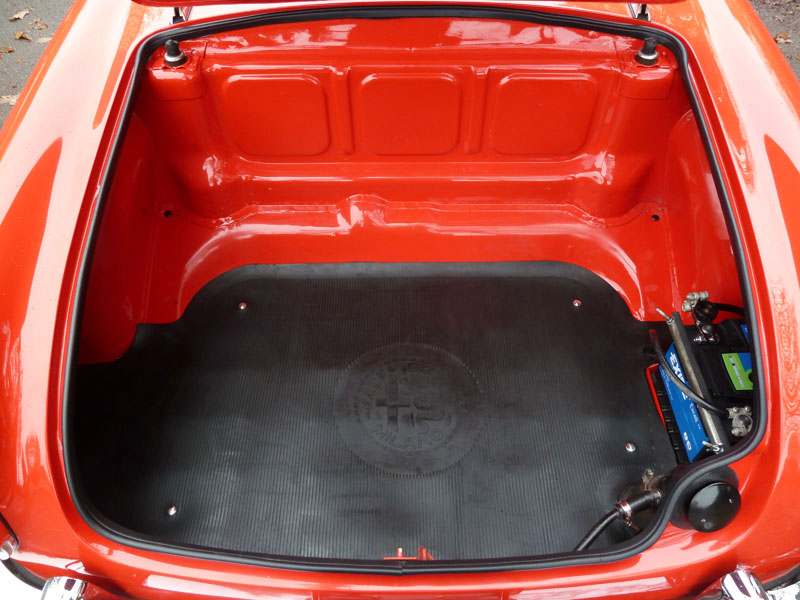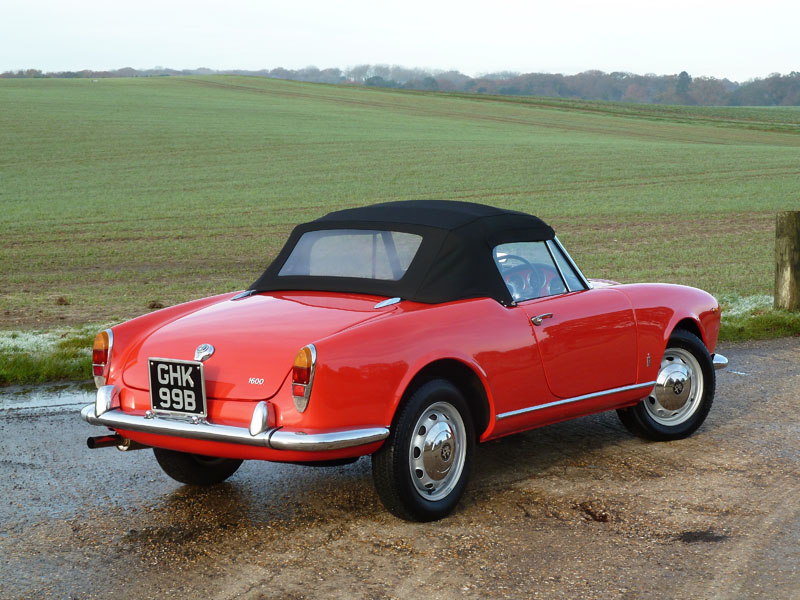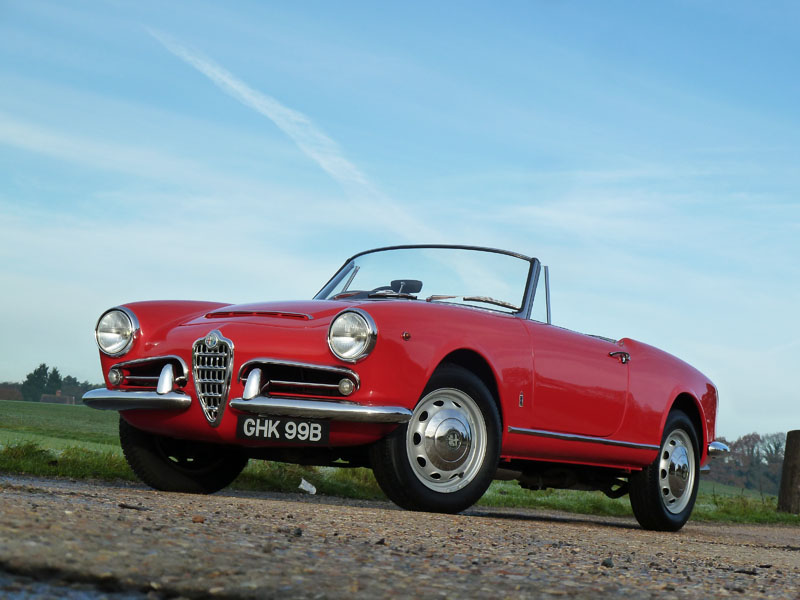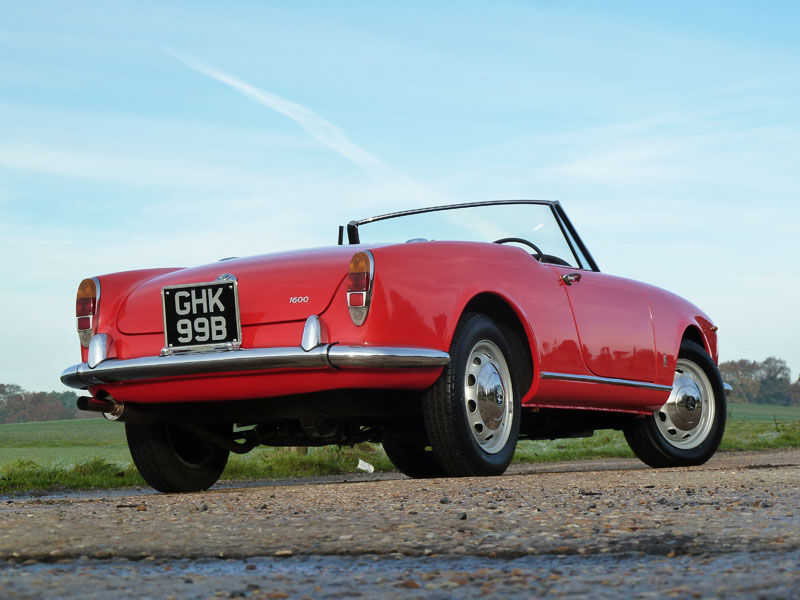 1963 Alfa Romeo Giulia 1600 Spider RHD
Engine: 1570cc twin-cam four cylinder
Transmission: 5 Speed Manual
Year: 1963
Registration: GHK 99B
Mileage:
Exterior colour: Farina red
Interior colour and material: Black leather
VIEWING BY APPOINTMENT ONLY PLEASE.
- According to the Alfa Romeo Museum archives this right hand drive Giulia Spider was manufactured on October 25th 1963 (with front disk brakes) and sold by Alfa Romeo on June 15th 1964 to Chipstead Motors of Holland Park, London. It was first registered for road use when new in England on September 21st 1964.
- This car is a very rare factory produced right hand drive version (Giulia 1600 Spider Normale), of which only 404 were made, (the majority in 1963 with a very small number in early 1964).
- The original service book for the car which is on file indicates that it was first sold to a Mrs A Poyser of Marks Tey, in Essex.
- Mrs Poyser's name has been crossed out at a later date and the name of a Mr W. D. Partridge of Aldenham, Hertfordshire, is written on an earlier page.
- The service book shows that First County Motors of Southall, Middlesex serviced the Spider on October 22nd 1965 when the speedometer recorded 7,491 miles. As Southall is some considerable distance from Mrs Poyser's home in Marks Tey, it is expected that this service was carried out by First County Motors when they sold it to Mr Partridge.
- Mr Partridge appears to have had the car maintained by Round Bush Garage (close to his home in Aldenham), firstly on July 1st 1966 (when the speedometer recorded 9,885 miles) and secondly on January 26th 1967 (when the speedometer recorded 12,646 miles). The Spider returned to its supplying dealer Chipstead for a service on August 23rd 1967 (speedometer recording 15,063), and thereafter it was maintained by Round Bush Garage; on October 2nd 1968 at 17,653 miles, October 31st 1969 at 19,792 miles, July 16th 1970 at 22,720 milers, March 9th 1973 at 24,631 miles, and lastly on April 23rd 1976 at 27,154 miles. It is comforting to know that Mr Partridge clearly enjoyed his Spider and used it as a weekend car, as he maintained it so regularly and covered such a minimal mileage. He owned the car for at least ten years, possibly longer.
- The healthy history file for this Spider then jumps to 1987 where a V11 tax disc reminder form states that it was registered to a Lynne Doyle of South Woodham Ferrers in Essex. Some time afterwards a car club application form on file lists the Spider as being owned by both Lynne Doyle and a Nick Smith. Mr Smith owned Swallow Engineering of Basildon, Essex, and at the time was restoring a right hand drive Alfa Romeo Giulia 1600 Sprint GTA. It is expected that it is he who fitted the twin carburettor set up to the car (which has since been removed).
- MOT certificates on file from the Essex area indicate that Ms Doyle and Mr Smith owned the car until March 2005 when it was purchased by a Simon Brauer (seemingly also known as Simon Brewer) of Fulham, London SW6. Mr Brewer had the car regularly maintained by several well known marque specialists in London, most notably the excellent DTR European Sports Cars of Coulsdon in Surrey (originally in Mortlake, London SW14).
- On July 24th 2010, exactly a month after the Alfa Romeo marque had celebrated its Centenary, the Spider decided to light a candle of its own in celebration. Just as Mr Brewer was about to start playing in a cricket match in Barnes, West London, smoke was noticed coming from around the edges of the bonnet of the Spider and the Fire Brigade were swiftly summoned. The carburettor fire damage was fortunately little more than a small area of burnt paint and wiring in the engine bay.
- Soon afterwards Mr Brewer sold the car to DTR Sports who carried out a superb repaint of the car (all outer panels, door shuts, dash board, engine bay, and boot area) and completely rebuilt the engine (new pistons and liners, new bearings, a balance of the crankshaft, and a rebuild of the cylinder head with new valves and hardened valve seats) and fitted a new wiring loom. They also thankfully decided to return the engine to its correct single Solex carburettor set-up.
- In March 2011 DTR Sports sold the Spider to a Gentleman from Dorset. The speedometer recorded 85,800 miles at the time which could well be all that the car had travelled since it was new.
- The Gentleman proceeded to drive the car often and maintain it to a high standard, and has improved the car further than DTR's excellent works by fitting a new folding roof, a stainless steel exhaust by Longlife, and having the gearbox overhauled.
- In June 2014 the Gentleman and his Wife drove the car to northern Italy with the English Giulietta Register in celebration of the 60th anniversary of the Giulietta launch. They spectated at the wonderful Vernasca Silver Flag hill climb event and returned to England without any problems. That trip was closely followed by a Giulietta Register trip to Wales (which we also attended in our 1957 Giulietta Sprint).
- Having covered 8,700 miles during his three-and-a-half years of thoroughly enjoyable ownership, soon after the Welsh Tour the Gentleman decided to have a change of Alfa Romeo and offered the Spider to us. We were of course delighted to purchase it from him having admired it greatly while chasing it around Wales!
- This is a very rare car that is in superb condition. It enjoys a good sized history file and being powered by what we believe to be its original engine, which has recently been re-built. A rare find indeed.