1983 Alfa Romeo Alfasud 1.5 Ti Green Cloverleaf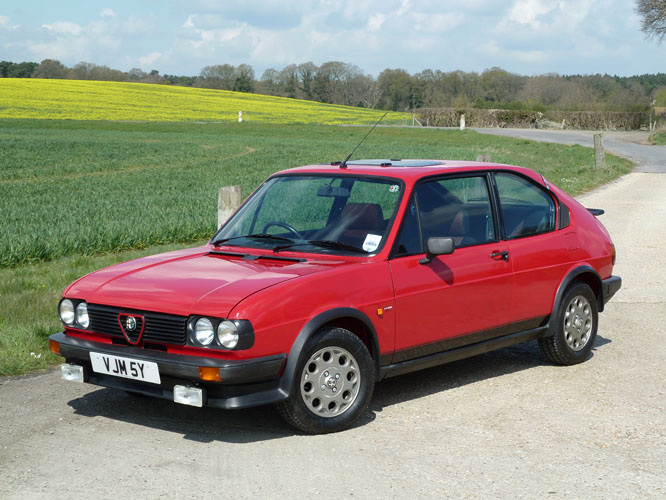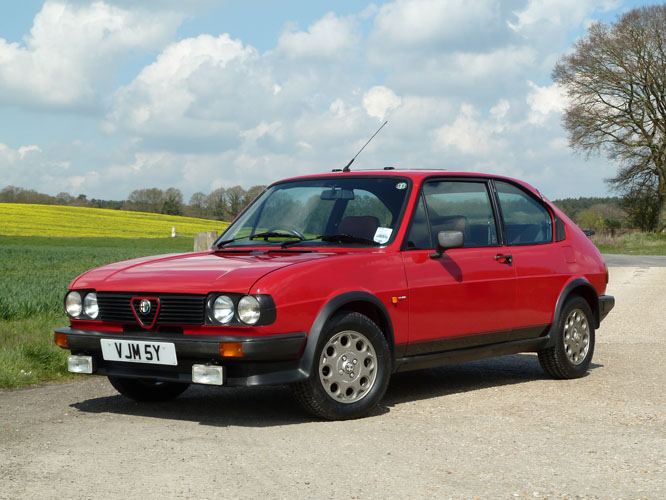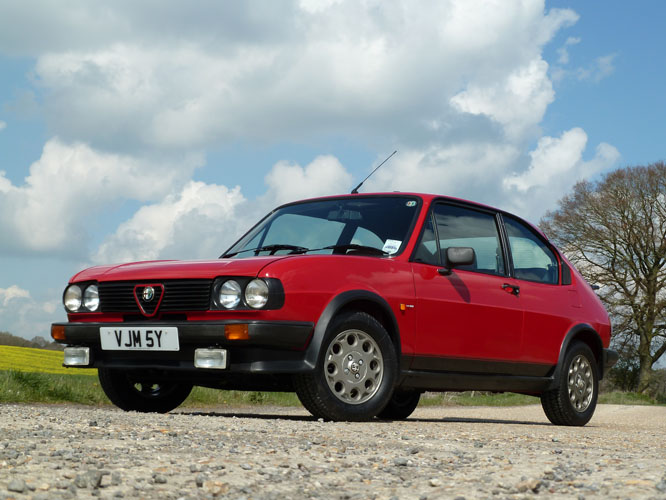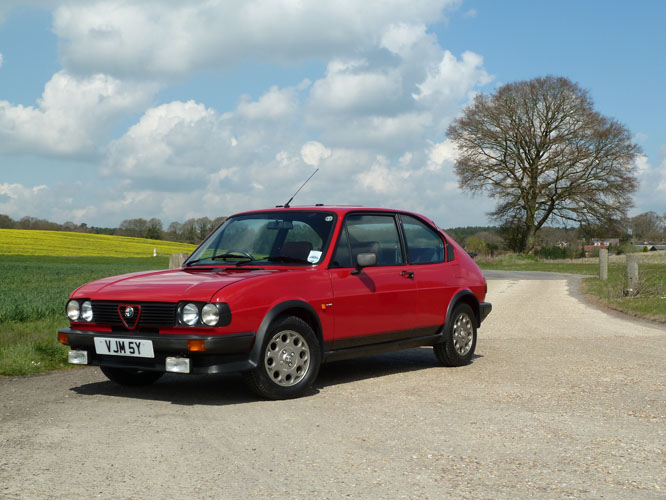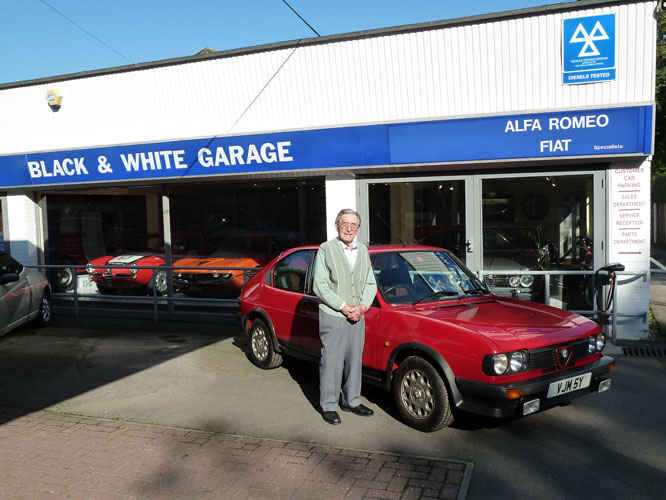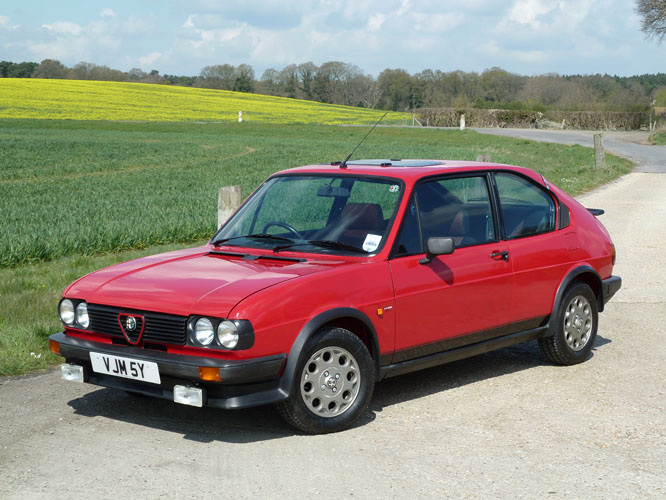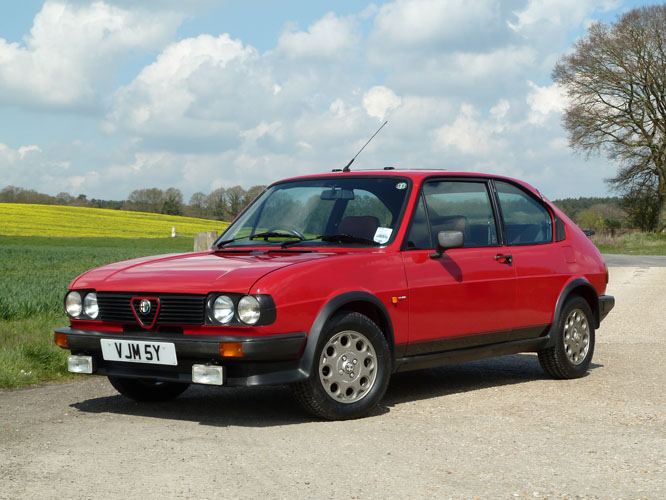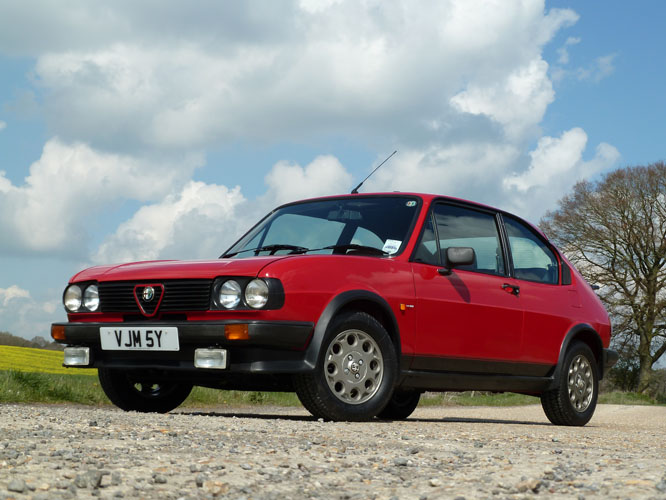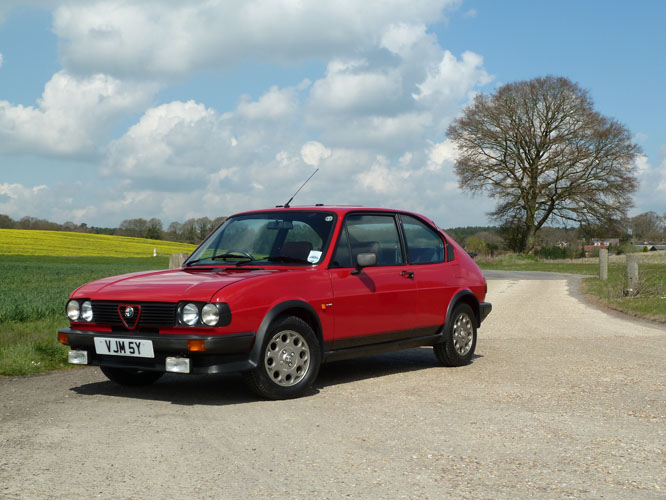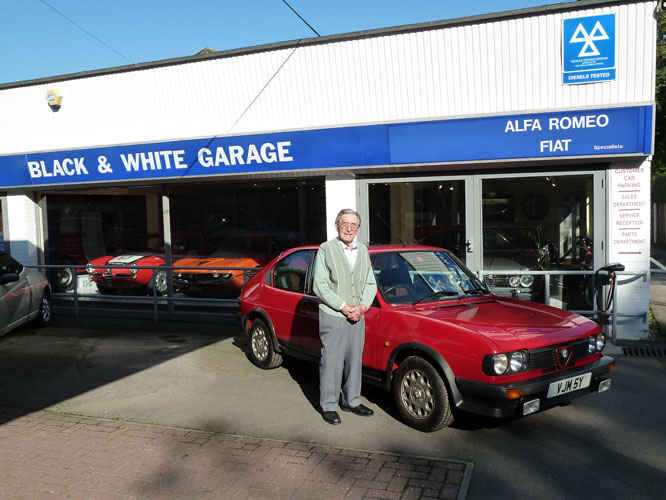 1983 Alfa Romeo Alfasud 1.5 Ti Green Cloverleaf
Engine: 1490cc flat-four cylinder
Transmission: 5 Speed Manual
Year: 1983
Registration: VJM 5Y
Mileage: 131,000
Exterior colour: Alfa red
Interior colour and material: Black Ti cloth
- This Alfasud joined our Black & White Collection in September 2011, but it was very sadly sold in March 2015 (after just 270 miles were driven) due to the loss of its storage space.
- According to the Alfa Romeo Museum archives this Alfasud 1.5 Ti Green Cloverleaf was manufactured on March 25th 1983.
- It was sold by us new on May 26th 1983 to a Mr Mick Baker, a friend of the garage who lived just a mile away. Mr Baker, who is pictured here on September 28th 2011 (the day after we purchased the car) still lives in Newbury and drove up to see the car at the incredible age of 93 years old.
- Mick never retained his cars for very long and VJM-5Y was no exception. In September 1984 we took the car in part exchange for another Alfa Romeo, and a couple of weeks later we sold it to a Keith Yeo of Beenham, near Reading in Berkshire.
- Just under two year later in July 1986, Mr Yeo sold the car to a Mr Nicholas Constantini of High Wycombe, Buckinghamshire.
- Nearly a year and a half later in December 1987, Mr Constantini sold VJM-5Y to a Mr Christopher Pearson of Haywards Heath, West Sussex.
- In April 1991 the Sud was to change hands again to a Mr Richard Anderson of East Grinstead, West Sussex.
- Remaining in the West Sussex area during another change of ownership, the car was sold to a Mathew Adams of East Grinstead in November 1992. Strangely, Mr Adams never applied for a registration document in his name which resulted in the next owner, a Mr Richard Norton-Harman or Oxted in Surrey, having to apply for a V5 Registration Document using a V62 application form when he purchased the car in July 1993.
- The Sud's time in Oxted was to be short lived, as a Mr Aldo Simeone and Miss Marie-Ann Huseyin from East Dulwich, London SE22, purchased the car in March 1994. Mr Simeone owned the A1 Hair Centre in Forest Hill Road, East Dulwich, and sadly had a rather expensive ownership experience with the Sud. A month after purchasing the car the timing belts snapped, and after getting that damage repaired, he had to have new piston rings fitted in August 1995.
- Again there was a change of ownership without the V5 being amended correctly, as in September 1995 the Sud was sold to someone in Wood Green, London N22. However, in November 1995 the V5 was correctly filled out and sent to the DVLA to record the Sud being purchased by a Mr Peter Garforth of Dane End, Hertfordshire.
- In July 1996 the Sud was recorded as having 112,000 miles on the speedometer when it was sold by Mr Garforth to a Mr Jonathan Shove from Sandown, on the Isle of Wight.
- Remaining in the punishing salty sea air (certainly not an ideal environment for an Alfasud), the car was purchased in September 1997 by a Mr Loris Valvona of Ryde, on the Isle of Wight. The Speedometer was noted as recording 118,230miles at this time.
- Crossing the water once more, VJM-5Y was purchased by a Mr Russell Richards of Parkgate, Southampton, Hampshire, in June 2001.
- Mr Richards was to retain the Sud for longer than anyone to date, but in October 2007 he sold it to Mr Kevin Plowman from Boston, Lincolnshire.
- It was shortly after this time that we became aware of the continued existence of VJM-5Y as Mr Plowman contacted us to ask if we knew any of the Sud's history. Our original Alfa Romeo new car stock book was extracted from our storage archives and we were able to inform Mr Plowman when and where we sold the car when it new. For us it was rather fascinating as we realised it was Mick Baker's old Sud.
- Although incredibly original, the body of the Sud was in a very poor state. Its originality was confirmed by the car still wearing its original Black & White Garage number plates (we still have the front one but very sadly the rear one was lost during the restoration).
- Mr Plowman commenced a very thorough body and mechanical restoration of VJM-5Y in February 2008. This enormous task was completed in July 2009, the night before the Alfa Romeo Owners Club National Day at Newby Hall, near Ripon, North Yorkshire. Mr Plowman's incredible efforts were rewarded that day by VJM-5Y making a successful trip to its owner's first National Alfa Day.
- We first met Mr Plowman and viewed his excellent restoration efforts on the Sud at the Alfa Romeo Owners Club Spring Alfa Day at the Imperial War Museum at Duxford, Cambridgeshire, in April 2011. We were rewarded with a second meeting a few months later at the Alfa Romeo Owners Club National Alfa Day at Basildon Park, near Reading, Berkshire, in July 2011. It was rather lovely that we were able to present Mr Plowman with one of the two concours awards that his Sud earned that day, in part as we had sold the car new, and also because we were not far from where we had done so. The awards presented to Mr Plowman were; winner of the Alfasud class, and the restoration award. It was this event that we mentioned to Mr Plowman our interest in purchasing the Sud should he ever wish to part with it. Coincidentally he was considering another purchase, so it was on our next meeting at the Auto Italia Magazine Italian Car Day at the Heritage Motor Centre Motor Museum in Gaydon, Warwickshire, that a deal was agreed.
- This Sud is a superb example with an excellent history. The enormous history file contains almost every MOT certificate from December 1987 (when 48,792 miles were recorded) to the current one (only the certificate covering the years 1992 to 1993 is missing), and incredibly comprehensive maintenance records from February 1992 until the present day. The car also has the pleasure of being powered by its original 105Bhp 1,490cc flat-four "boxer" engine that the factory fitted when it was manufactured, along with the incredibly rare and original fitment 14" Speedline / Alfa Romeo imperial sized alloy wheels and original specification Michelin TRX tyres.