1984 Alfa Romeo GTV6 2.5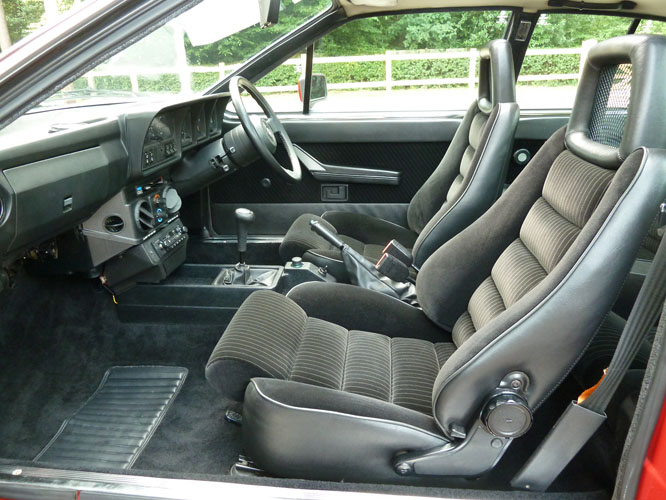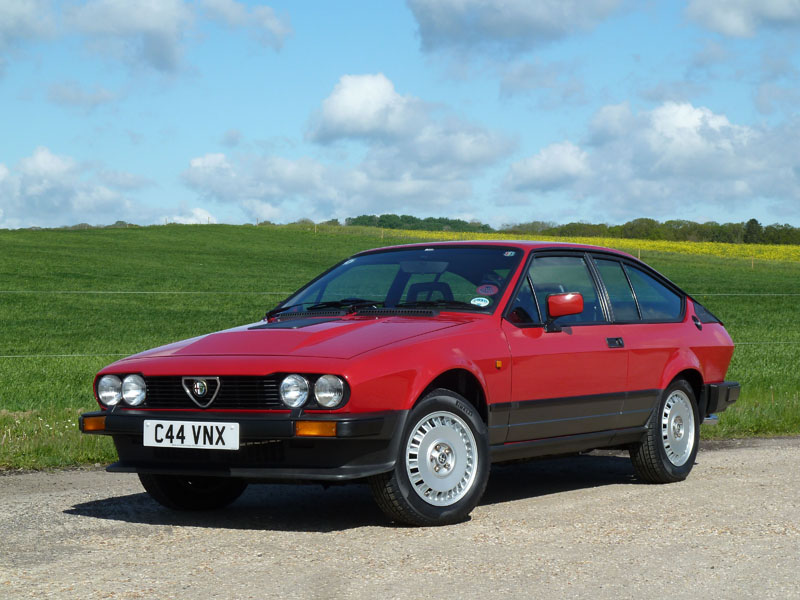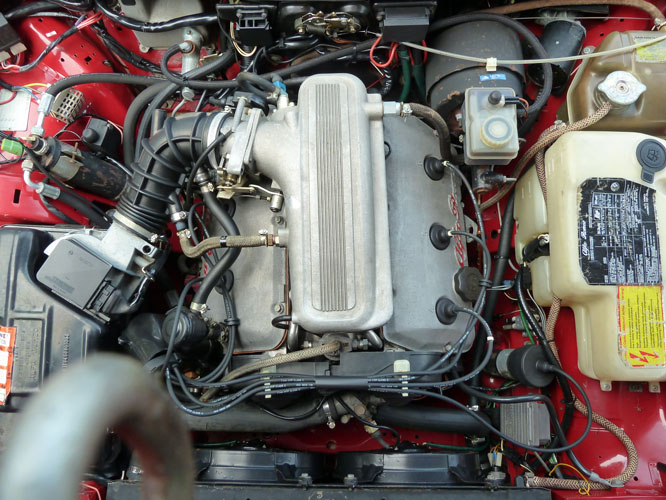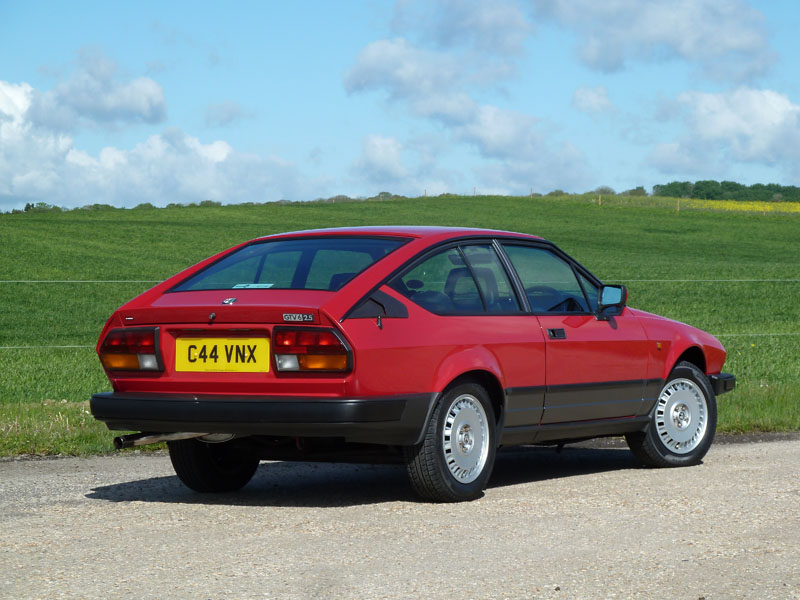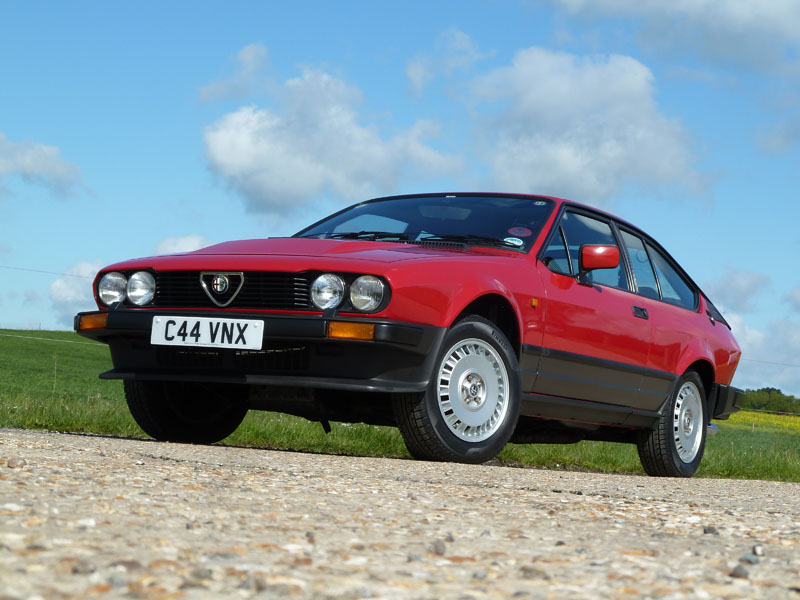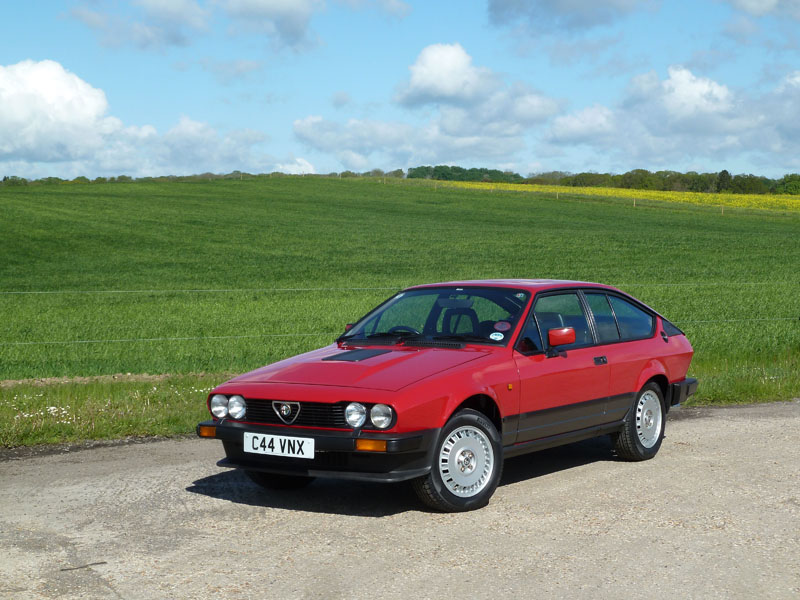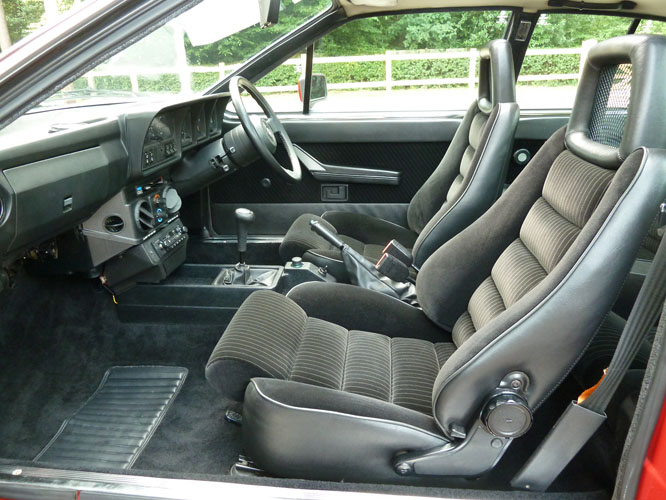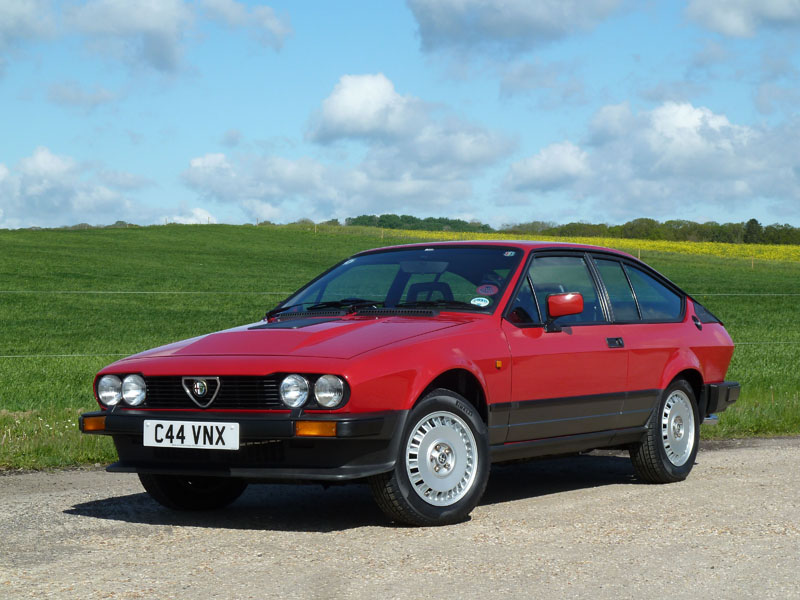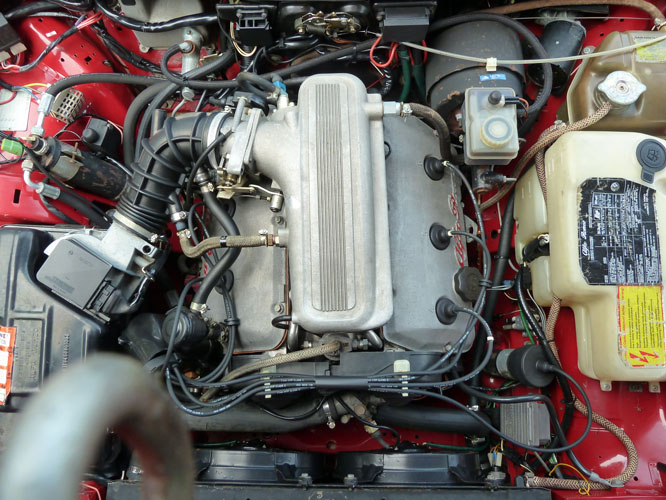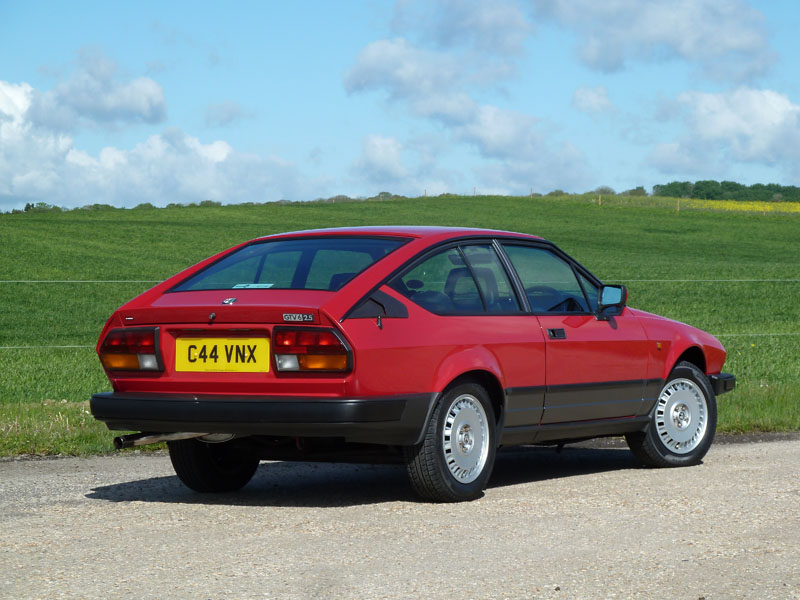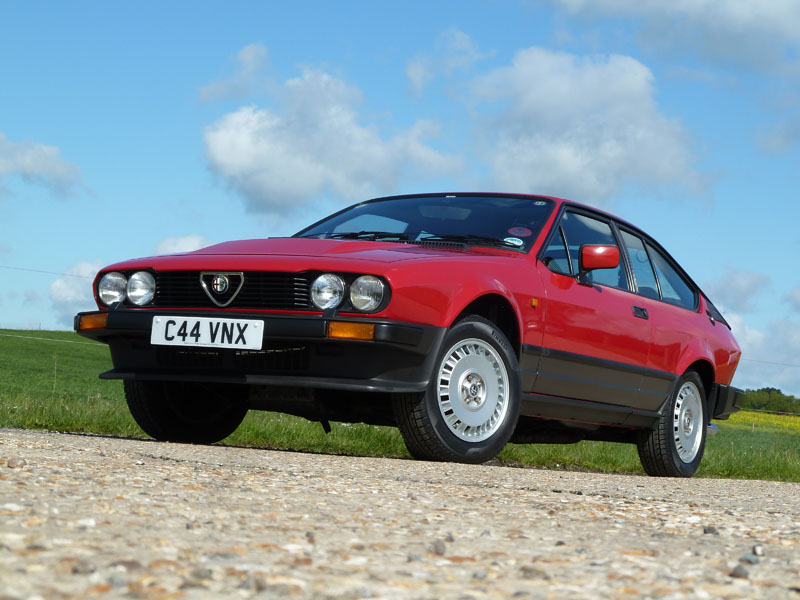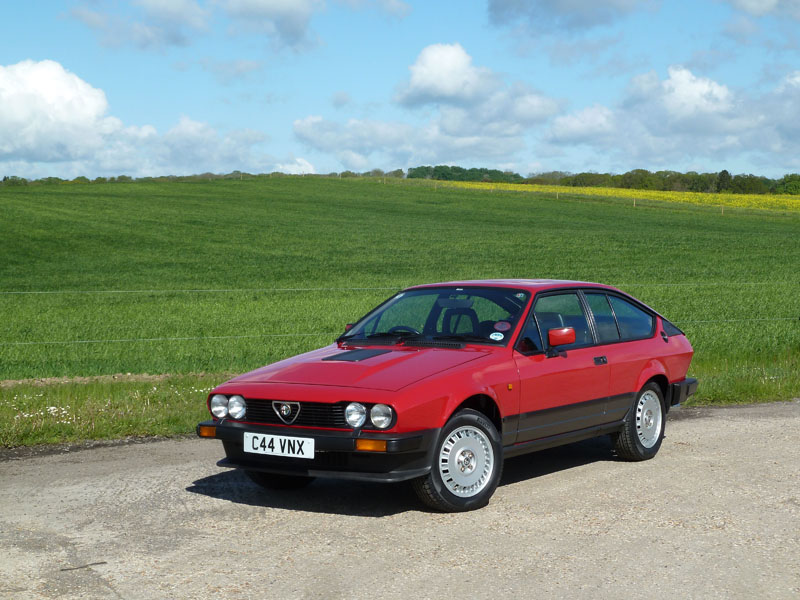 1984 Alfa Romeo GTV6 2.5
Engine: 2492cc V6 cylinder
Transmission: 5 Speed Manual
Year: 1984
Registration: C44 VNX
Mileage: 63,000
Exterior Colour: Alfa red
Interior colour and material: Black cloth
VIEWING BY APPOINTMENT ONLY PLEASE.
- This GTV6 joined our Black & White Collection in July 2013 but was sadly sold in December 2014 due to storage space restrictions.
- According to the Alfa Romeo Museum archives this GTV6 2.5 was manufactured on September 6th 1984 and invoiced by the factory to Alfa Romeo Great Britain on August 30th 1985. The original paint colour was Alfa red, as it is now.
- This superlative GTV6 was first registered for road use in England as C44-VNX on August 30th 1985 when it was sold new by the well established Alfa Romeo dealership E. L. Bouts Motors Limited of Wolverhampton, West Midlands. The purchaser was the Express and Star Newspaper Group, also of Wolverhampton.
- The car was retained by Express & Star for the normal (at the time) English company car ownership period of three years, and the DVLA record it as being acquired by a Louis Watkins of Sutton Coldfield, West Midlands, on September 2nd 1988. The recorded mileage at this time is estimated to have been around 30,000 miles.
- Mr Watkins clearly cherished his GTV6 and according to the many previous MOT certificates that are in the comprehensive history folder of the car, he covered an average of only 2,000 miles a year during his fifteen year ownership.
- In April 1991 Mr Watkins had the registration number NOW-48 transferred onto the car from a BSA D3 motorcycle. Sadly, when NOW-48 was removed from the GTV6 in August 1999 and transferred onto Mr Watkins' Alfa Romeo 164, the DVLA issued the GTV6 with the registration number C103-LOX rather than its original C44-VNX.
- It is imagined Mr Watkins was a keen Alfa Romeo Owners Club member as in June 1999 his GTV6 won the third overall prize at the club's National Day Concours at Stanford Hall in Leicestershire.
- In July 2003 the car was acquired by a lovely Gentleman from Pillerton Priors, a village near Gaydon in Warwickshire. He had visited the National Alfa Day that was being held at the nearby Gaydon Heritage Motor Centre the month before and observed the GTV6 on display with a "For Sale" sign in the window. The vendor (Mr Watkins) was moving house and needed the car to be sold so a deal was agreed with him. At the time the recorded mileage was 59,100 miles.
- The Gentleman informed us that his Alfa Romeo prior to the GTV6 was an Alfasud Sprint and that he had gained a passion for Alfa Romeo while watching Major Tony Rolt at Silverstone in 1949 race his single engined Alfa Romeo Bimotore special known as the Aitken-Alfa Special.
- The car shared garage space with a Jaguar XJ-S Cabriolet but neither car were driven very often. In July 2013, almost ten years to the day since he had purchased the car, the Gentleman advertised it for sale on the Alfa Romeo Owners Club website. We made our way to Warwickshire and acquired the GTV6, noting that the Gentleman had only driven it 2,600 miles during his ownership. He informed us that he had never taken the car out for a drive in the rain and it had always been garaged while he owned it.
- Shortly after we purchased the car we had Alfetta specialist and Alfa Romeo Owners Club model registrar Alex Jupe of Alex Jupe Motorsport carry out a major service and inspection on the car, including changing the timing belt and fitting a new clutch.
- In October 2013 we were successful in our application to the DVLA requesting they re-issue the original C44-VNX number plate to the car that had been lost when Mr Watkins' NOW-48 number plate had been removed in August 1999.
- The floor of the GTV had never had any repairs and was still finished in its factory red under seal. It was in very good condition, but for the car to be enjoyed in confidence we had expert Alfa Romeo restorer John Holden of Pure Bodies prepare and re-under seal the floor and wheel arches in May 2014. This made the floor look as perfect as the body that it supports.
- This is a truly exceptional example of a wonderful car that was fitted with the rare option of air conditioning when it was new, as well as a factory fitted sunroof. It would be possible to locate a restored example of these lovely cars in a similar condition to ours, but to find one in such perfectly original and unrestored condition is very, very rare. This has always been a loved and cherished car, and it is a shame that we are not able to continue that tradition ourselves due to storage restrictions. This car will be greatly missed when it is sold.

Events we have exhibited and participated this Alfa Romeo at:
- Cotswold Alfa Day, Blenheim Palace, Oxfordshire, June 29th 2014.