1939 ATCO Junior SafetyFirst Trainer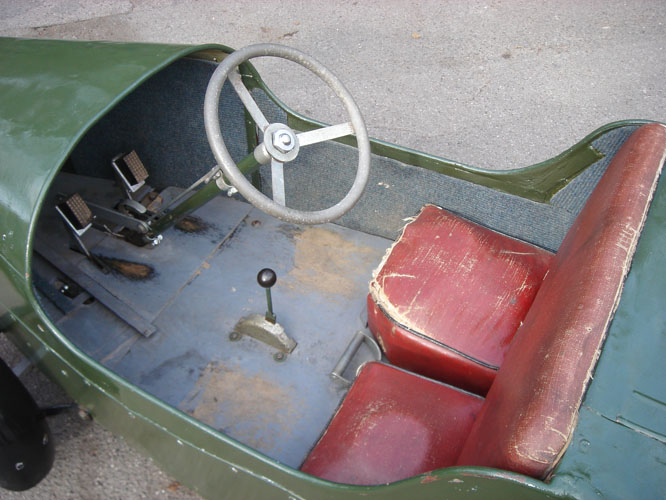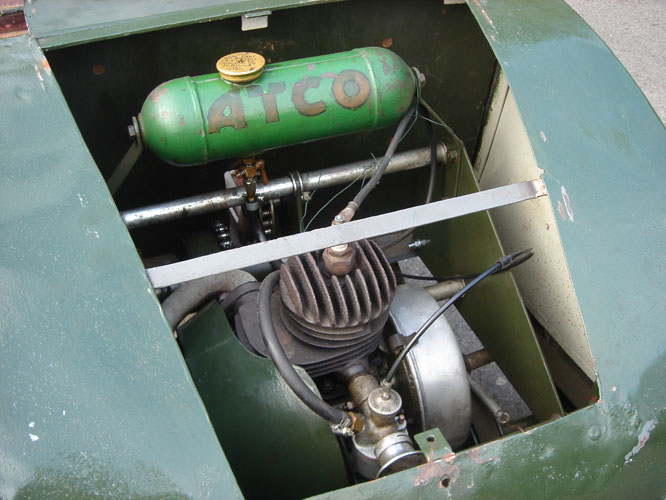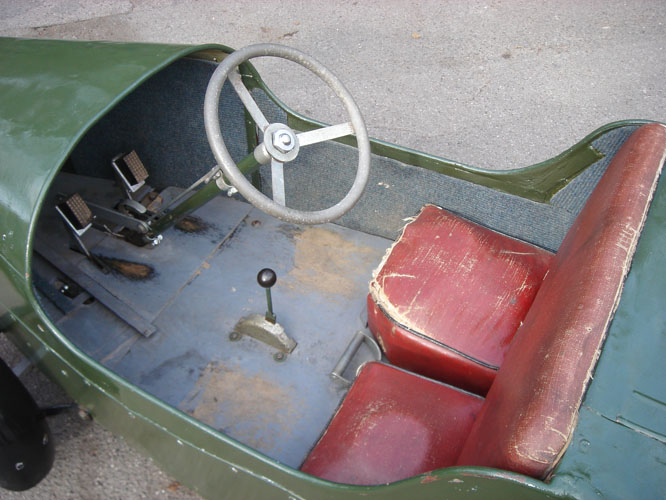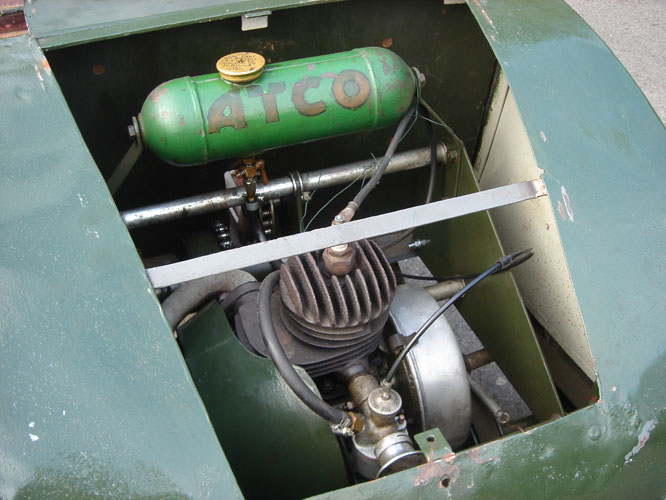 1939 ATCO Junior SafetyFirst Trainer
Engine: 98cc single cylinder

Transmission: 1 Speed manual plus reverse

Year: 1939

Registration: 929 XUX

Mileage:

Exterior Colour: Racing green

Interior colour and material: Red leatherette
This ATCO Trainer joined our Black & White Collection in March 2009 and was sadly (and surprisingly!) sold in July 2013.
New replica wheels and tyres fitted in February 2010 obtained from Vintage Tyre supplies in Beaulieu.
MOT'd and registered for use on the road in March 2010!
Events we have displayed this ATCO at:
Goodwood Road Racing Club Annual Vehicle Display, Goodwood House, West Sussex, August 8th 2010.
A brief history on the brief life of the ATCO Trainer:
Launched amid great fanfare on June 16th 1939, the ATCO Junior Safety-first Trainer was designed to help stem the rising toll of road casualties by introducing children to the skills of driving from the tender age of seven and onwards. It was the brainchild of Charles H Pugh Ltd of Whitworth Works, Birmingham, known for the manufacture of ATCO lawn mowers.
The plan was to sell the cars in huge numbers to schools and local authorities as part of a nationwide road safety initiative, and it received widespread backing from press and politicians alike, including the House of Lords Select Committee on the Prevention of Road Accidents.
The specification featured a 1hp 98cc 2-stroke ATCO-Villiers rear mounted engine and reproduced the controls of a full-sized motor car with the accelerator, brake and clutch pedals all in the normal positions. Single forward and reverse gears were driven through a cone clutch, by chain transmission, and starting was by a pull-handle between the two seats. The ATCO's top speed was a heady 8 – 10mph on it's skinny disc wheels with pneumatic Dunlop 16×2½ tyres. A 68-page illustrated training manual accompanied the car.
Distribution of the ATCO Trainer was through the motor trade and established factors of the ATCO motor mower, and although priced at £35, it was available to local authorities and schools at 'special rates'. A Hire Purchase scheme was also offered with a deposit of £8-15s, and 12 monthly instalments of £2-7s. A special demonstration track was laid down at the Birmingham works, complete with road markings and Belisha beacon crossings, and educational films were made for showing in schools.
Unfortunately, with the outbreak of World War Two, the launch could not have been timed more badly. ATCO had built approximately 250 Trainers when the whole project had to be cancelled in September 1939. It is rumoured that only about 200 Trainers had been sold with the remainder of the unsold stock broken up for the war effort.
With the introduction of rationing and pool petrol, some adults rather than children became the users of the Trainer! With the little engine capable of being able to achieve up to 80 miles on just one gallon of petrol, some Trainers were registered for the road. In fact an Oxford businessman was pictured in the Sunday Chronicle of November 26th 1939 driving a road registered Trainer in city traffic!