1955 Ferrari 150 Turismo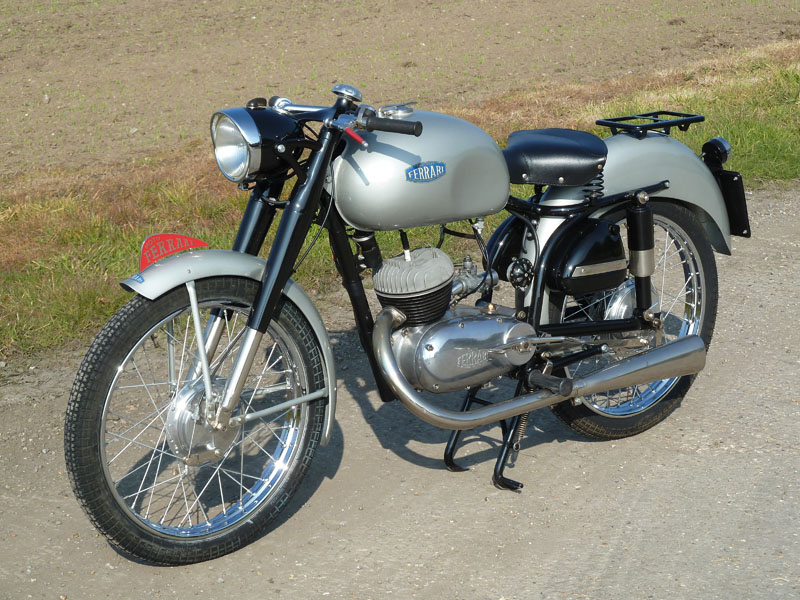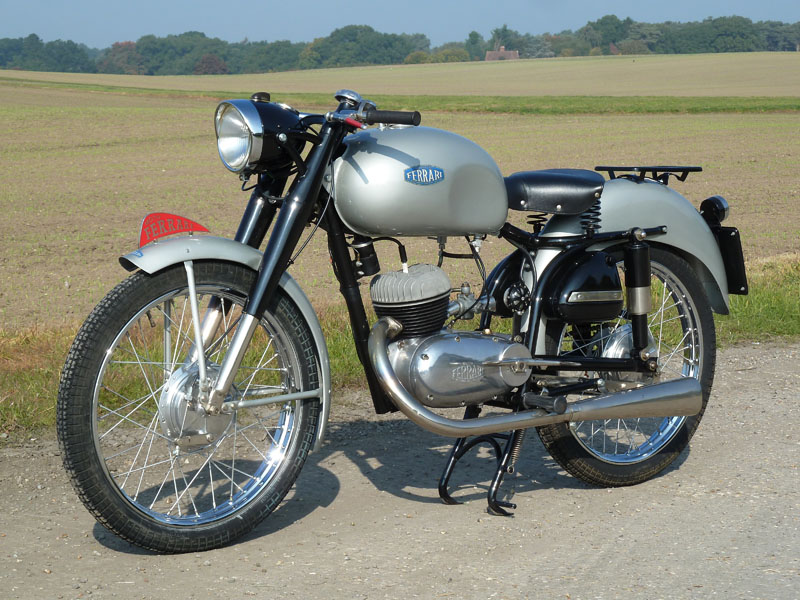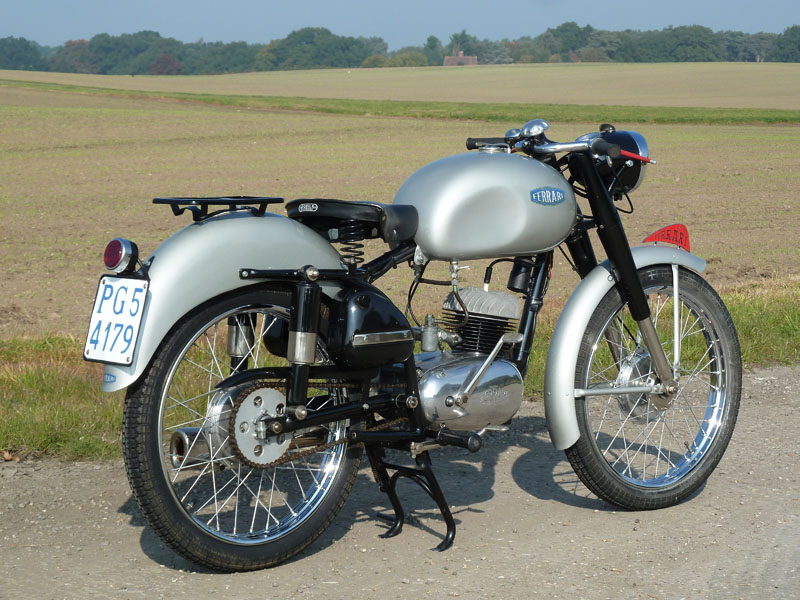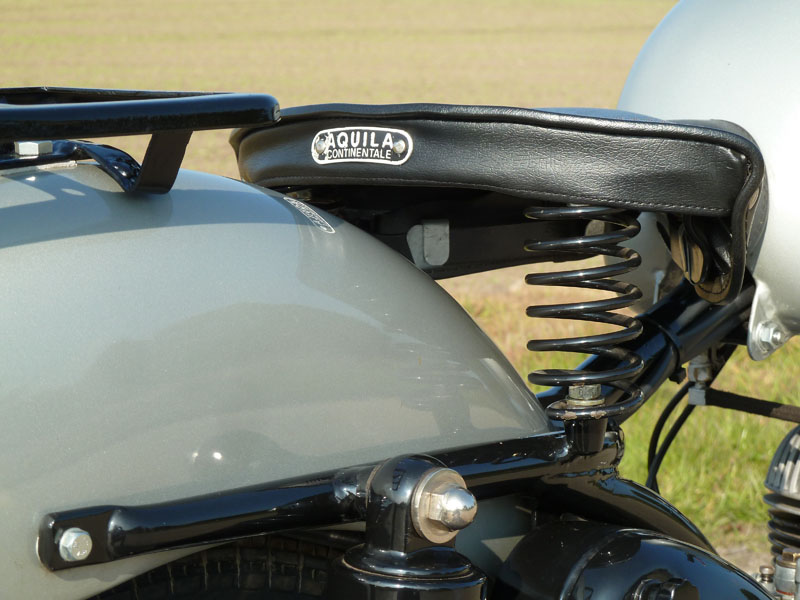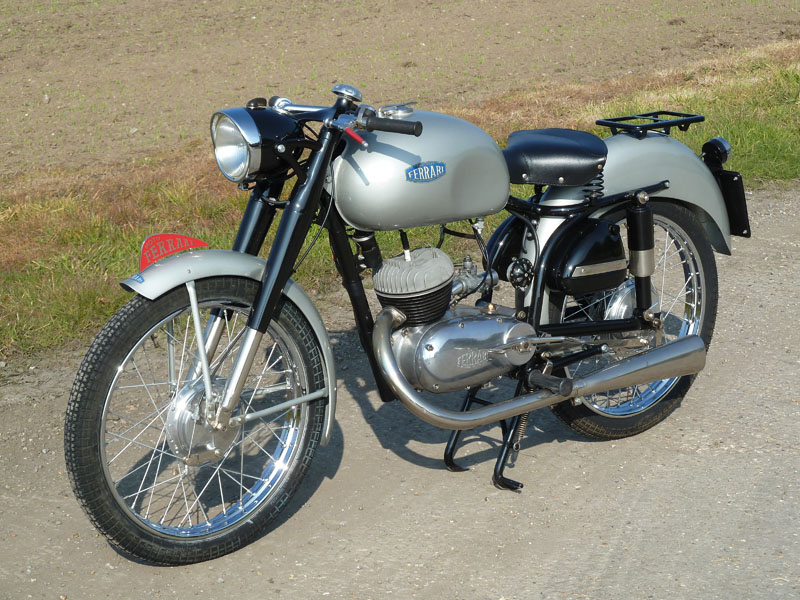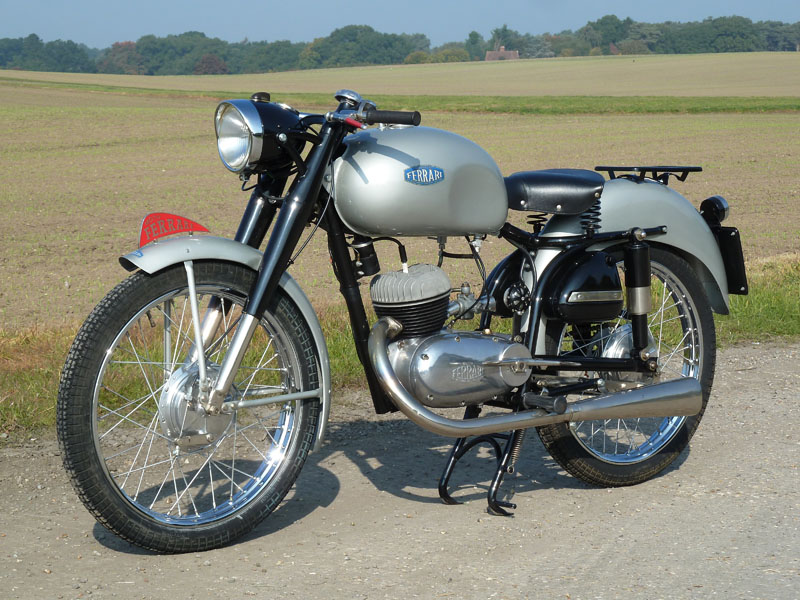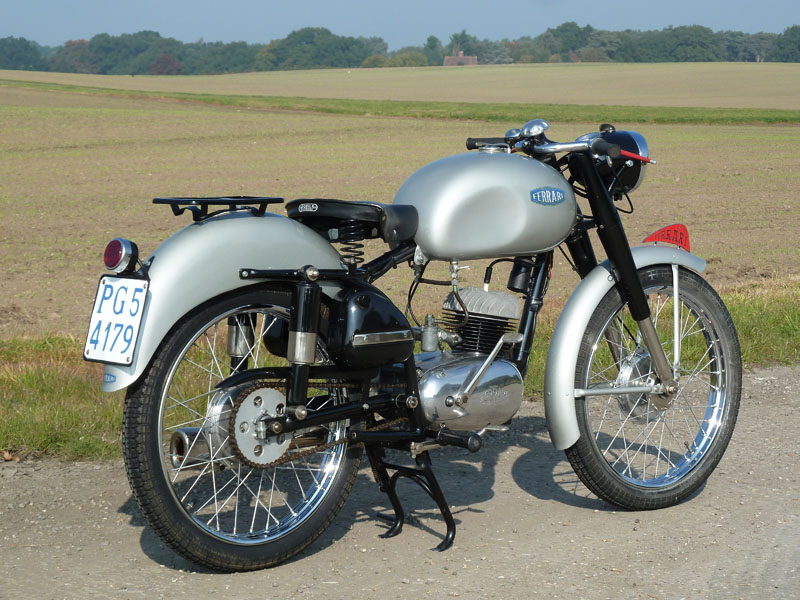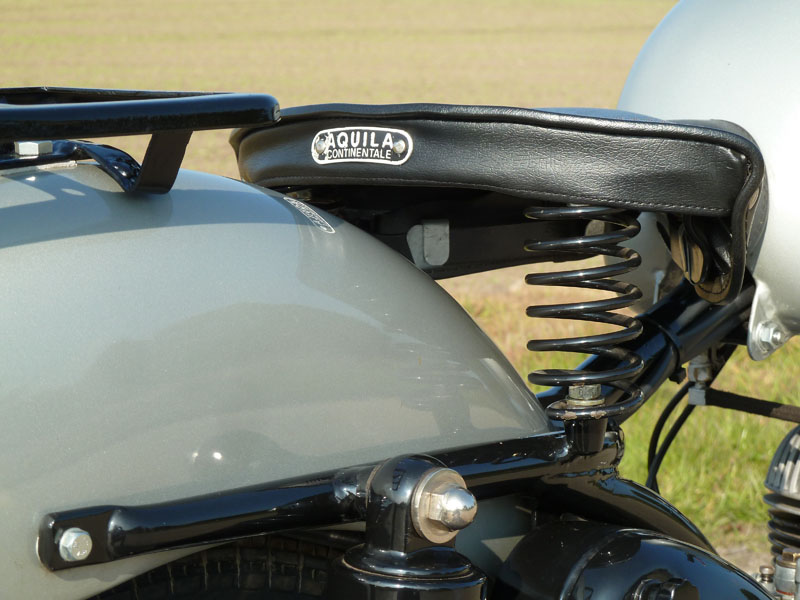 1955 Ferrari 150 Turismo
Engine: 160cc 2-stroke single cylinder
Transmission: 3 Speed Manual
Year: 1955
Frame #: T 2736 T
Engine #: T 2736 T
Registration: 570 UYO
Mileage:
Exterior colour: Black and light metallic grey
Interior colour and material:
- I purchased this very rare and beautiful motorcycle in Rome, Italy in September 2015. I had not intended to sell it but due to a combination of acquiring an exceptionally rare Maserati motorcycle (125 GTS) and limited storage space I found it a new home in December 2015.
- According to the Automobile Club d'Italia public register report that I have for this motorcycle, it was built on or around January 22nd 1955. The report then states that on July 18th 1958 the motorcycle was sold to a Fernando Spuntarelli of Foligno, in the province of Perugia, in the middle of Italy. It was issued with the licence plate PG 54179. It is not known where the motorcycle was for the first three years of its life but it is believed to have been an old stock and unregistered motorcycle, as register reports normally state the previous licence plate if a vehicle had been registered in another province, and this one does not state one. The price paid is also quoted as being the "list" price.
- There are no further changes of ownership recorded on the Register report, and in 1988 the licence was cancelled as it was presumed the motorcycle was no longer being used on the road. I deduce from this that the Ferrari was retained by Signore Spuntarelli until at least 1988. The vendor who I purchased the motorcycle from informed me that he had purchased the Ferrari in August 2015 in the Vatican area of Rome, so until I acquired it it had spent the majority of its life in the same area.
- The condition of the motorcycle is excellent as it is thought to have been restored in the late 2000's.
- The vendor informed me that he rebuilt the engine immediately prior to my purchase with new bearings, oil seals, and piston rings, and that he also fitted a clutch.
- The Public Register report states that the engine size of this Ferrari 150 is actually 160cc. I have come across this before with Ferrari motorcycles, where the engine size is actually far greater than the model name would suggest.
- I obtained UK road registration on this Ferrari in December 2015.
- This is a beautiful and very rare Italian motorcycle from an era when there were many small Italian motorcycle companies producing wonderful small lightweight single cylinder machines. It is guaranteed to be a good conversation starter: "I never knew Ferrari made motorcycles....."!
A brief history of Moto Ferrari, Milano:
While an Enzo Ferrari was making a name for himself producing racing and sports cars in Maranello, a Signore Amos Ferrari was employed at Moto Parilla and was having thoughts about producing his own motorcycles. Perhaps thinking he could capitalise on the recent publicity of his last name by Enzo, Amos left Parilla and with financial assistance from his brother and a friend, he founded his company in Milan in early 1952. The first motorcycle bearing his name was soon launched and was simply named Ferrari 125 and featured a 125cc single-cylinder two-stroke engine. Despite bearing several understandable similarities to motorcycles produced by his former employers Parilla, an exception was the unusual rear suspension which was contained within two horizontal tubes in parallel to the rear swing arm, similar in design to one that had been previously been patented by Gilera. Another unique feature of the motorcycles was the gearbox, which as well as having four-speeds, had the gear selector lever positioned on the left side of the gearbox, whereas nearly all other motorcycles produced in Italy featured the lever on the right.
Due to the rarity of these beautiful Ferrari motorcycles even when new, little was published about them in period and therefore even less information survives today. However, one unsubstantiated story of the company's launch that has been told a few times over the years stems from the 1952 Milan Motorcycle Show, where it was reported that the racing car manufacturer Enzo Ferrari was branching out into motorcycle manufacture. In one of the halls a red motorcycle could be seen proudly on display and bearing the car makers name, accompanied by company staff who were feverishly taking orders for the 125cc two-stroke machine from excited visitors. Enzo Ferrari soon became frustrated by the unwanted contact from customers seeking to purchase a motorcycle from him and apparently he took Amos and his brother to court and sued them for miss-using his company name, and he won. The result was the Ferrari brothers could continue to use the Ferrari name on their motorcycles but they must clearly precede it with the word Fratelli, meaning Brothers in Italian. Therefore, whereas early Ferrari motorcycles had simply worn the name FERRARI on the sides of the fuel tank and engine casings, after 1953 it seems, FRATELLI FERRARI was displayed instead.
Late in 1952 at the Motosalone di Milano, Ferrari launched a 150cc engined motorcycle that was visually identical to the 125 and available in two versions; Sport Lusso and Super Sport. It is believed that a 160cc version was made available at this time too and as well as their visual similarities to the 125 model, they too had two-stroke engines and four-speed gearboxes.
During 1953, as well as the change of company name from Ferrari to Fratelli Ferrari, there were changes to the price lists which saw the 125 dropped from the range and replaced by a 175cc version (resulting in the 150cc versions being the entry models in the line-up). Here was a motorcycle that was quite different to the other Ferraris in that the 175cc engine was a two-cylinder over-head camshaft four-stroke unit, and the frame was quite different too. Gone was the horizontal rear suspension and in its place were conventional vertical springs, a configuration that was also applied to the 150cc two-stroke Ferraris in 1954.
The Italian motorcycle industry was an extremely competitive market place in the 1950's as many companies sprung up, all trying to capitalise on the population's growing desire for motorised transportation as the country recovered from the ravages of the Second World War. With expensive start-up costs, a limited product range, the battle with Enzo Ferrari over the company name, and stiff competition in the showrooms, the company was not profitable enough to continue so in late 1955 Amos called it a day and the doors to La Meccanica Italiana Moto Fratelli Ferrari closed one weekday evening, never to re-open again.