1975 FIAT 126 "Abarth"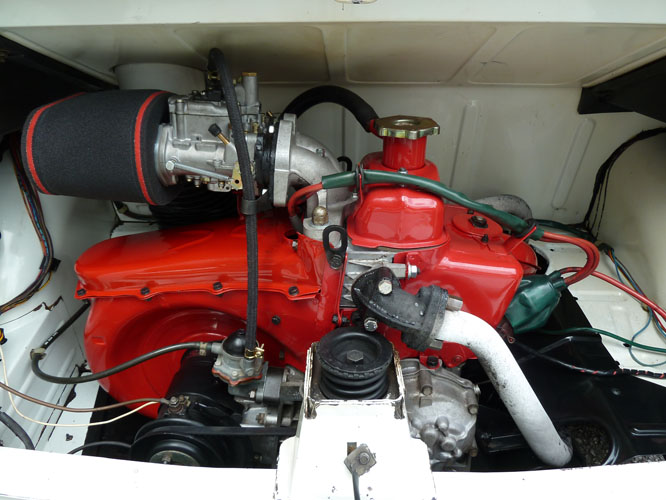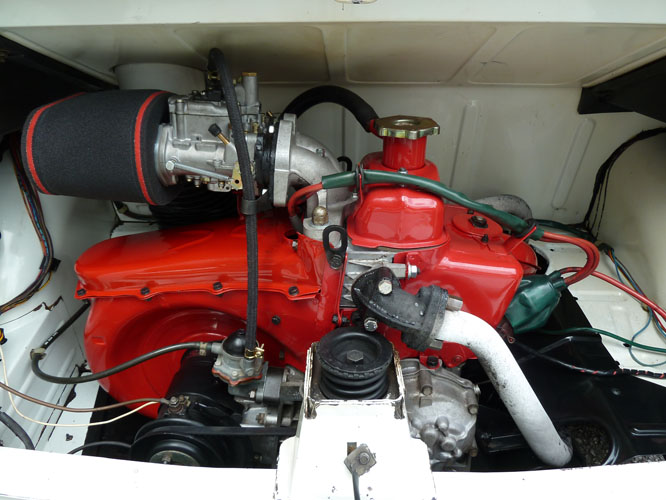 1975 FIAT 126 "Abarth"
Engine: 594cc twin cylinder
Transmission: 4 Speed manual
Year: 1976
Registration: NBL 110P
Mileage: 41,400
Exterior colour: White
Interior colour and material: Black vinyl
VIEWING BY APPOINTMENT ONLY PLEASE.
- This FIAT 126 joined our Black & White Collection in November 2010 at 66,600 kilometres (41,400 miles) when we purchased it from a garage in Maasdriel, Holland. It was sadly sold in May 2014 at 67,500 kilometres due to a lack of use and the loss of its storage space.
- The car was sold new in Holland and first registered there on March 31st 1976.
- In the late 1990's it was fully restored to original and standard specification (in Holland). It is likely that the car has experienced very little use since it was restored and it is still in very good condition.
- In December 2010 we gained UK road registration on the car.
- Soon after purchasing the 126 we commenced a series of repairs and modifications which included fitting Abarth specification suspension with Spax adjustable shock absorbers (parts supplied by Middle Barton Garage) in February 2011, and Abarth style alloy wheels July 2011.
- In August 2011 we had the engine re-built featuring an Abarth / Middle Barton Garage specification fast-road cam-shaft, Abarth specification sports exhaust, electronic ignition, Dellorto DHLB32 side-draft carburettor, and an Abarth specification aluminium oil sump. All parts supplied by Middle Barton Garage. These works were followed by a rolling road tune by Mech Motorsport in Cheltenham in September 2011 when the engine showed to have 28bhp at 5,640 rpm and 29 lbft of torque at 3,200 rpm.
- It is believed that Abarth made only two FIAT-Abarth 126 rally car concepts, both in 1973 and with prefix codes SE 028 and 126 AB.1C.1. Our 126 in obviously not an original Abarth and is built as what it is thought one of the original cars would have looked like - there are no known published photographs.
- In May 2013 a new interior carpet was fitted along with new front and rear bumpers.
- Previously registered in Holland as 63-JN-20.
- The FIAT 126 is a model that is now rarely seen due to the earlier FIAT 500 being the one most people save and restore. We like to be different and favored the more angular 1970's styling of the 126. Clearly we are not alone due to the hugely positive response the car generated from observers around Central London where it lived and was thoroughly enjoyed by us in 2013. The car is enormous fun to drive with its throaty exhaust and characterful driving experience and we will miss it terribly when a new owner takes to the wheel.
Events we have exhibited and participated this FIAT at:
- 96 Club Chelsea Rendezvous, The Royal Hospital Chelsea, London, May 12th 2013.

A brief history on the FIAT 126:
- The FIAT 126 was introduced in October 1972 at the Turin Auto Show as a replacement for the incredibly popular FIAT 500 (which ceased production two years later in 1975) and was initially produced in Italy in the plants of Cassino and Termini Imerese.
- The 126 used the same floor plan and mechanical layout as the last edition FIAT 500 R, but with a totally new bodyshell.
- The 594cc 23bhp rear mounted and air cooled two cylinder engine from the FIAT 500 R was used along with its part synchromesh gearbox. In 1977 the engine was capacity was increased to 652cc, and although power remained at the same heady 23bhp, torque was increased from 29 lbft to 32 lbft.
- When the final incarnation of the 126 was launched in 1987, the three door hatchback BIS version, the engine was water-cooled and canted onto its side to allow for the hatchback to work, and capacity was increased to 704cc. The BIS ceased production in 1991.
- While the 126 was being made in Italy it was also being manufactured under licence by FSM in Poland as the Polski FIAT 126p. This occurred between June 6th 1973 and September 22nd 2000. When FSM launched the water-cooled 126 BIS, the original air-cooled version remained in production for the Polish market. The car was also produced under license by Zastava in Yugoslavia.
- The 126 was produced in several countries during its life-time, with the production records showing that 1,352,912 were made in Italy, 3,318,674 in Poland, 2,069 in Austria, and an unknown number in Yugoslavia. It was replaced by the front engined four cylinder FIAT Cinquecento in 1993.