1974 Alfa Romeo 2000 GT Veloce RHD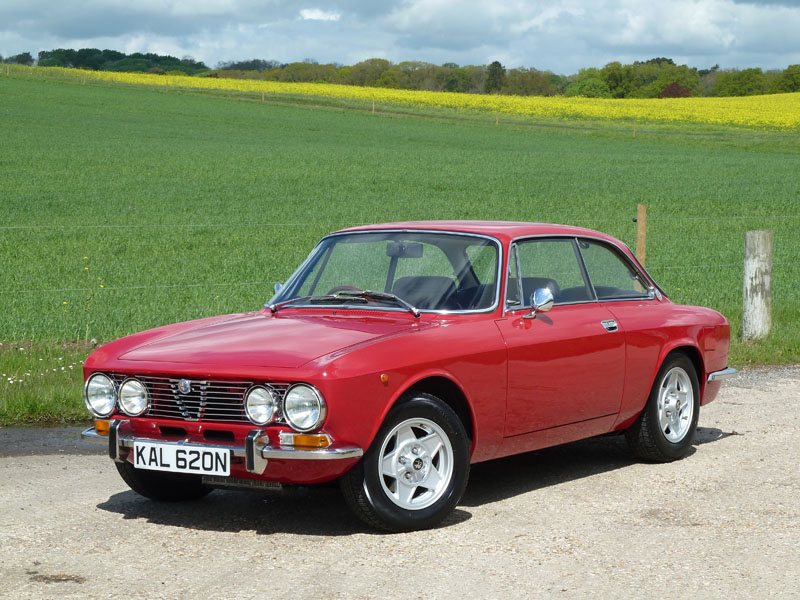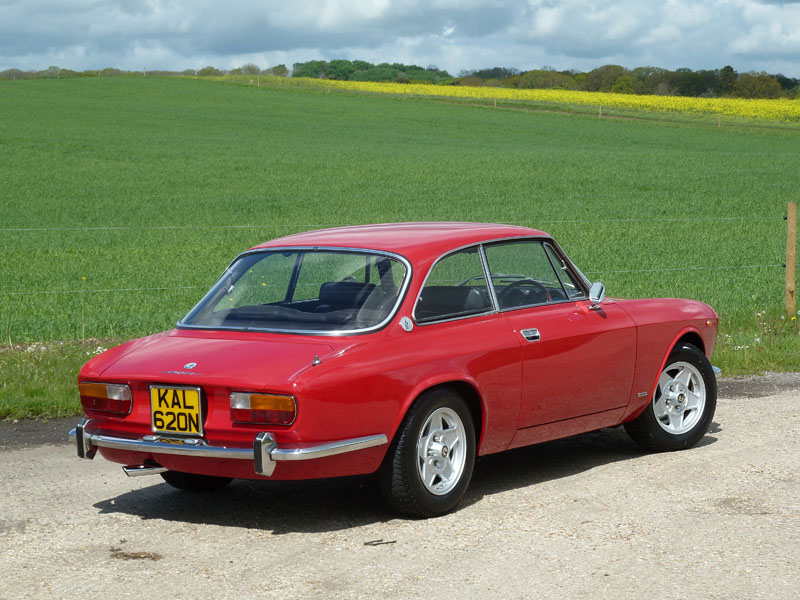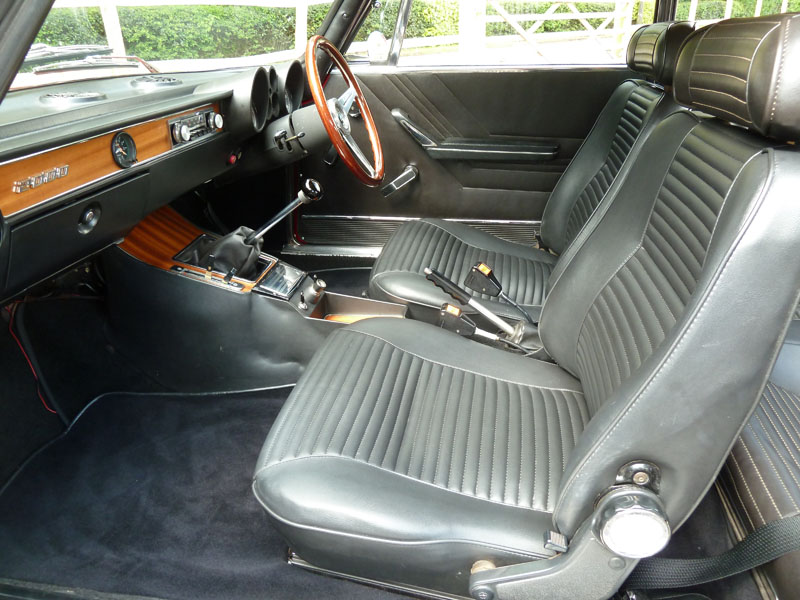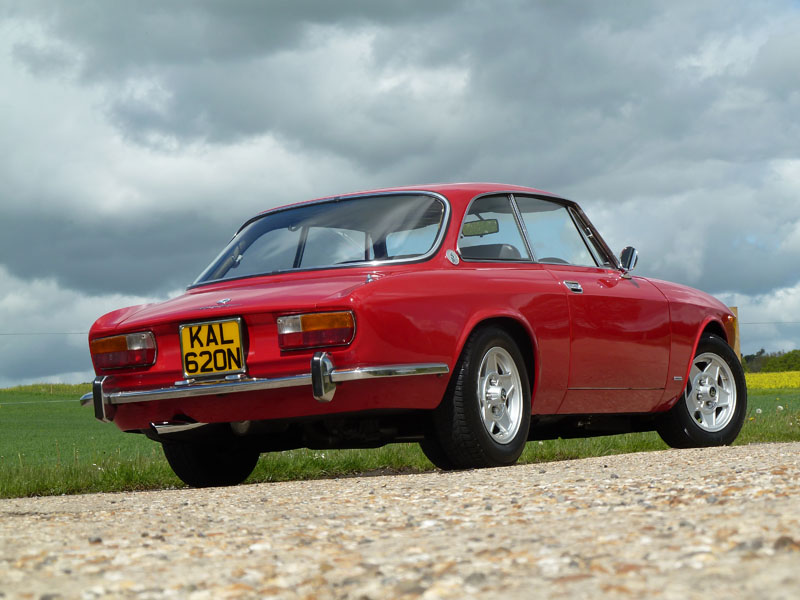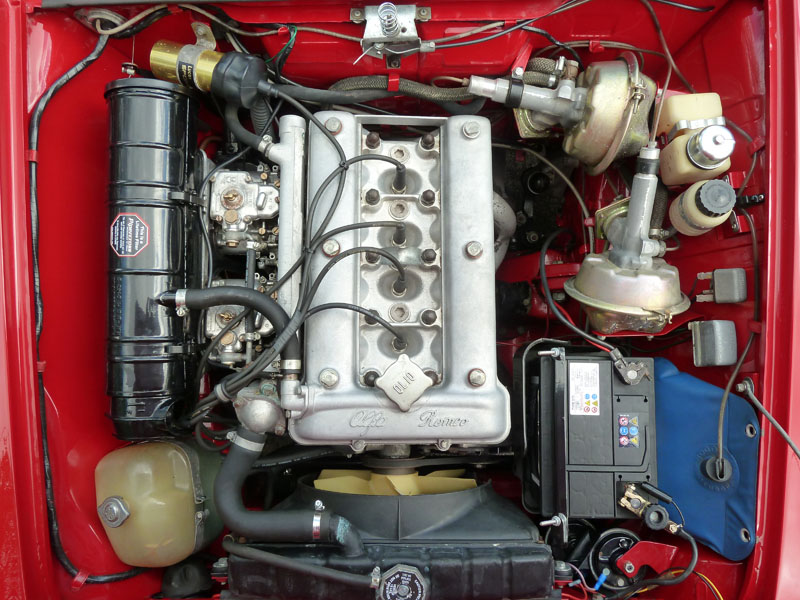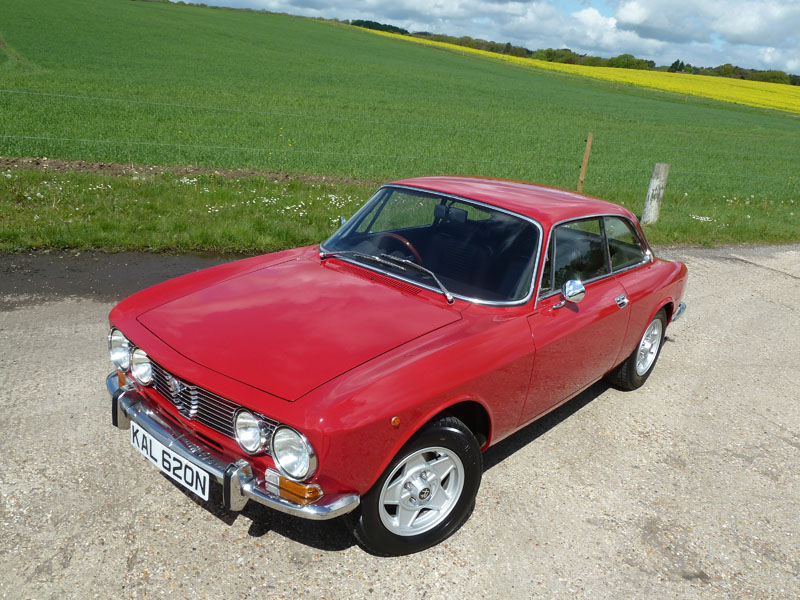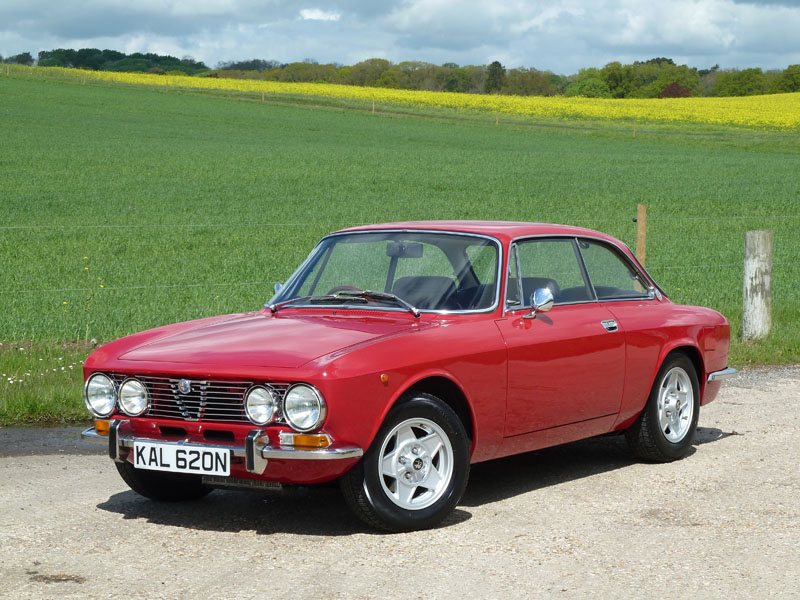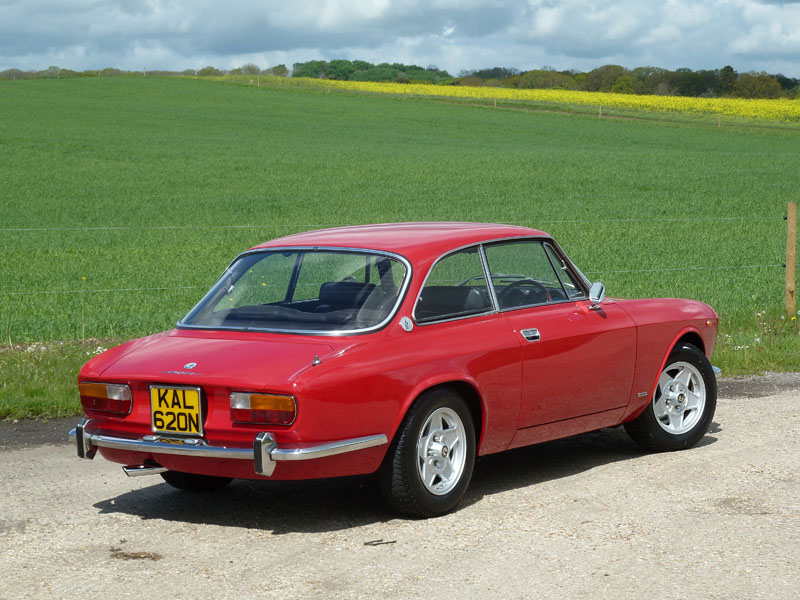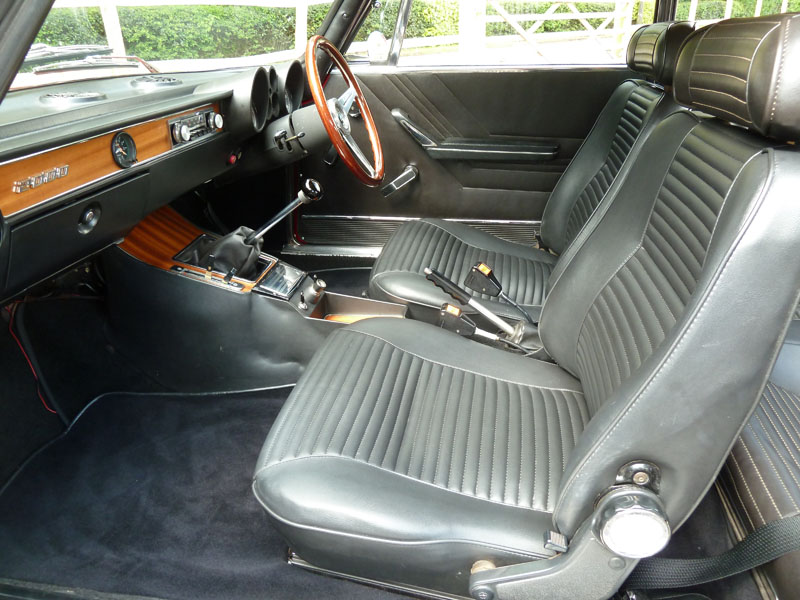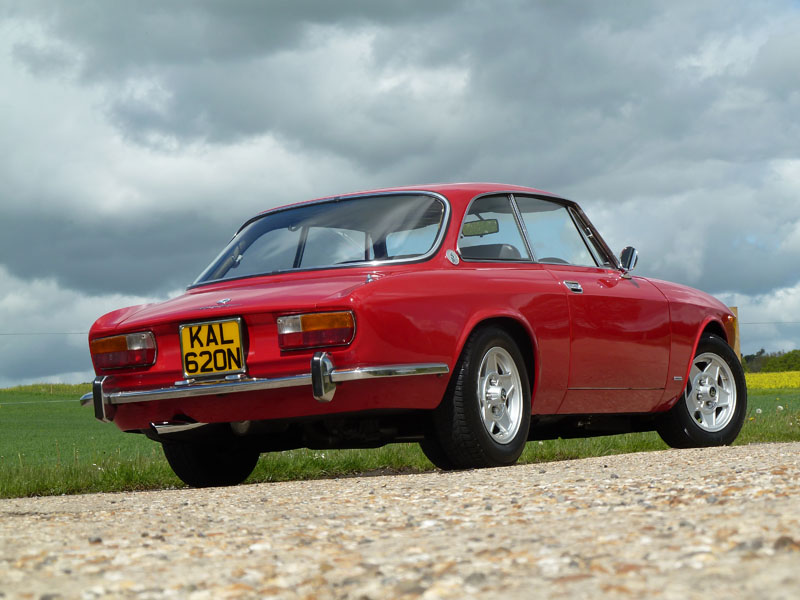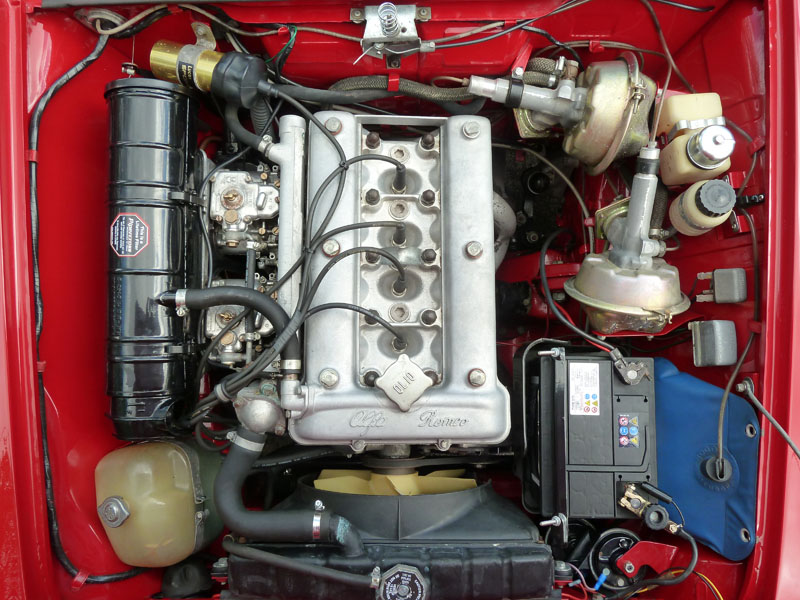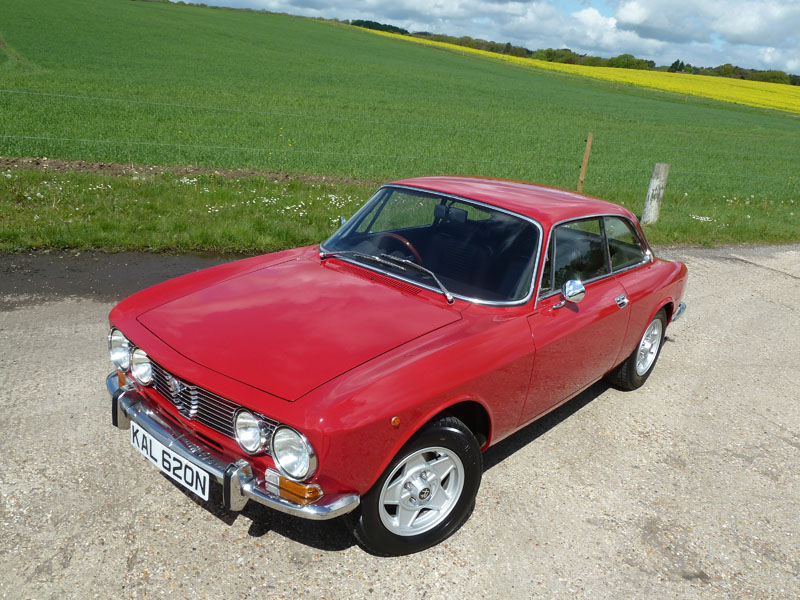 1974 Alfa Romeo 2000 GT Veloce RHD
Engine: 1962cc twin-cam four cylinder
Transmission: 5 Speed Manual
Year: 1974
Registration: KAL 620N
Mileage:
Exterior Colour: Alfa red
Interior colour and material: Black vinyl
VIEWING BY APPOINTMENT ONLY PLEASE.
- According to the Alfa Romeo Museum Archives this original right hand drive GTV was manufactured on February 6th 1974 and was invoiced by the factory to Alfa Romeo England on July 1st 1974. It was first registered for road use in England on June 2nd 1975.
- The very large history folder for this superb GTV contains the original service book that states it was supplied new by Bristol Street Motors (Sherwood) Limited of Nottingham. It is difficult to decipher the handwriting, but the name of the first owner could be an F.W. Cammock.
- The first owner was quite methodical in his maintenance of the GTV, having the supplying dealer Bristol Street Motors, carry out services in June 1975 at 644 miles, September 1975 at 3,628 miles, early 1976 (estimated) at 7,442 miles, July 1976 at 10,603 miles, December 1976 at 12,965 miles, and December 1977 at 18,324 miles. Alfa Romeo service books of the time did not have a prompt for the dates to be recorded, but the first owner added the dates to the dealer's service stamp and mileage recording, as well as noting the dates and mileages that he carried out maintenance himself, including a service in July 1975 at 15,874 miles.
- What happened to the GTV between July 1975 and early 1998 is currently unknown, but we are confident that a DVLA ownership report would detail the second and third owners of the car and confirm the name of the first owner, if it was applied for by a future owner.
- The V5C registration document lists Mr John Sismey as owner number four. Mr and Mrs Sismey of Lincolnshire are well known Alfa Romeo Owners Club members, with Mrs Sismey holding a crucial role within the Club for many years. Mr Sismey was a former engineer and mechanic with the BRM racing team so his GTV was in safe hands when he commissioned its strip and restoration.
- The restoration was started in late 1998 by former Alfa Romeo specialist restorer Carsmiths of Cawston, Norfolk, with many letters on file between them and Mr Sismey detailing the work that was to be carried out, along with invoices.
- In addition to the bare-metal glass-out restoration, the engine, gearbox, and rear axle were stripped and re-built by Alfa Romeo specialist Richard Drake of Norwich in early 1999. The cooling, suspension, and braking components were also stripped and re-built or replaced, and a Harvey Bailey handling kit was fitted along with Cromodora alloy road wheels.
- The first post restoration MOT on file is from May 29th 1999 which records the mileage as being 34,372 miles.
- The subsequent MOT certificates on file show that Mr Sismey hardly used his superbly restored GTV, with just a few hundred miles being recorded between MOT's.
- In November 2005 the Alfa Romeo specialist BLS Automotive of Lincoln carried out some repairs to the cooling system on the car, at which time the mileage was recorded as being 40,409.
- In May 2006 the car was acquired by a Mr John Aspinall of Malvern, Worcestershire, although a few months later in December 2006 it changed owners again to a Mr Michael Parkin of Peterborough. We believe both sales were handled by a well known classic car dealer and restoration company in Nottinghamshire (the sale to Mr Aspinall certainly was).
- Many invoices and MOT certificates document the routine works and repairs that the car enjoyed during Mr Parkin's ownership, with an MOT certificate from October 2009 recording the mileage as 41,920.
- A few weeks later (in October 2009) the car was sold via a classic car dealer to a Mr Clive Pope of Tetbury, Gloucestershire. Mr Pope covered just a few hundred miles before selling the GTV to a young Gentleman from London, SW2, in June 2011.
- As Mr Sismey's superb restoration was twelve years old, the Gentleman had well known Alfa Romeo specialist restorer Mike Spenceley of MGS Coachworks in Purley, South London, carry out minor restorative repairs to the paintwork to bring the car into the excellent condition in which it is in now. He then went to great lengths to conserve the car in a dry and covered environment during his ownership.
- After two and a half years of enjoyable ownership, the Gentleman was tempted by a modern Maserati and we were grateful to him for contacting us so that we could purchase his GTV from him.
- This is an excellent example of a wonderful model of Alfa Romeo. 2000 GTV's are so very usable and easy to drive with their torquey and powerful engines, slick five-speed gearboxes, and all wheel disc brakes. Great visibility and a sizeable boot add to their practicality and enjoyment, and they will happily sit at motorway cruising speeds for hours on end without the car or the driver struggling for a moment. This car boasts a large history file containing many invoices and previous MOT certificates as well as important body and mechanical restoration invoices. The previously mentioned original service book is also present, along with a handbook, a 1974 Alfa Romeo dealer guide, and a copy of Keith Booker's The Essential Buyers' Guide Alfa Romeo Giulia GT Coupe book, in which the car is featured.
- We do not have enough early history on the car to confirm either way whether the 48,500 recorded miles on the odometer are all that the GTV has travelled since new, but there is no reason to presume that it is not. The two owners of the car between July 1975 and early 1998 could easily have used the car a lot, or hardly at all. Sadly we will probably never know.