1976 Alfa Romeo 2000 Spider Veloce RHD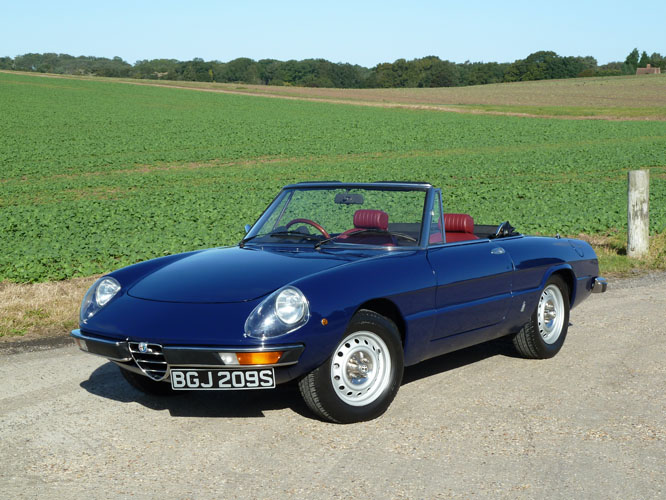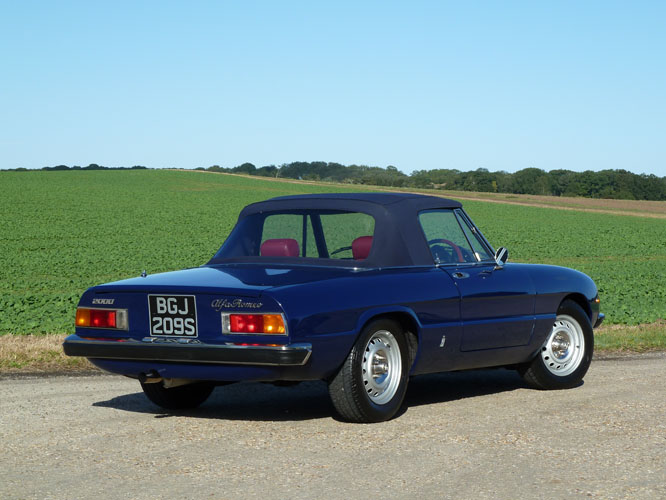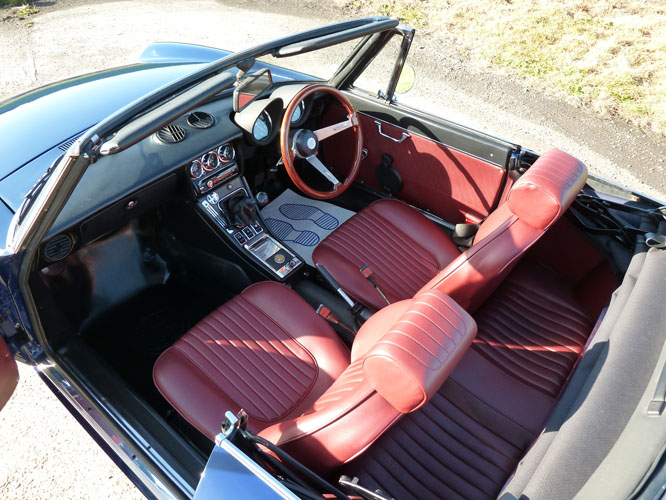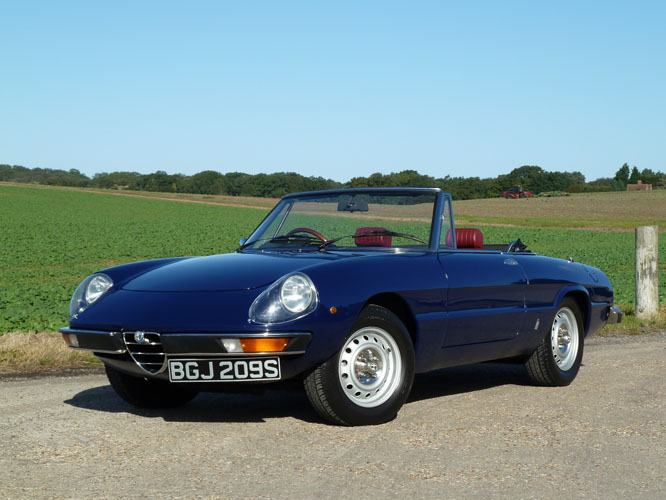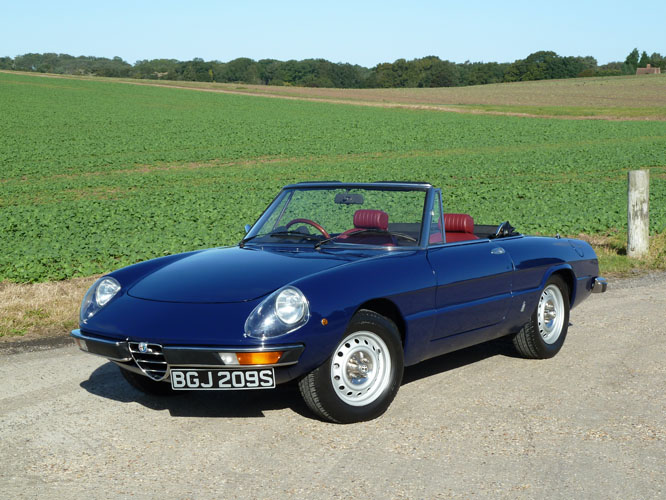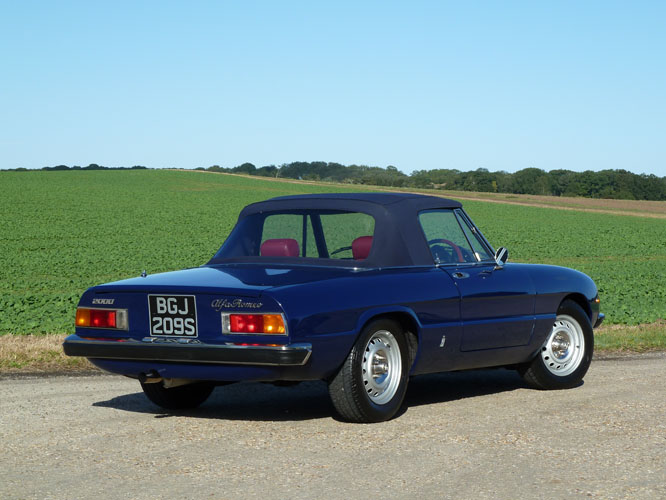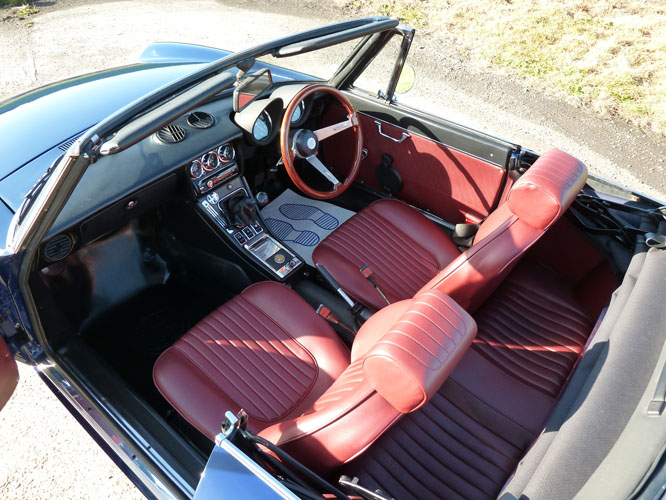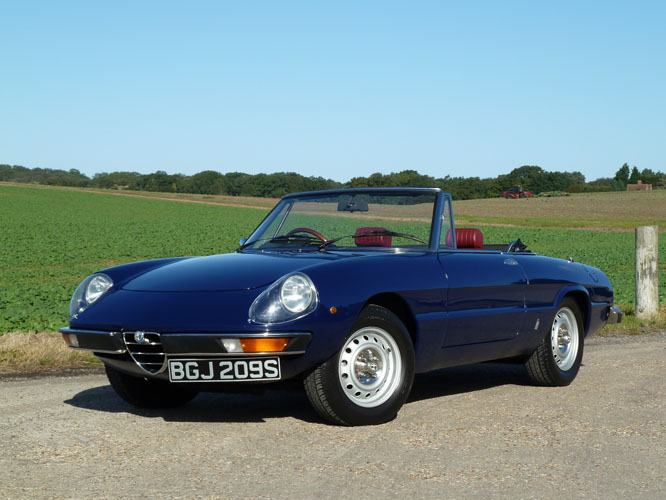 1976 Alfa Romeo 2000 Spider Veloce RHD
Engine: 1962cc twin-cam four cylinder
Transmission: 5 Speed Manual
Year: 1976
Registration: BGJ 209S
Mileage: 62,000
Exterior Colour: Dutch blue
Interior colour and material: Red vinyl
VIEWING BY APPOINTMENT ONLY PLEASE.
- This Spider was manufactured on April 13th 1976 as a right hand drive version. The car was sold new by the Alfa Romeo main dealers Paget Automobiles of Cheam, Surrey, to its first owner who resided close to the dealership. It was first registered on March 22nd 1978.
- The superb car has an incredibly comprehensive history file from new, which includes precious items such as the original delivery invoice, original service book and dealership guide, the original Ziebart certificate (arranged by Paget and carried out prior to delivery), copies of previous registration documents detailing all of its owners who all resided in London, and every MOT certificate except for two from recent years (2007 and 2008).
- Paget automobiles sold the car again to its second owner in January 1984 when it had only covered 5,500 miles. The lady purchaser enjoyed the car until September 1994, taking the total recorded mileage to about 41,000 miles.
- The Spider's third owner owned it for just two years before selling it in January 1996 to another long term owner, who enjoyed it until it was purchased by the most recent owner in September 2009.
- All of the five owners of this superb car have maintained it to a very high standard by known specialists, with the most recent owner spending well over £10,000 in refurbishments and enhancements. These works included a Classic Alfa suspension handling kit, a new clutch, an engine rebuild featuring high compression pistons and Colombo and Bariani 11.6mm cam shafts all being carried out around October and November 2009, a new dark blue roof, new bumpers, a new grille, new seat foams and red vinyl seat covers, and a repaint in the cars original colour being fitted and carried out around May 2010, a new radiator was fitted around August 2010, and an Alfaholics stainless steel sports exhaust and a reconditioned gearbox being fitted in January 2011. It should be noted that there are no invoices for the engine rebuild and the body repaint in the history file as the works were done by acquaintances of the owner, but there are invoices for the parts used.
- Superlative versions of these late right hand drive 2000 Spiders are becoming very hard to find now, and therefore to locate a vehicle with such a fabulously complete history is a very rare opportunity.