1999 Maserati Quattroporte 3.2 V8 Evoluzione Automatic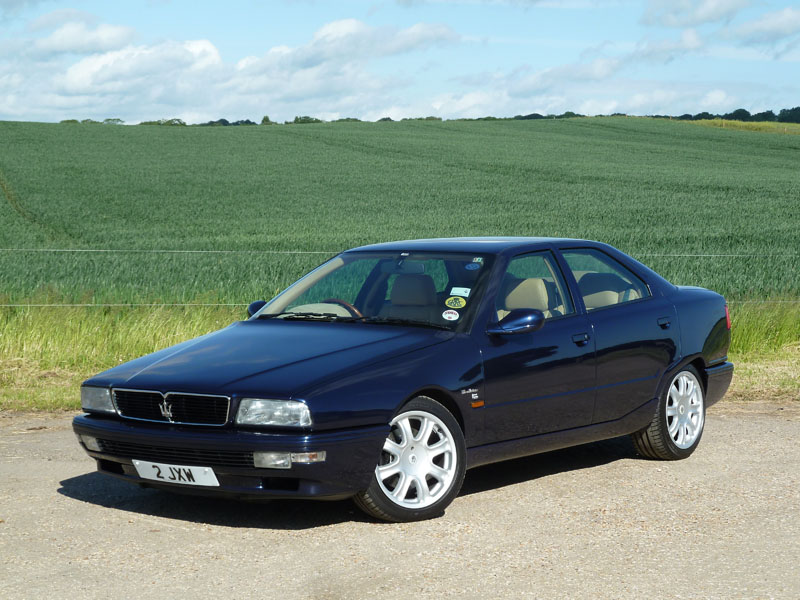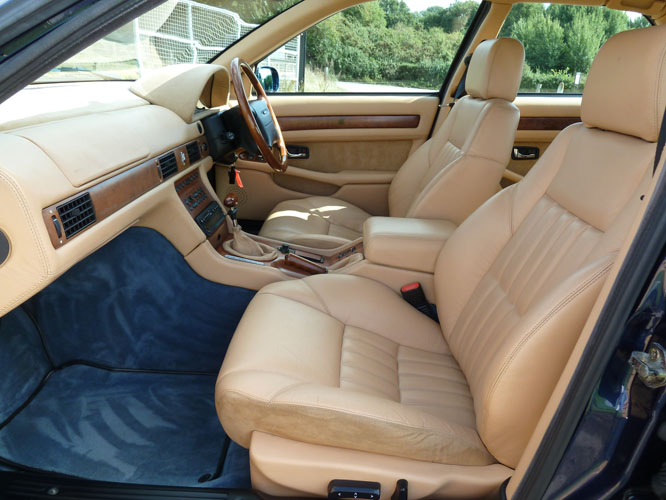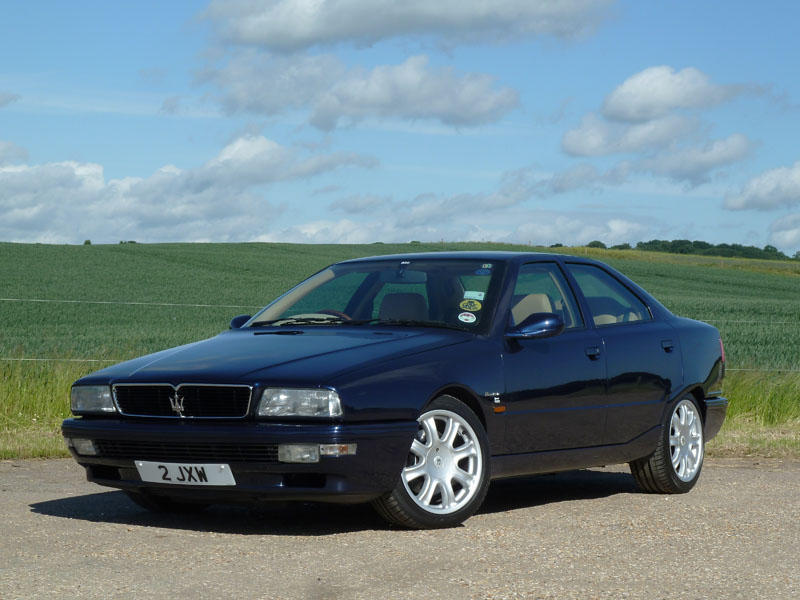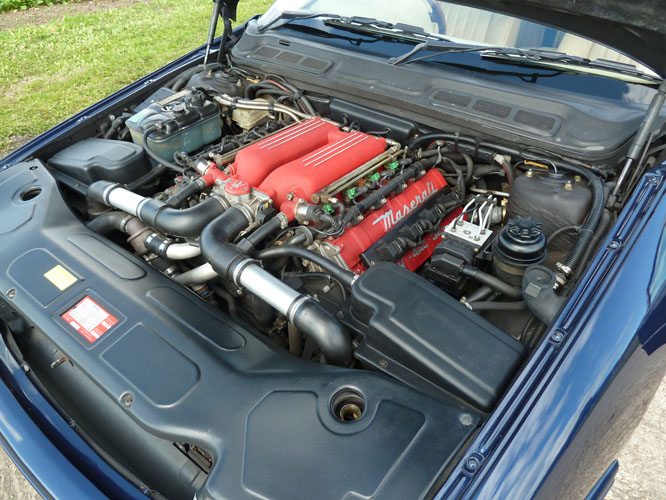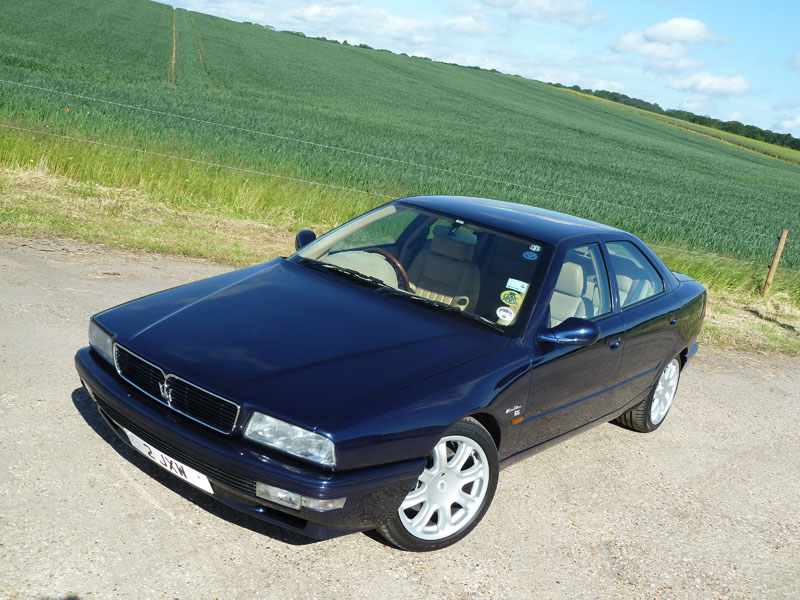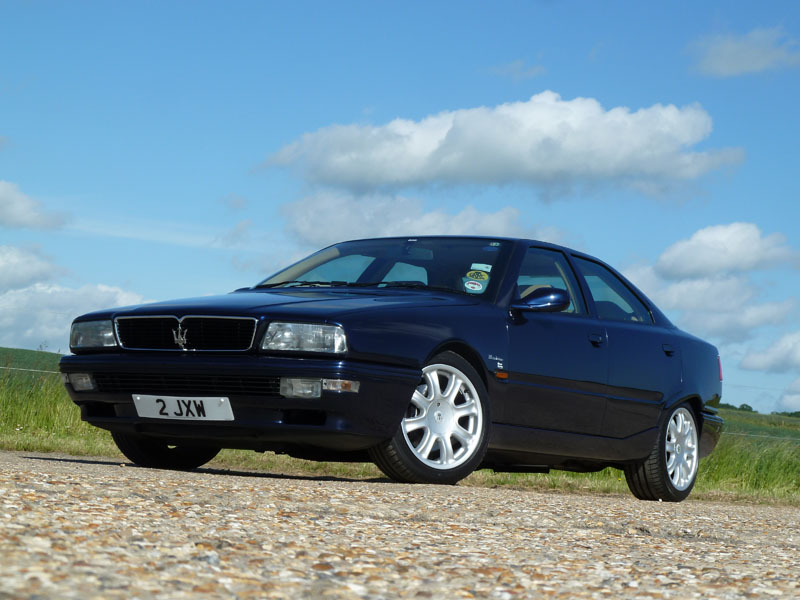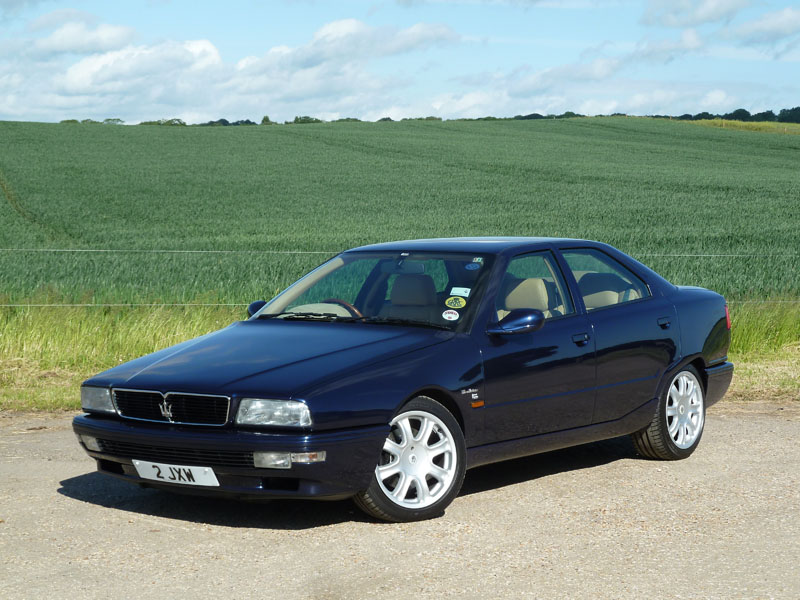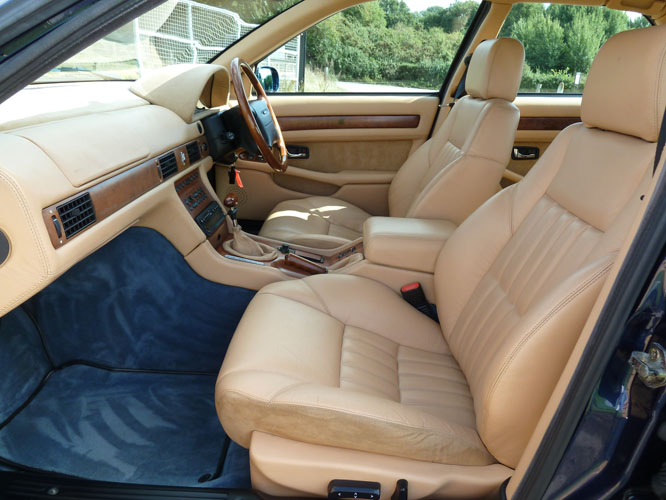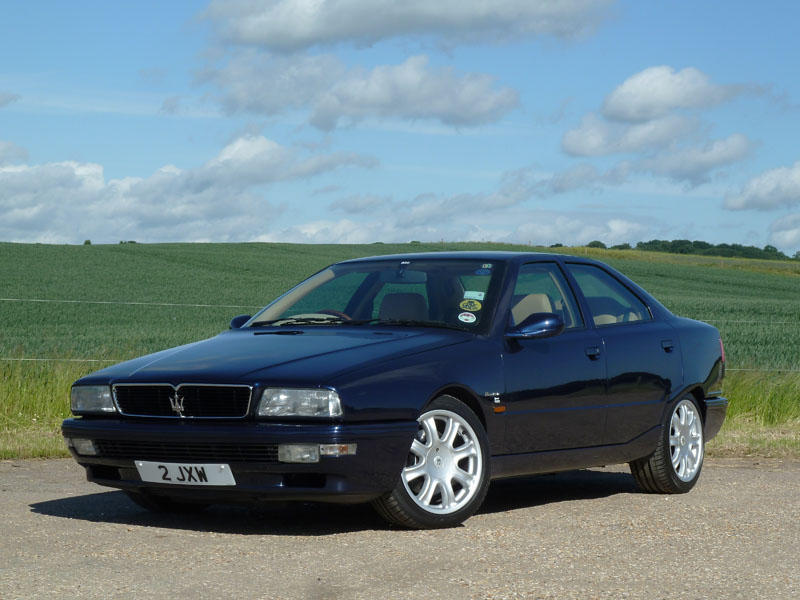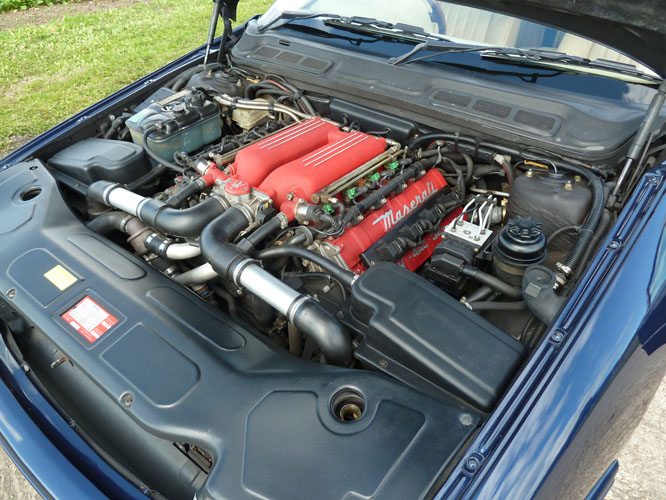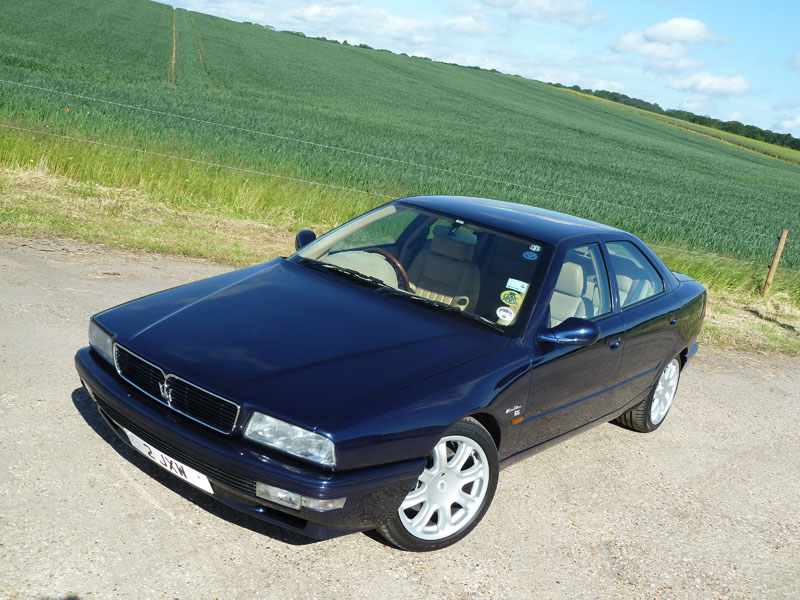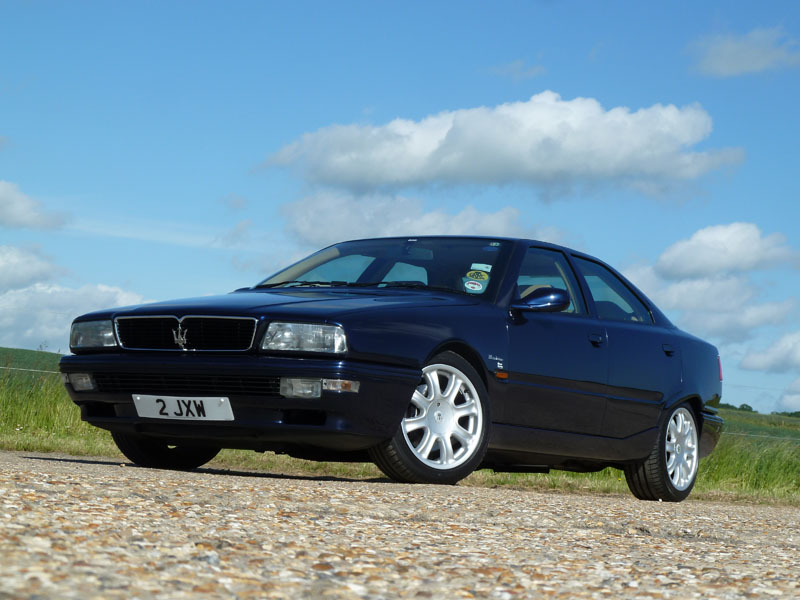 1999 Maserati Quattroporte 3.2 V8 Evoluzione Automatic
Engine: 3217cc twin-turbo V8 cylinder
Transmission: 4 Speed automatic
Year registered: 2000
Registration: W126-ULB
Mileage: 33,000
Exterior Colour: Metallic blu nettuno
Interior colour and material: Tan leather
VIEWING BY APPOINTMENT ONLY PLEASE.
- This Maserati Quattroporte joined our Black & White Collection in September 2013 at 31,300 miles when we purchased it from a Gentleman in Woking, Surrey. It was very sadly sold in March 2015 due to the loss of its storage space.
- This Marcello Gandini designed Quattroporte series IV is a very rare car being one of only 340 3.2 V8 Evoluzione models manufactured in both left and right hand drive between early 1998 and May 2001. Quattroporte IV production commenced in 1994 and the model range included 2.0 and 2.8 twin-turbo V6 engines and a 3.2 twin-turbo V8. The Evoluzione models featured the same range of engines. A total of only 2,400 examples were manufactured of both original and Evoluzione variants before production finished in May 2001, of which only approximately 200 had right hand drive steering.
- This fantastic example of a Quattroporte was manufactured in December 1999 and sold new by HR Owen of South Kensington, the authorised Maserati dealership for London. It was first registered for road use in England as W126-ULB on March 3rd 2000 to a Mr Farshid Khalatbari of West Kensington, London W14.
- The Maserati was used sparingly with the first service being completed by HR Owen in January 2001 when the car had covered only 1,793 miles.
- Further visits to HR Owen for various repairs recorded the mileage as being 2,130 miles in May 2001, 4,370 miles in January 2002, and 4,405 miles in March 2003.
- Ferrari specialist QV London of Windsor, Berkshire, were the next garage to see the car when they carried out a cam-belt service in June 2006 for a dealer local to them called Windsor Great Cars of Virginia Water, Surrey. The mileage at that time was recorded as being 8,113.
- Windsor Great Cars sold the car to a Mr Bruce Jaffe of Church End, North London N3, on June 27th 2006.
- On January 30th 2008 Mr Jaffe sold the car to a dealer who sold it onto a Mr Marlon Sorken of Wye, Kent, on March 12th 2008.
- July 22nd 2009 saw Mr Sorken selling the car and it was purchased by the Ferrari and Maserati dealership (and former Maserati UK concessionaire) Meridien Modena of Lyndhurst, Hampshire.
- Meridien Modena sold the Quattroporte on October 13th 2009 to a Dr Diarmuid Clohessy, a dentist in Basingstoke, Hampshire. Meridien Modena carried out a cam-belt change service as part of its pre-sale Maserati inspection and the mileage at this time was recorded as 16,068.
- Dr Clohessy got a bit carried away with the increase in power over his previous 2004 Mercedes-Benz E270 CDi and the French Police gave him a speeding ticket on December 3rd 2009 in Saint-Sauveur-le-Vicomte, shortly after leaving the ferry in Cherbourg.
- On May 31st 2011 Dr Clohessy sold the car and it was acquired by the specialist car dealer Oakfields of Hook in Hampshire. A few months later on September 15th 2011 Oakfields sold it a Gentleman from Mayford, near Woking, in Surrey. The recorded mileage at this time was approximately 25,200. This Gentleman applied the registration number T1-BHD to the car and he continued to have it maintained within the Maserati authorised dealer network (as Dr Clohessy had done), using Maranello, in Egham, Surrey.
- It was this Gentleman who we purchased the car from almost exactly two years later, and he retained his T1-BHD number plate when he sold the car to us.
- Shortly after purchasing the Quattroporte we took it to leading Maserati specialist McGrath Maserati, near Stevenage in Hertfordshire. They carried out a thorough inspection and cam-belt change service for us in preparation for the 2014 Maserati Centenary events.
- In June 2014 the car returned to McGrath Maserati for some further works which resulted in the maintenance of the car being brought up to date. The recent £5,000+ expenditure has brought this formerly excellent Quattroporte to a superlative condition both bodily and mechanically, and coupled with its most agreeable colour combination (metallic blu nettuno paint with a tan leather interior), its low mileage (currently 33,000), and its enormous and comprehensive history folder, this car must surely be one of the finest in existence.
- The number plate 2-JXW is not included with the sale of the car and it will be removed before the car is sold.
Events we have exhibited and participated this Maserati at:
- 96 Club Chelsea Rendezvous, Millbank Tower, Embankment, London, November 10th 2013.
- 96 Club Chelsea Rendezvous, Millbank Tower, Embankment, London, January 12th 2014.
- 96 Club Chelsea Rendezvous, The Hurlingham Club, Fulham, London, April 13th 2014.
- Maserati Club AGM and Concours, Prescott, Gloucestershire, June 8th 2014.
- Muchelney Classic Car Run, Dorset, July 13th 2014.
- 96 Club Rendezvous, Belgravia, London, November 9th 2014.