2000 MV Agusta 750 F4 Serie Oro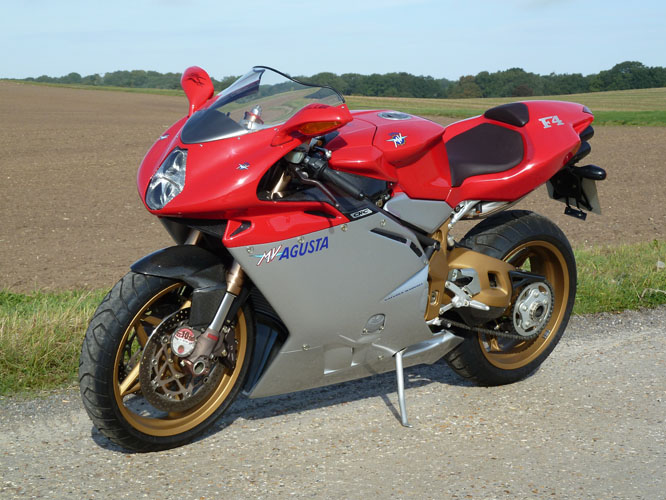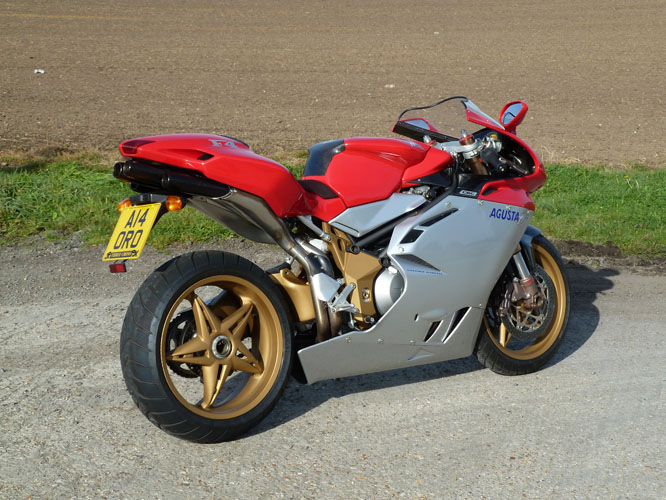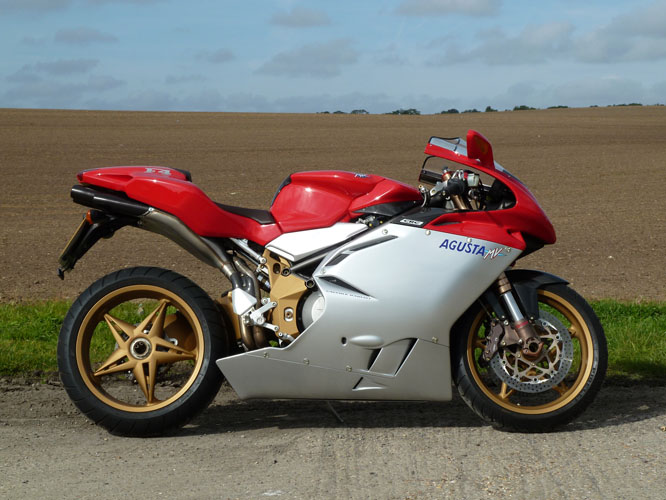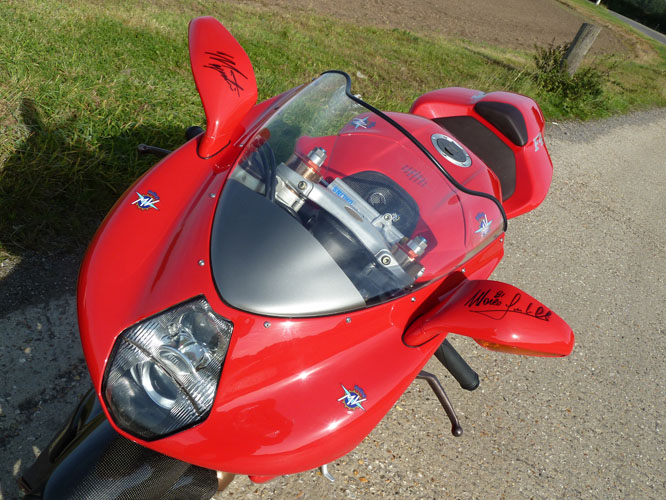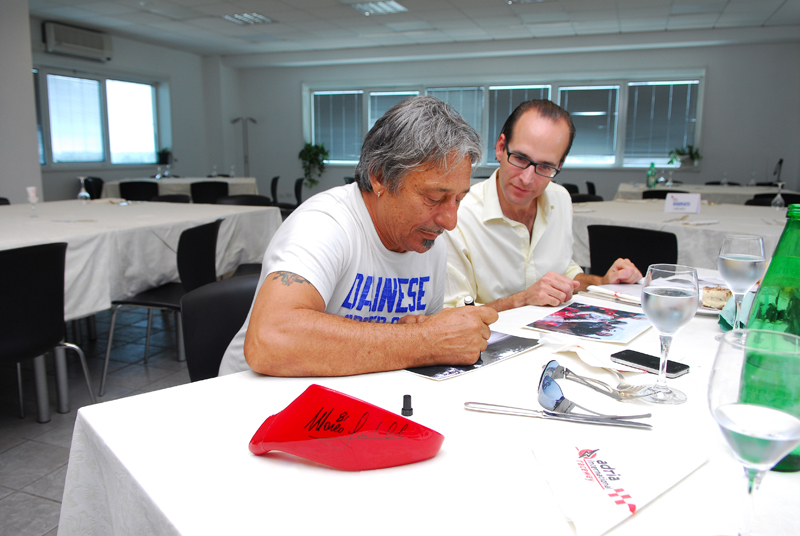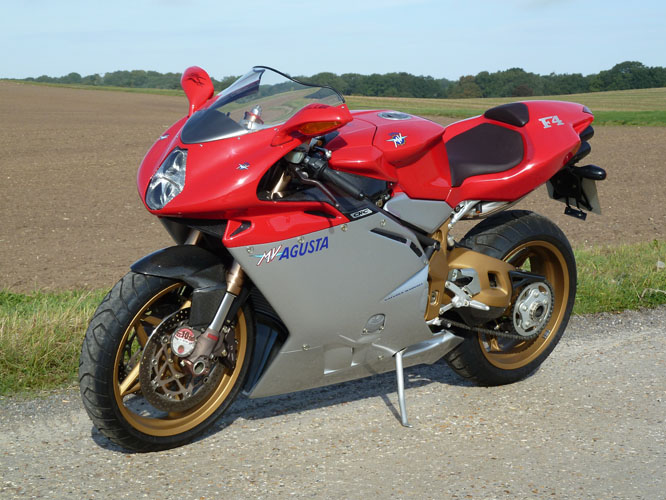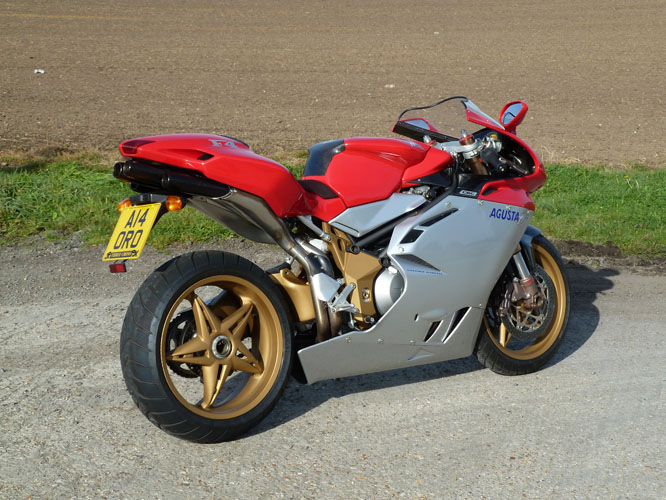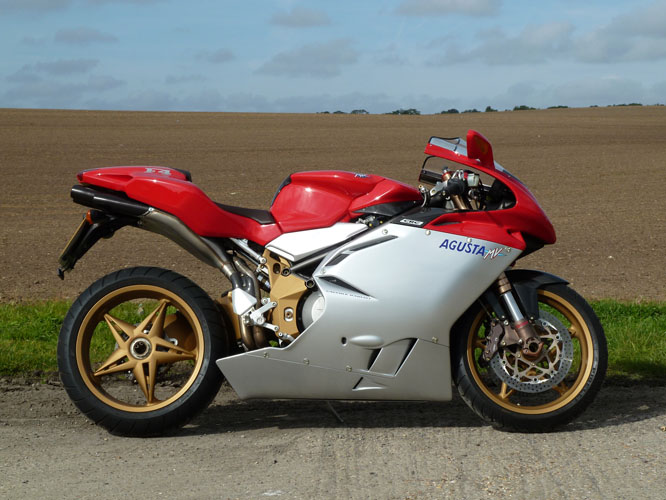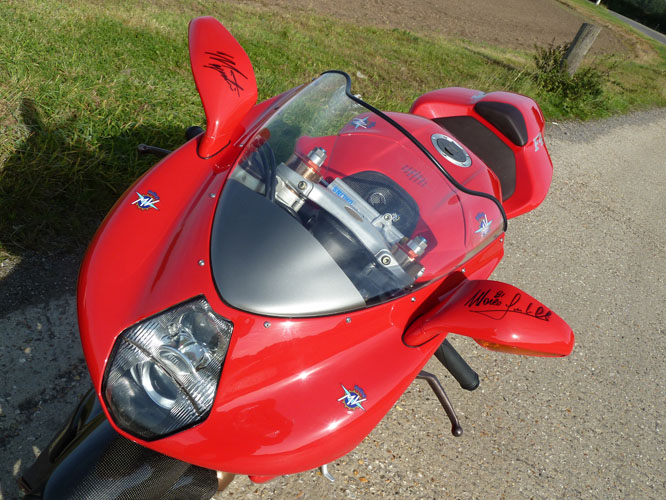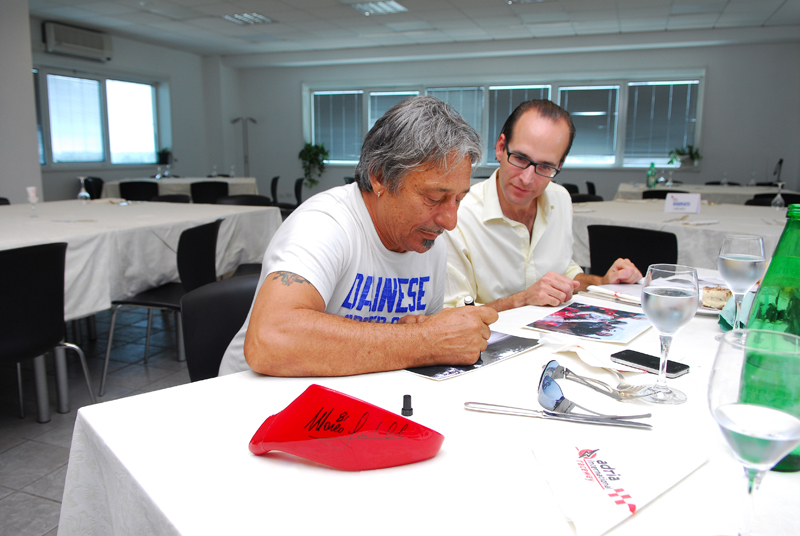 2000 MV Agusta 750 F4 Serie Oro
Engine: 749.4cc four cylinder
Transmission: 6 Speed Manual
Year: 2000
Frame #: ZCGF400AAXV000294
Engine #: F4AX000349
Registration: W694 UTF (Prev. A14 ORO)
Mileage: 955
Exterior Colour: Red and silver
Interior colour and material:
VIEWING BY APPOINTMENT ONLY PLEASE.
- Owned from new by the late Chairman of the MV Agusta Owners Club of Great Britain, Mr Alan Elderton, until we acquired it for our Black & White Collection in November 2010 when it had covered only 925 miles.
- We sadly sold this very special motorcycle through Bonhams auctioneers at their Retromobile auction held at the Grand Palais in Paris on February 7th 2013. It was purchased by an enthusiastic Parisian motorcycle collector.
- This F4 is number 294 of only 300 Serie Oro's manufactured by MV Agusta to celebrate the re-launch of the MV Agusta brand by Cagiva, and one of only 21 official UK supplied motorcycles.
- In a letter dated December 1st 1999 from the MV Agusta Club GB Treasurer to Claudio Castiglioni, the President of MV Agusta Motor S.p.A., Alan requested to purchase one of the new MV Agusta 750 F4 Serie Oro motorcycles. A faxed reply from Claudio Castiglioni on February 3rd 2000 states that F4 Serie Oro production had ceased but he would try and "keep one at his disposal" for Alan. A letter from the MV Agusta UK agent Three Cross Motorcycles in Wimborne, Dorset, dated February 14th 2000, informed Alan that Three Cross had "received an instruction from MV Agusta Motor S.p.A. to supply you with an MV Agusta Serie Oro motorcycle." Therefore, it must be presumed that as Alan did receive one of the already sold 300 motorcycles, someone somewhere didn't receive the one that they had ordered.
- Alan collected the Serie Oro from Three Cross Motorcycles on Sunday March 19th 2000 and it was first registered for road use in England on March 25th 2000.
- The F4 Serie Oro featured many differences over the later regular production model, the F4S, such as a carbon fibre fuel tank (instead of aluminium), carbon fibre body panels (instead of plastic), and magnesium wheels and rear suspension swing arm (instead of aluminium). All of these features helped to produced a very light motorcycle (only 184 kgs) but also made it expensive to produce, resulting in this very special machine costing roughly £23,000 (in the UK) when new.
- Used sparingly during Alan's cherished ownership, the majority of the Oro's miles were covered in the first year and a half, with 780 miles being recorded at the second service in September 2001. The Oro then remained almost dormant until May 2008, at which time only 831 miles were recorded.
- In May 2008 Alan had a request from Giacomo Agostini to borrow his F4 Serie Oro to ride around the Isle of Man TT Circuit for a television documentary he was working on for the television station Moto TV with another former Moto GP World Champion, Marco Lucchinelli. June 2008 was to be the last time that Alan's MV Agusta 750 F4 Serie Oro was to be ridden during his ownership, and by none other than former MV Agusta Works Racer and Moto GP World Champion Giacomo Agostini, and former Moto GP World Champion Marco Lucchinelli. A pair of very special riders on a very special ride and at a very special place, with both of them covering several laps of the Isle of Man TT Circuit on the motorcycle.
- Alan Elderton, founder member of the MV Agusta Owners Club of Great Britain and Club Chairman since 1998, sadly passed away in November 2009. A great man, a great loss.
- In December 2010, soon after our purchase of the motorcycle from Alan's widow Kaye, we transported it to the MV Agusta authorised dealership Forza Italia at the Silverstone racing circuit. They carried out a full service and check over, removed the alarm system that had been fitted by Three Cross, fitted a new battery, and started the motorcycle for the first time since its return from the Isle of Man two years earlier.
- On February 26th 2011 Giacomo Agostini attended the Race Retro show in Warwickshire, and with the assistance of a very generous publicity agent, Andrea Seed of Poppyseed Media, Mr Agostini kindly signed one of the mirror casings of the F4 that we had removed from the motorcycle and delivered to Andrea on the previous day.
- On September 9th 2011 we flew to Italy for a pre-arranged meeting with Marco Lucchinelli at the Adria Raceway, which is on the coast near Rovigo in northern Italy. Mr Lucchinelli very kindly signed the other mirror casing, and also several photographs that we had obtained since Mr Agostini's mirror signing of the two racers riding the F4 around the Isle of Man.
- On the evening of February 4th 2012 we attended a pre-arranged meeting with Giacomo Agostini at a hotel on Park Lane in London, where he generously signed the hand books of the Serie Oro and the photographs of him on the F4 in the Isle of Man.
- We only rode the motorcycle on two occasions, resulting in the mileage being only 955 miles at the time of it leaving us, firstly on September 23rd 2011 to take the photographs seen here, and secondly on May 29th 2012 for its last MOT test. During its time with us it resided in our showroom in front of our company Director's desk on twin paddock stands (to conserve its tyres). It had its battery charged on or around the first of every month and was started and taken up to normal running temperature (and the brakes operated) every other month.
- Prior to the Bonhams auction the registration number A14-ORO was removed from the motorcycle and replaced with the age related mark W694-UTF.