1967 Alfa Romeo Spider 1600 Duetto RHD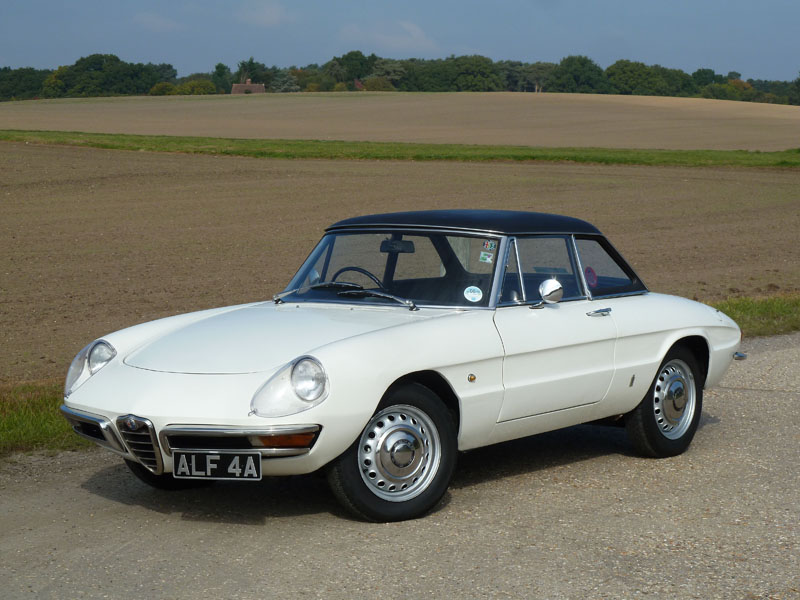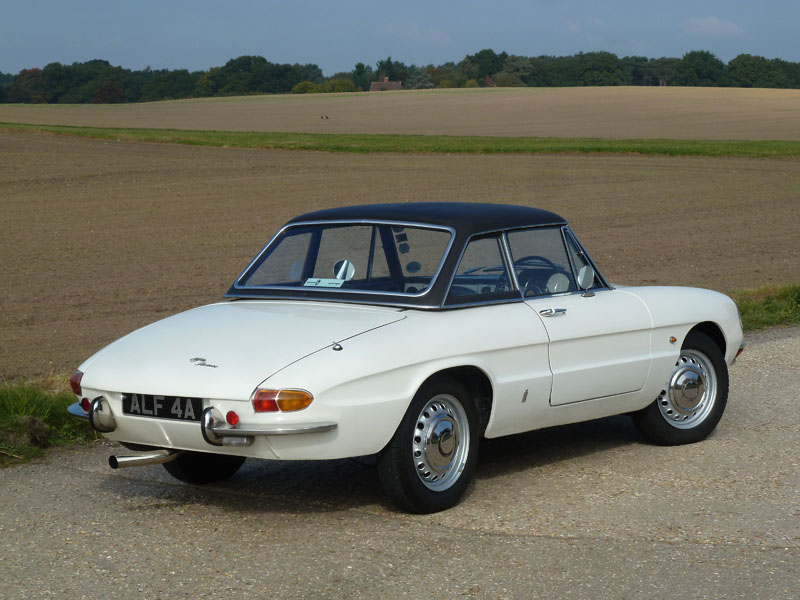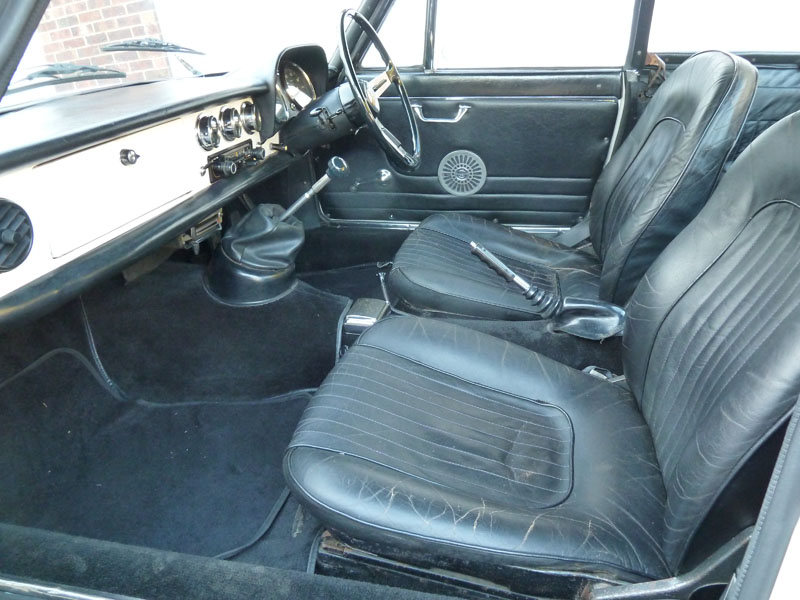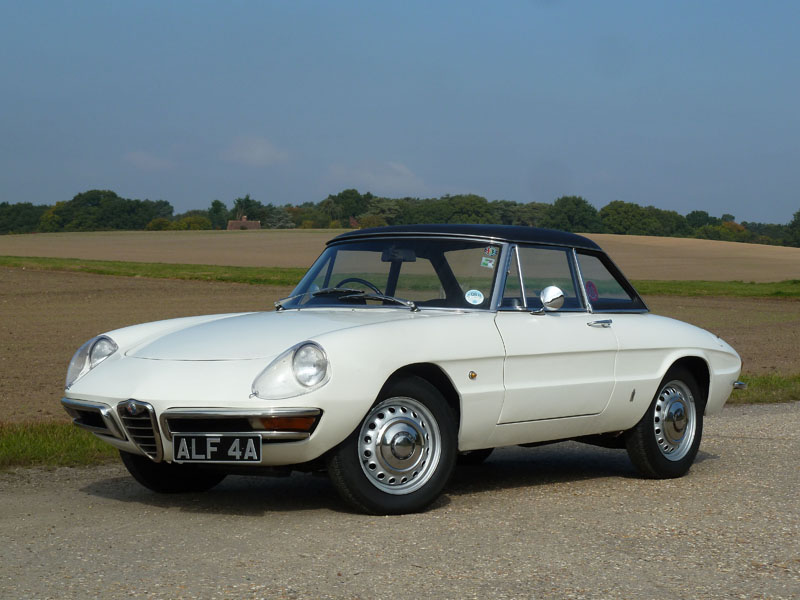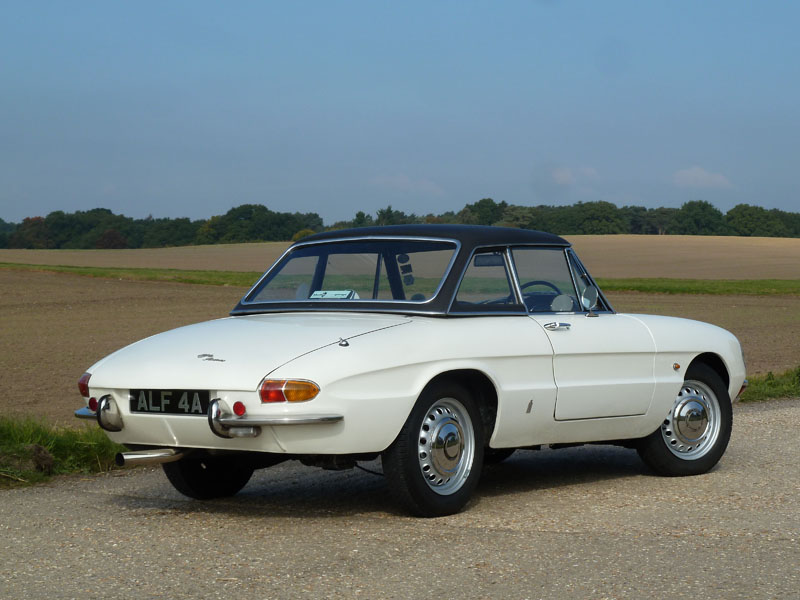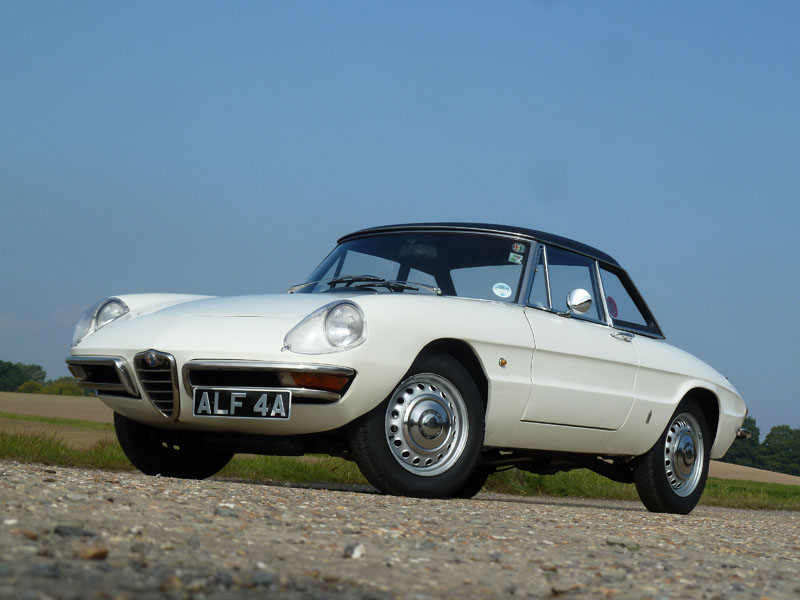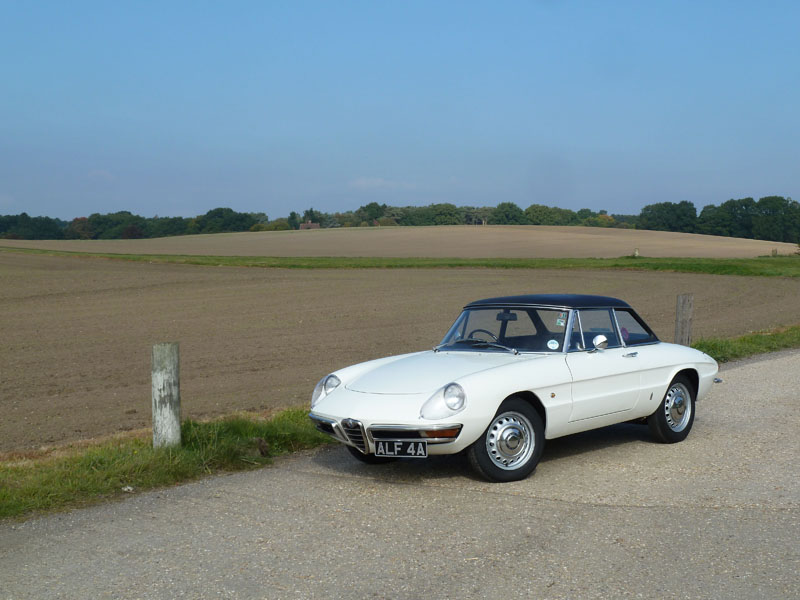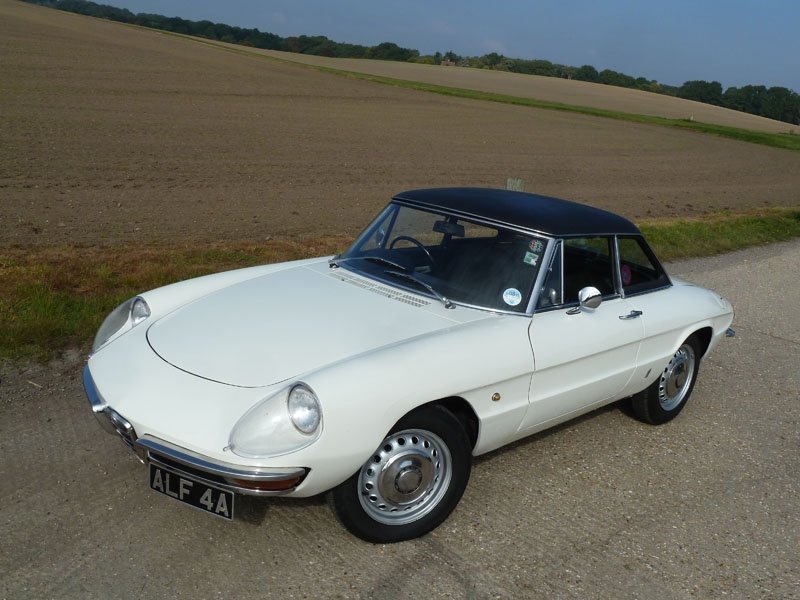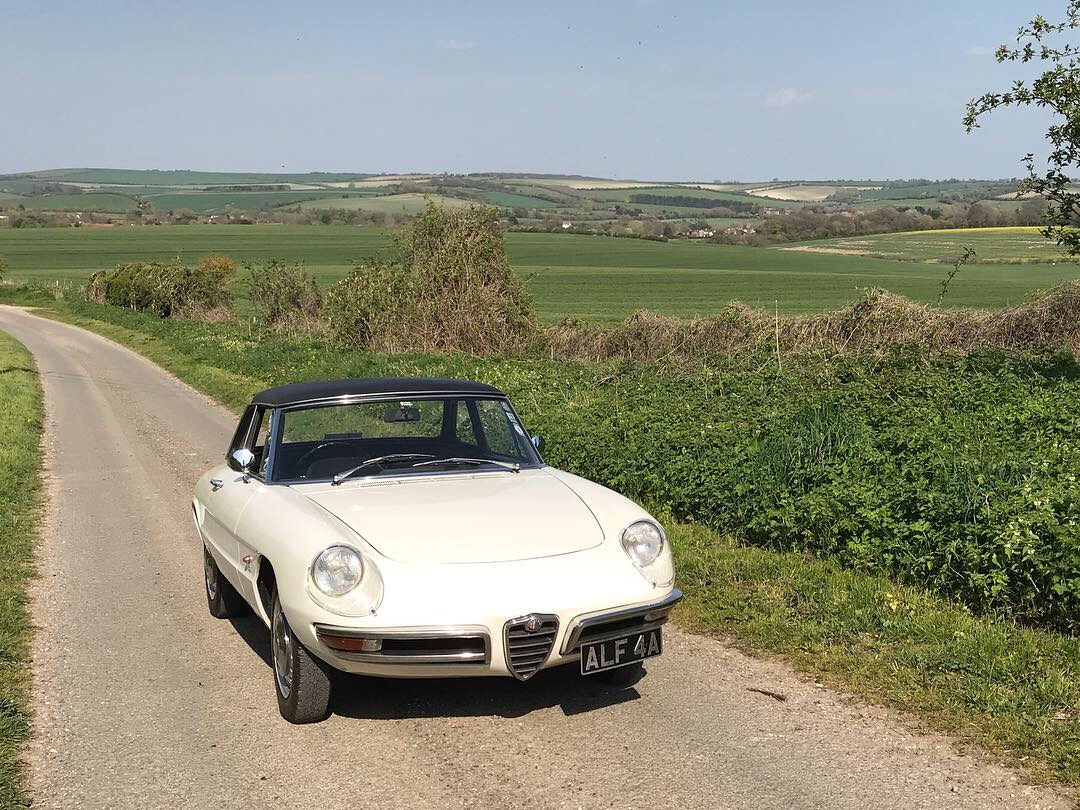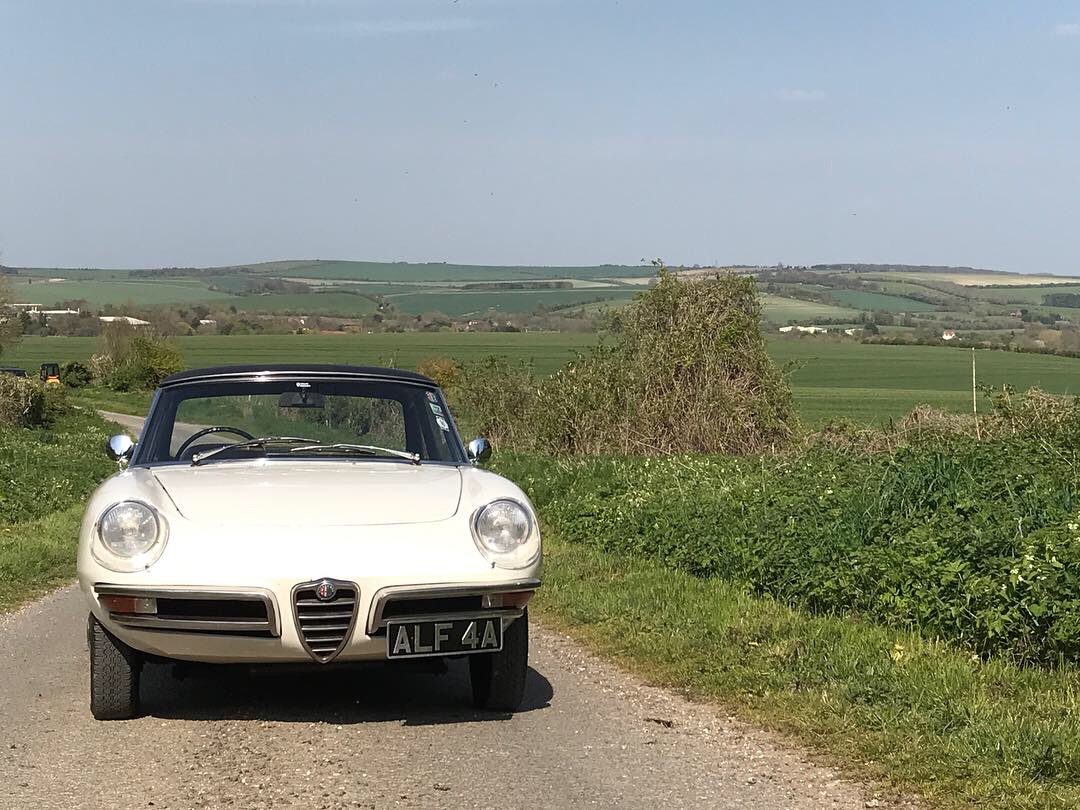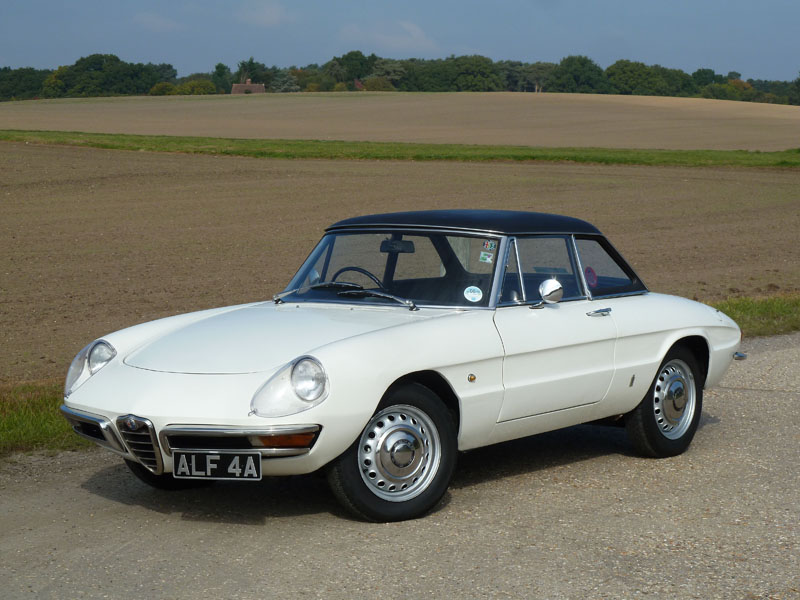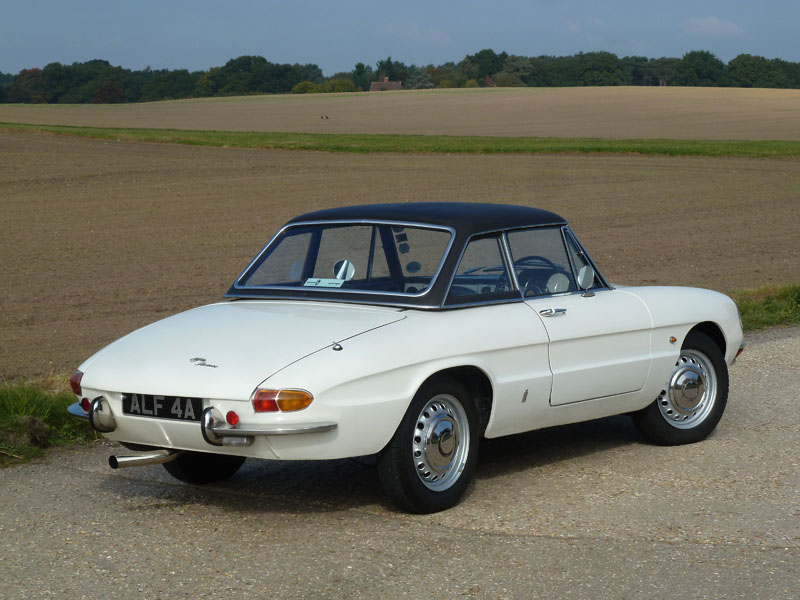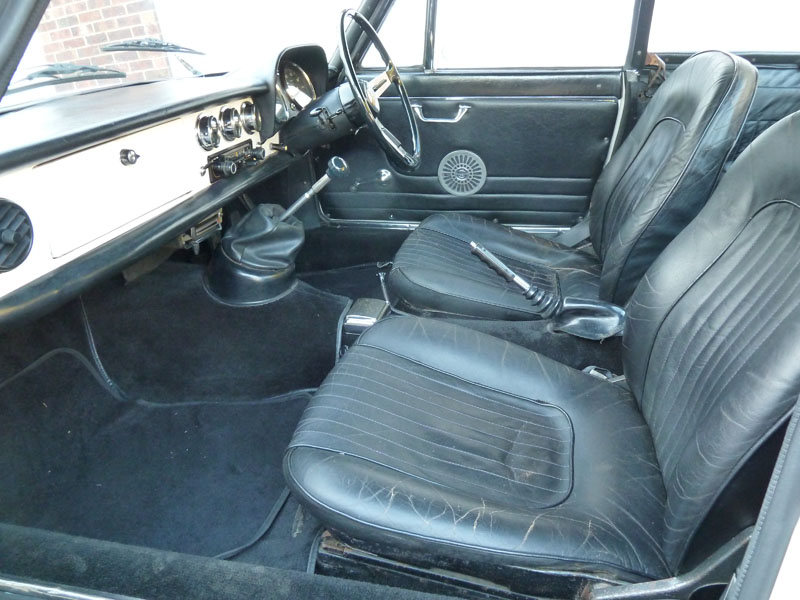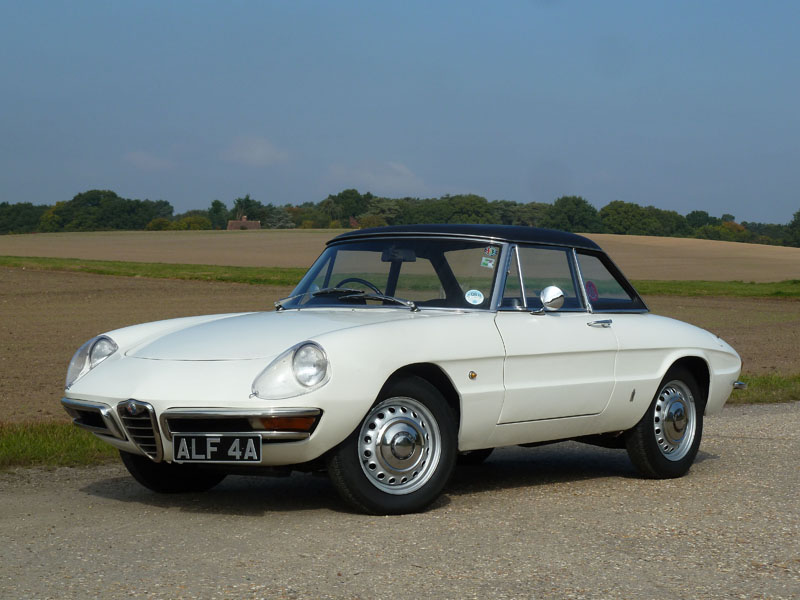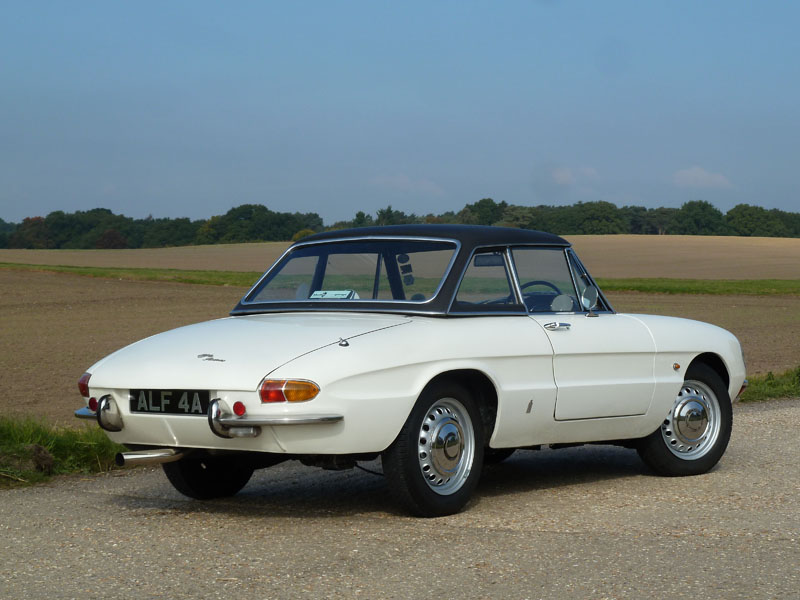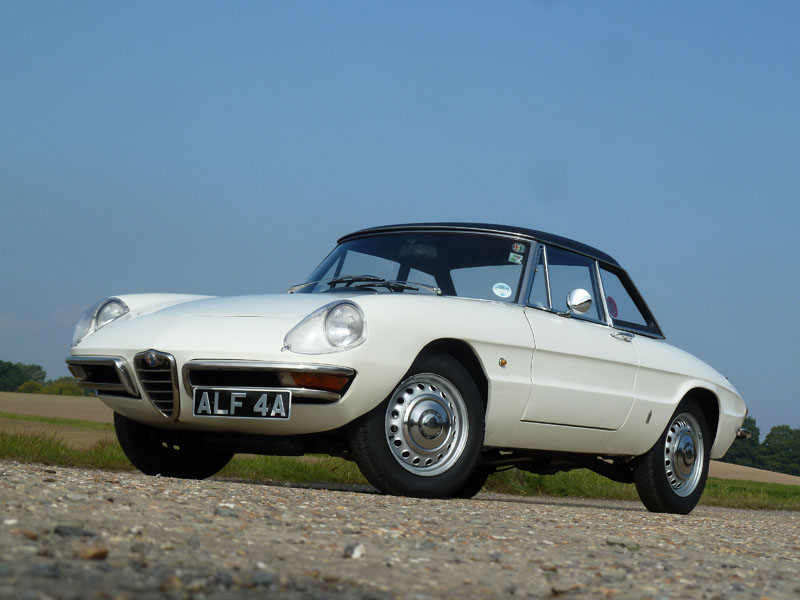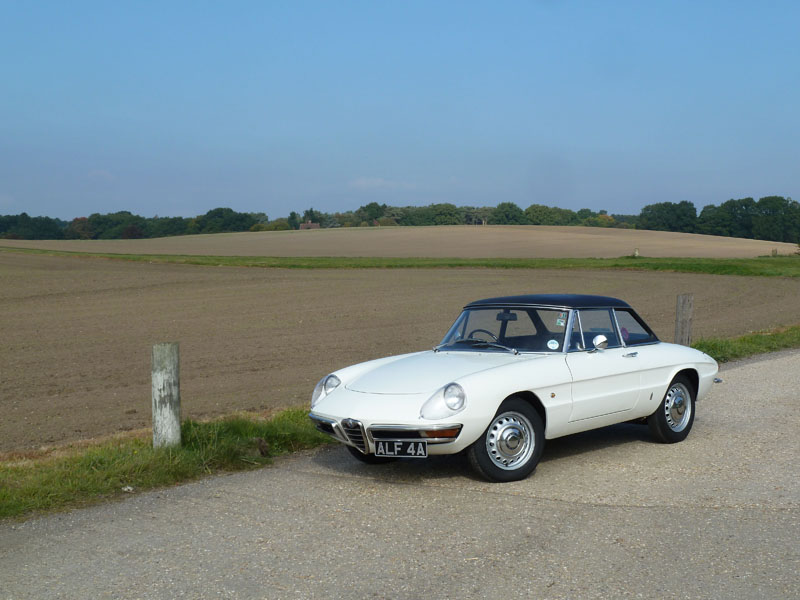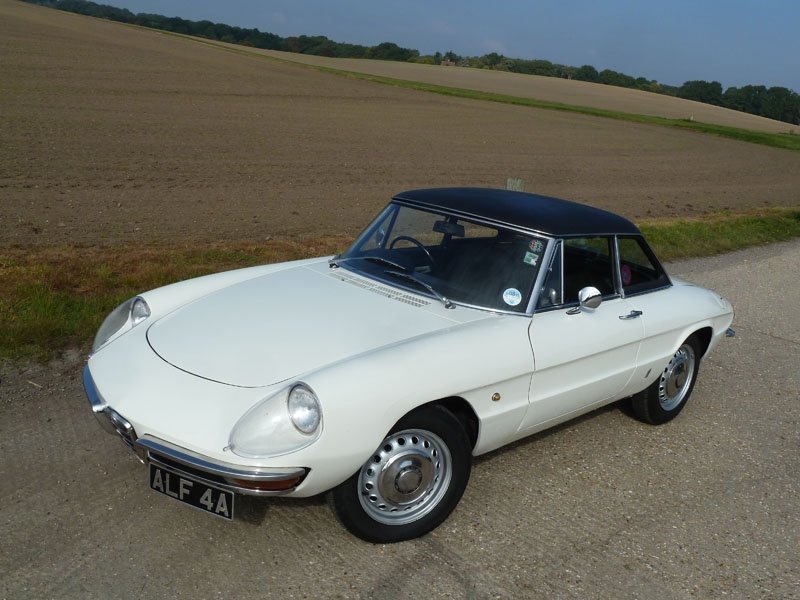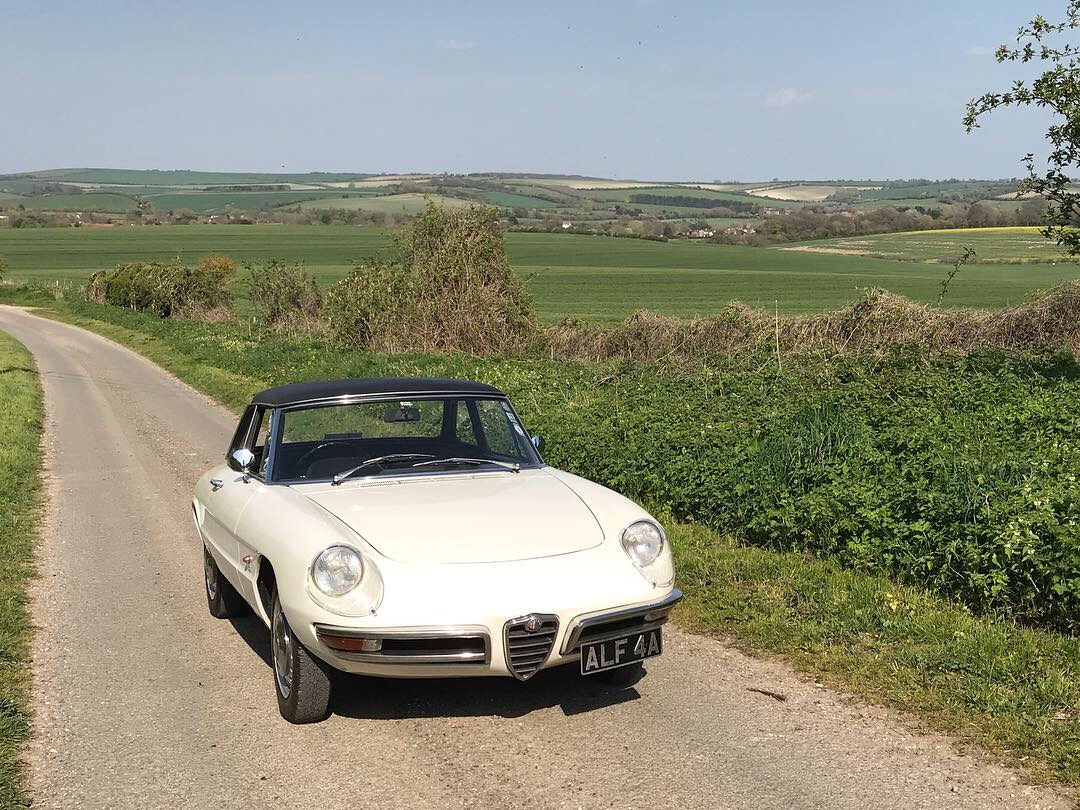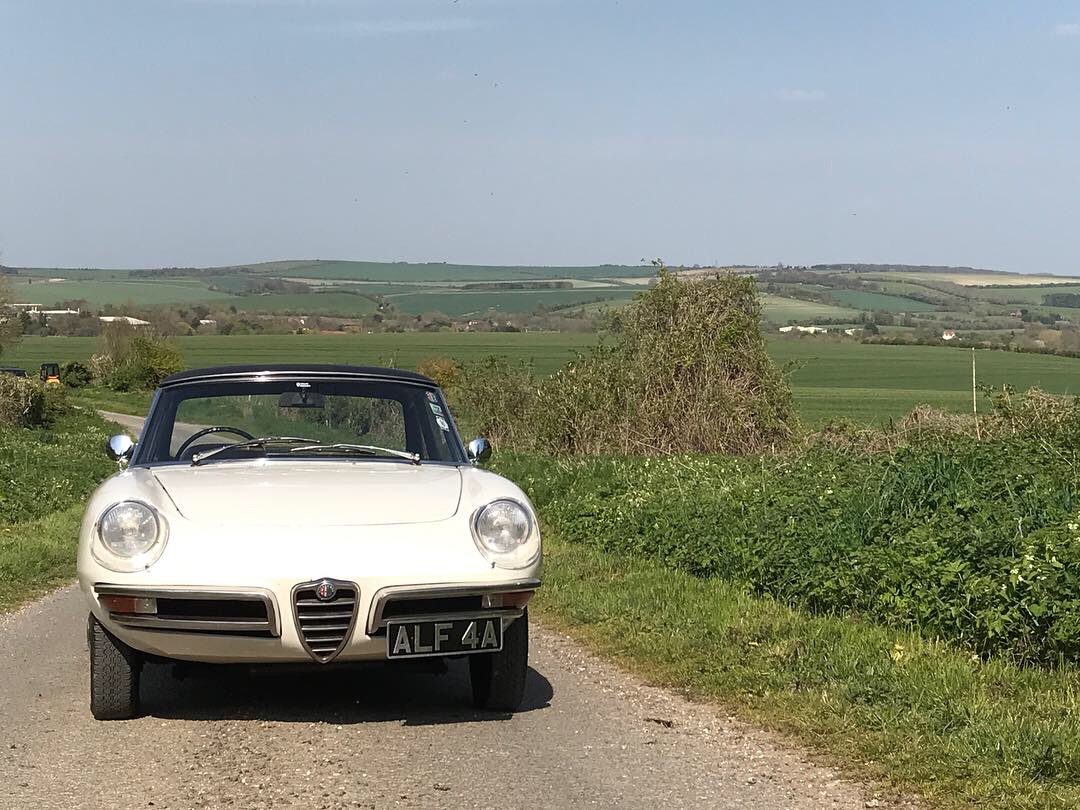 1967 Alfa Romeo Spider 1600 Duetto RHD
Engine: 1570cc twin-cam four cylinder

Transmission: 5 Speed Manual

Year: 1967

Chassis #: AR*710126

Engine #:

Registration: ALF 4A

Mileage:

Exterior colour: Hawthorn white

Interior colour and material: Black leather

Vehicle history
I acquired this Spider 1600 Duetto in September 2014 from a Gentleman in Newcastle-Upon-Tyne, Tyne and Wear.

According to the Alfa Romeo Museum Archives this Spider Duetto was manufactured on January 17th 1967 as a right hand drive model and was invoiced by the factory to Alfa Romeo London on February 6th 1967. The original paint colour was white (as it is now) and it was first registered for road use in England on April 9th 1968 with the licence plate UYM-110F.

This is a very rare car as the factory only manufactured 380 of these beautiful cars with right hand steering, arguably one of Pininfarina's finest designs.

According to the DVLA ownership report that is on file for this Spider it was sold new by Elmbridge Motors of Tolworth, Surrey. This Alfa Romeo distributor was located on a busy junction of the A3 and was owned by the 1959 24 Hours of Le Mans winning (Aston Martin) racing driver Roy Salvadori.

Unusually for a vehicle owned by a car dealership, the Spider was retained by Elmbridge Motors for almost three years; possibly it was Roy Salvodori's personal transport, or that of a member of his family or company.

In March 1971 Elmbridge Motors sold the car to a Mr S. J. Cordery who owned a shop just over a mile away on Ace Parade, which was on the junction of the A3 and Hook Road in Chessington, Surrey.

The next owner was an Egyptian by the name of Dr Selim Zaki from the Mount Gould Hospital in Plymouth, Devon, who acquired the Spider in July 1973.

In March 1975 the car was acquired by Hockin and Richards Garages of Plymouth. In a telephone conversation we had with Mr Hockin in December 2014 he informed us that they sold it in August 1975 to their mechanic, Steve Townsend.

Mr Townsend lived in the Milehouse area of Plymouth and retained the car until late 1980 or early 1981, as in February 1981 it was registered to Bewley House Garage of Bittaford, on the southern edge of the Dartmoor National Park in Devon.

Bewley House Garage sold the Spider in March 1981 to a Mrs Cecilia Simmons of Ealing, London W5. Initially Mrs Simmons registered the car to the name of her company, Cinevista Limited, but in December 1982 she registered it in her own name.

Mrs Simmons retained the car for a wonderful twenty two years, and she was certainly very fond of the Spider as she registered it with the Alfa Romeo Owners Club Giulia 105 Register in June 1983, and there is a photograph of the car at a Club show in the Register files.

It is thought that during Mrs Simmons' ownership the car was restored, and the work must have been to a very high standard as it has lasted very well. The date of the restoration and who did the work is unknown, but it is expected to have taken place in the mid 1990's, based upon how it has aged now.

In March 2004 the car was registered to a Raymond Zgraja of Coventry, Warwickshire. Mr Zgraja was in the construction industry and retained the car until February 2007 when it was acquired by a car dealer from Nuneaton, Warwickshire.

The Nuneaton car dealer sold it a few weeks later in March 2007 to another car dealer in Hitchin, Hertfordshire. They entered the Spider into a classic car auction held by British Car Auctions at Blackbushe, Surrey, in November 2007, and it was purchased by a classic car dealer in Exeter, Devon.

Devon was a familiar county to the Spider, and it was to remain with the classic car dealer for some time as they did not sell it until May 2009 when it was purchased by a Gentleman from Newcastle-Upon-Tyne, Tyne and Wear.

The Gentleman used the car often both in England and on trips abroad, and fairly soon after purchasing the Spider he returned it to its birth place at the former Alfa Romeo factory in Milan. After five and a half years and twelve thousand miles (according to the odometer) of fun ownership he contacted me in September 2014 by email as I was queuing on the Italian side of the Mont Blanc Tunnel on my way back from an event at the Imola racing circuit. A flurry of emails back and forth swiftly resulted in a deal being agreed just before I entered the tunnel, and the money was transferred shortly after I exited it into France. The joys of modern technology! I had the car collected by a truck and it arrived at my showroom just a few days after I had returned to England.

Events I have exhibited and participated this Spider at
- 96 Club Rendezvous, Belgravia, London, December 14th 2014.
- 96 Club Rendezvous, Belgravia, London, March 8th 2015.
- Alfaholics Track Day, Castle Combe, Wiltshire, April 9th 2016.