1936 Sunbeam Model 9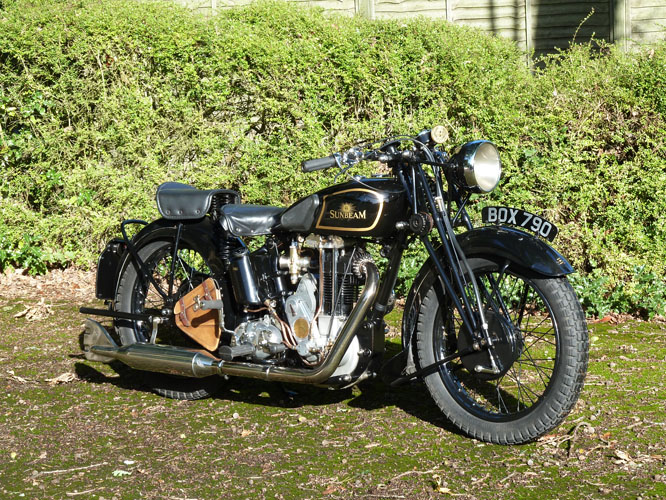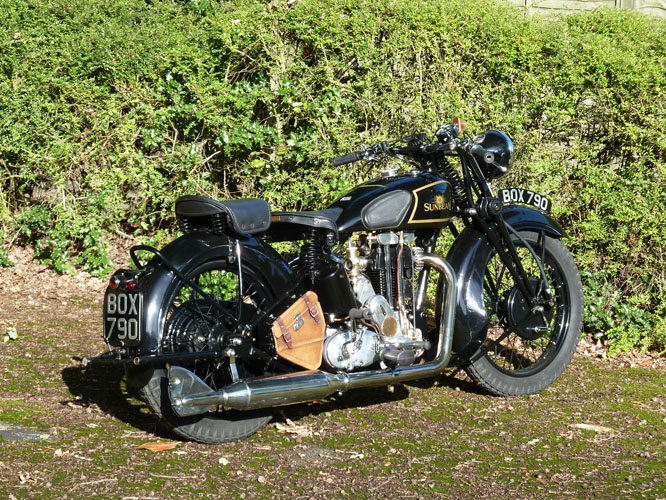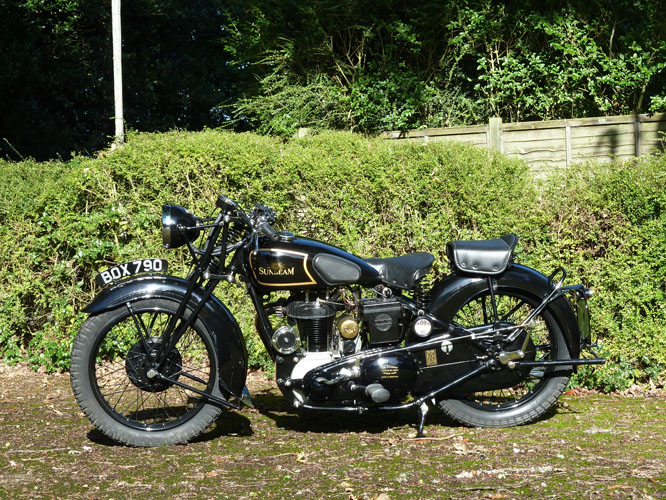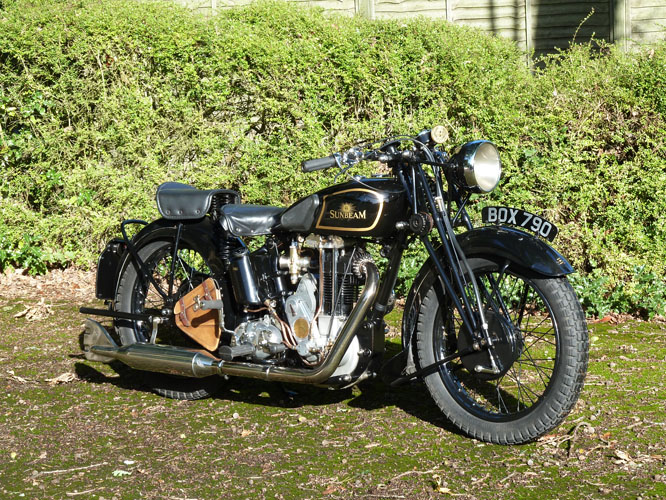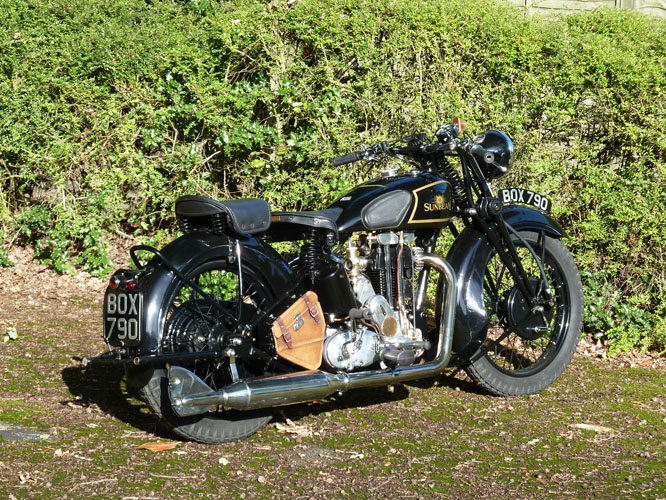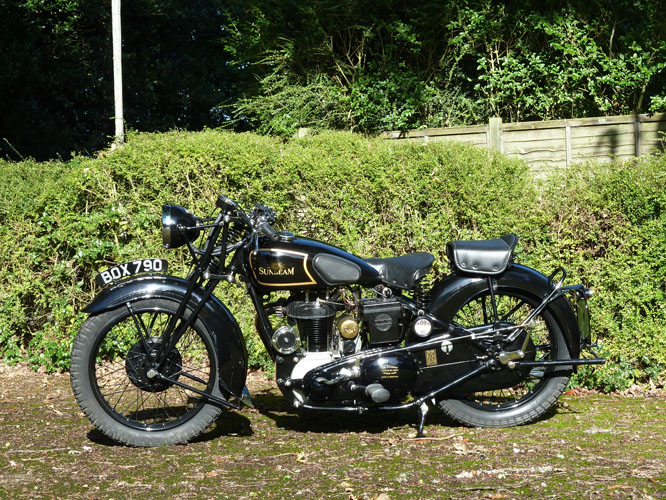 1936 Sunbeam Model 9
Engine: 488cc single cylinder
Transmission: 3 Speed Manual
Year: 1936
Registration: BOX 790
Mileage:
Exterior Colour: Black
Interior colour and material:
VIEWING BY APPOINTMENT ONLY PLEASE.
- This Sunbeam joined our Black & White Collection in October 2012 and was sadly sold in October 2013 due to the purchase of a motor car.
- BOX-790 (the original registration number for this rare vintage motorcycle) was old new in Birmingham to Mr Charles (Chas) Hunt of Yardley, Birmingham, on April 11th 1936.
- This motorcycle was manufactured in the final year of the coveted Marston Sunbeam era before the company was sold to Associated Motor Cycles Limited in 1937 (who manufactured Matchless and AJS motorcycles).
- Mr Hunt retained the motorcycle until October 1945 when he sold it William (Bill) Bradley of nearby Saltley, Birmingham.
- Mr Bradley had an accident while riding the Sunbeam in September 1949, and rather than seeing the motorcycle scrapped, he sold it back to Mr Hunt.
- Mr Hunt then stored the motorcycle in its damaged state for many years. In the late 1980's or early 1990's it seems he had thoughts of restoring the motorcycle and getting it back on the road, and started gathering items such as the tank stickers and corresponding with the DVLA to try and get the original BOX-790 number plate re-issued to the Sunbeam.
- In 2005 Mr Alan Headington of Blackwood, South Wales, purchased the motorcycle from Mr Hunt's daughter and commenced a full restoration which was completed in around September 2005. Alan was successful in getting BOX-790 re-issued to the Sunbeam by the DVLA.
- With ownership passing to Mr Scott Headington in February 2007, the motorcycle had covered around 1,300 miles before Mr Headington entered the Sunbeam into an auction from where we purchased it in October 2012.
- This is a very rare and extremely attractive motorcycle that has had only four owners from new and is in a superb restored condition.
- The history folder contains such interesting items as an original continuation buff registration document, an early spare parts list, a Sunbeam motorcycle manual, photographs of the motorcycle during restoration, copies of dating correspondence with The Marston Sunbeam Register and the Vintage Motorcycle Club, correspondence between Bill Bradley and Chas Hunt, a DVLA ownership report, and email correspondence between the previous owners and ourselves with history, starting, and operating instructions.

A brief history of Sunbeam Motorcycles:
- Sunbeam was founded 1887 by John Marston when he started making bicycles in Wolverhampton, Birmingham, where his works were called "Sunbeamland". John Marston was a perfectionist, and this was reflected in the high quality of his Sunbeam bicycles which had an enclosure around the chain in which an oil bath kept the chain lubricated.
- After forming the Sunbeam Motor Car Company Limited in 1905, John Marston was forced into motorcycle manufacture in 1912 after a reduction in car manufacturing. The motorcycles followed the traditional high quality of his company's bicycles and became known as the "Gentleman's Machine".
- Many John Marston Sunbeam motorcycle models were produced starting with a 350cc in 1912, followed by a range of 500cc singles and also some V-twins. In 1924 a new model numbering system was introduced; Sunbeam Models 1 through to 11, with some higher numbered models being produced in later years. The majority of Sunbeams had a single cylinder engine and occasionally won the Isle of Man TT (Tourist Trophy) races, the last time in 1929. A hallmark of all Marston era Sunbeams was the superb quality and finish in black with gold pin striping.
- After the First World War the Marston company was sold to a consortium which in 1919 became part of Nobel Industries Limited. In 1927 Nobel Industries amalgamated with Brunner Mond Limited to form Imperial Chemical Industries, more widely known as ICI.
- In 1937 Sunbeam Motorcycles was sold to Associated Motor Cycles Limited (AMC) who manufactured Matchless and AJS motorcycles.
- After AMC sold Sunbeam to BSA production commenced again in 1946 at the works in Redditch, Worcestershire. Three models were constructed over the following ten years, the S7 (the one known by its large tyres), 7 Deluxe, and the S8. These all featured a 500cc in-line two cylinder engine with shaft-drive to the rear wheel. Production ceased in 1956.