1960 Alfa Romeo Giulietta Sprint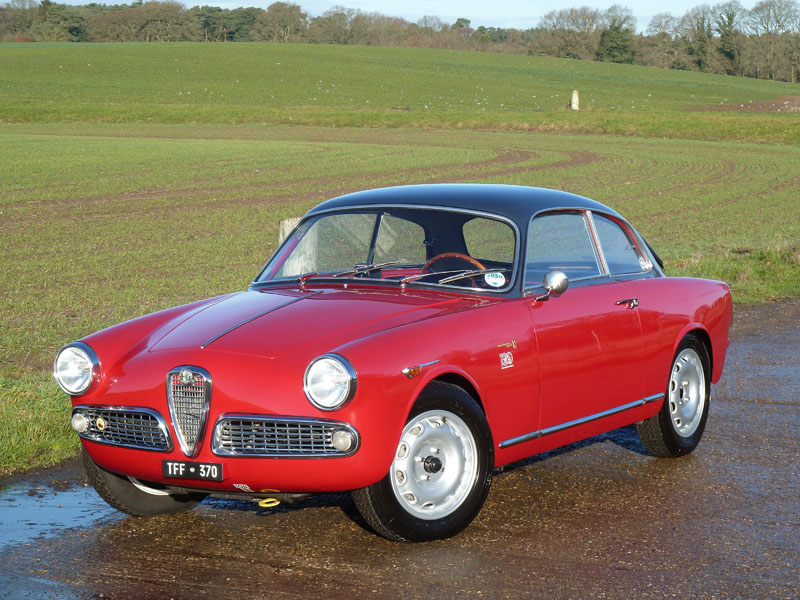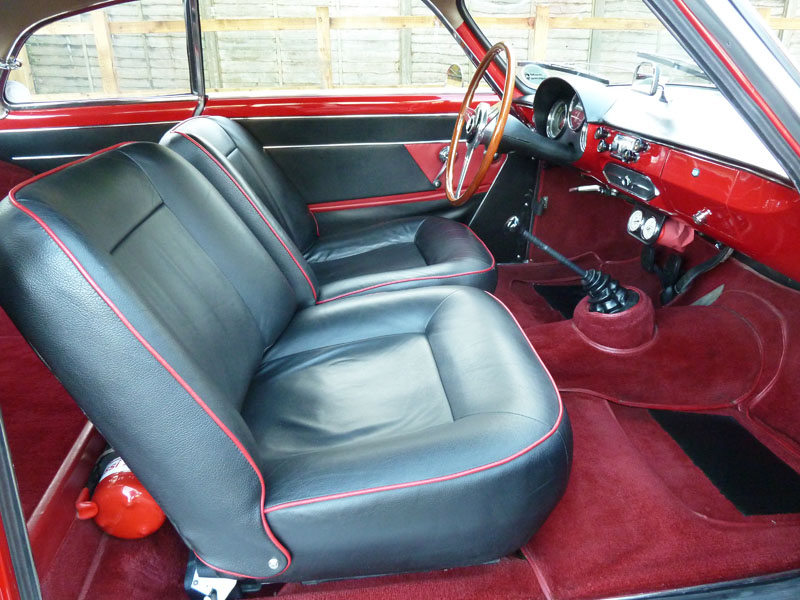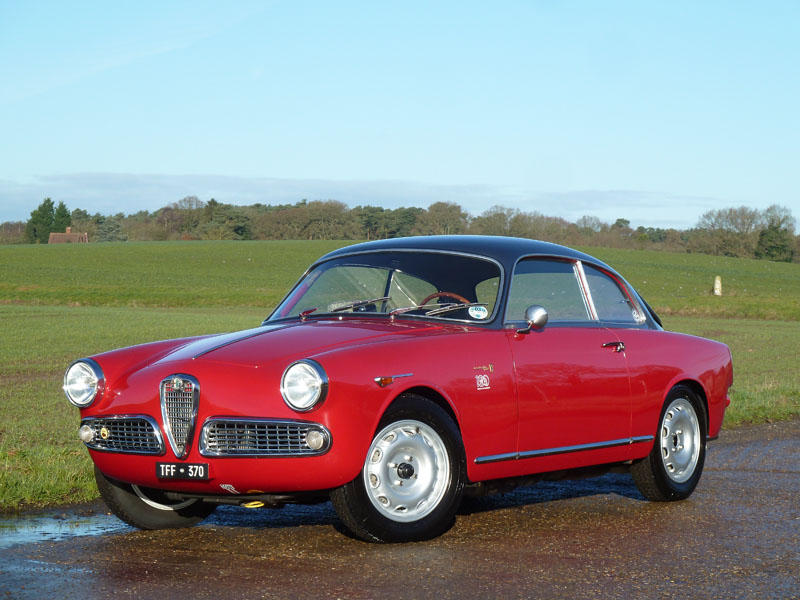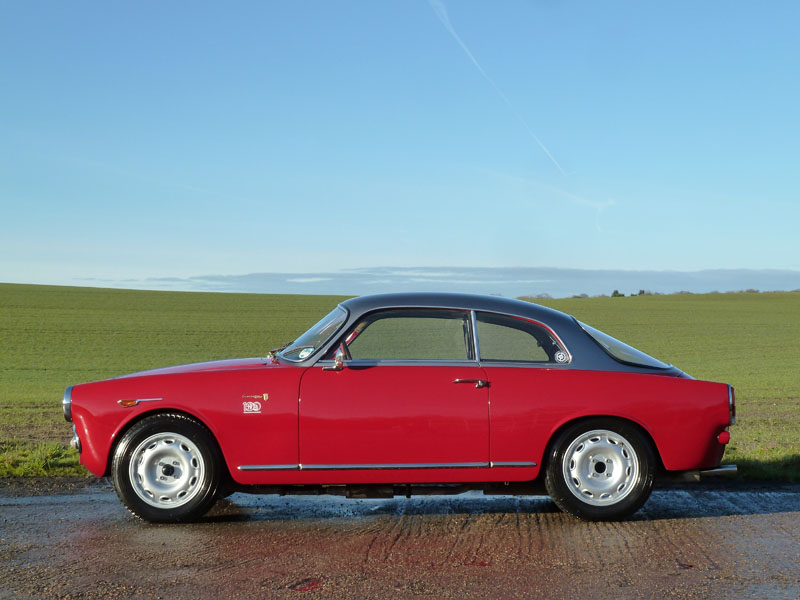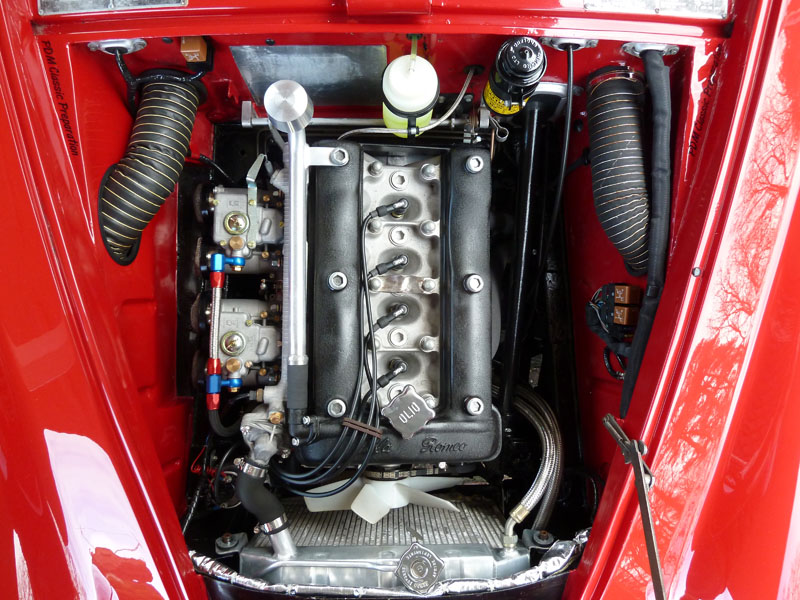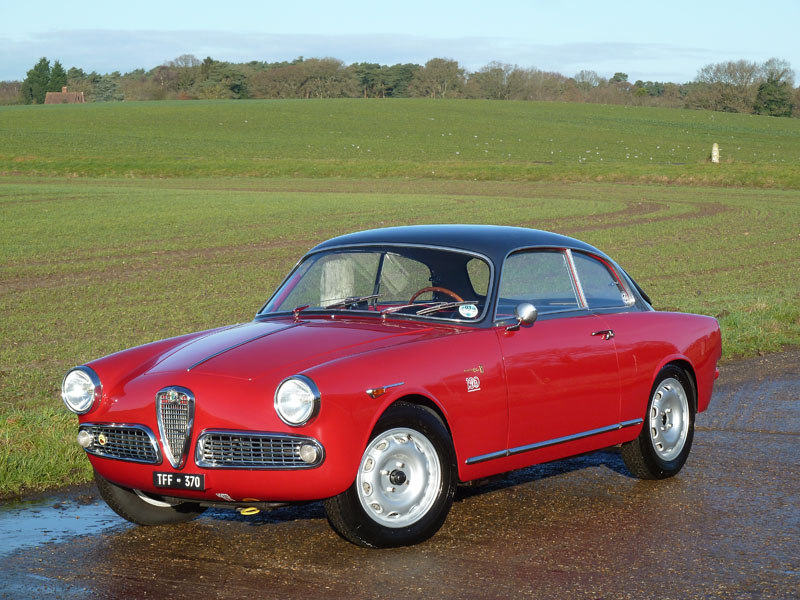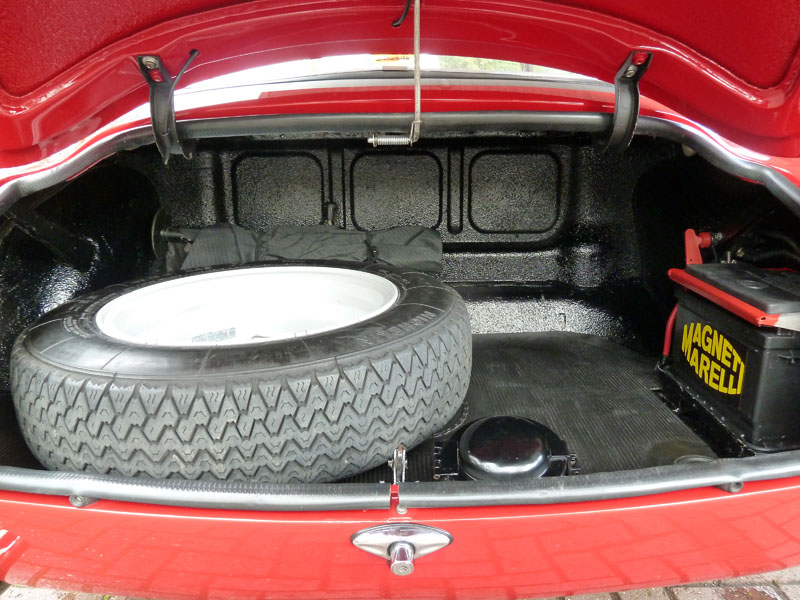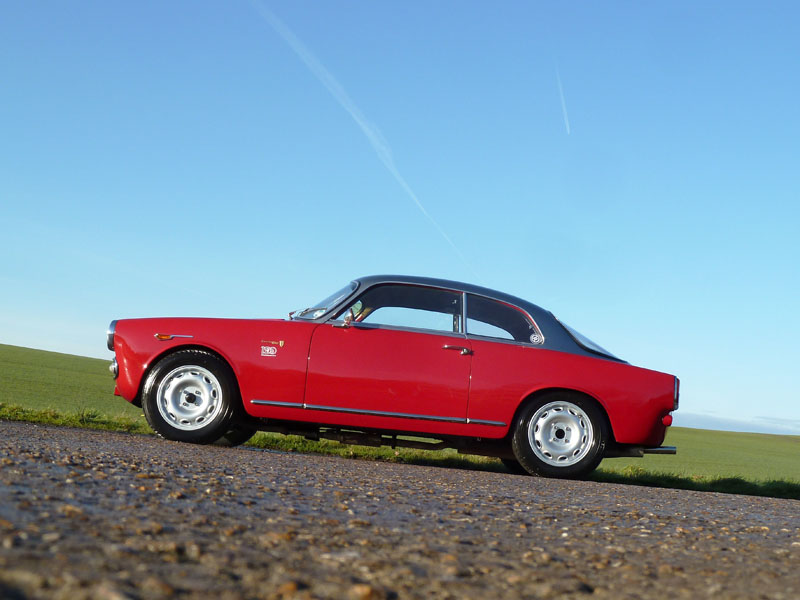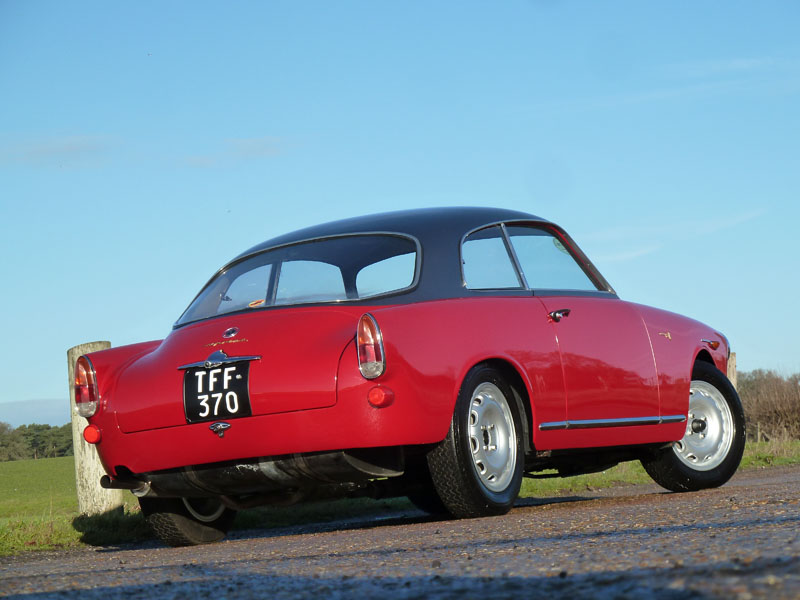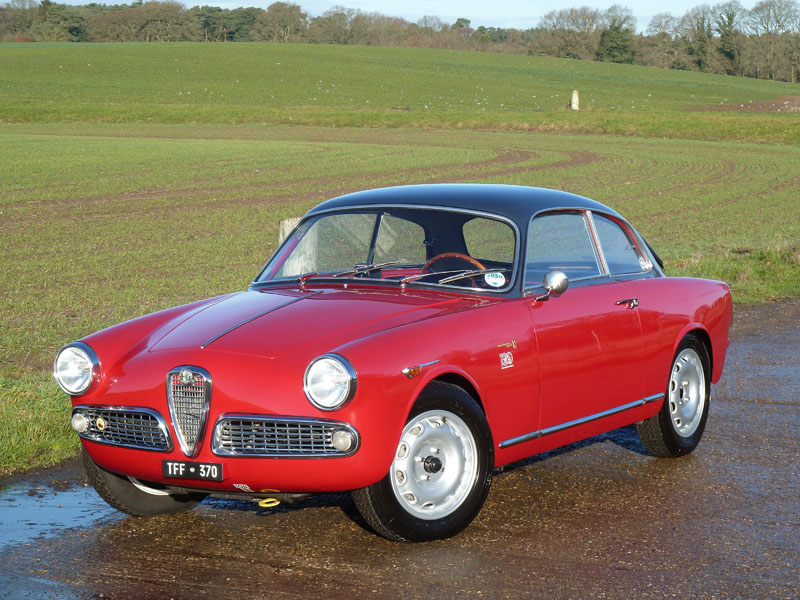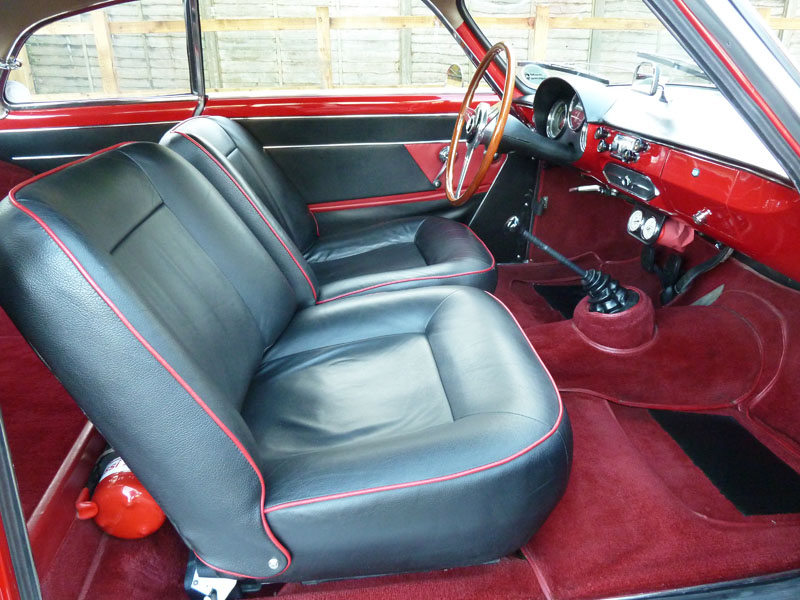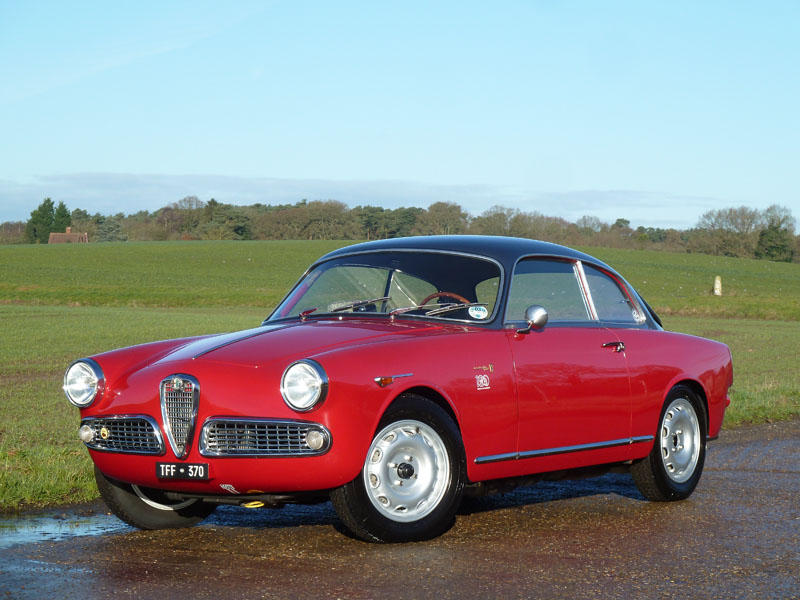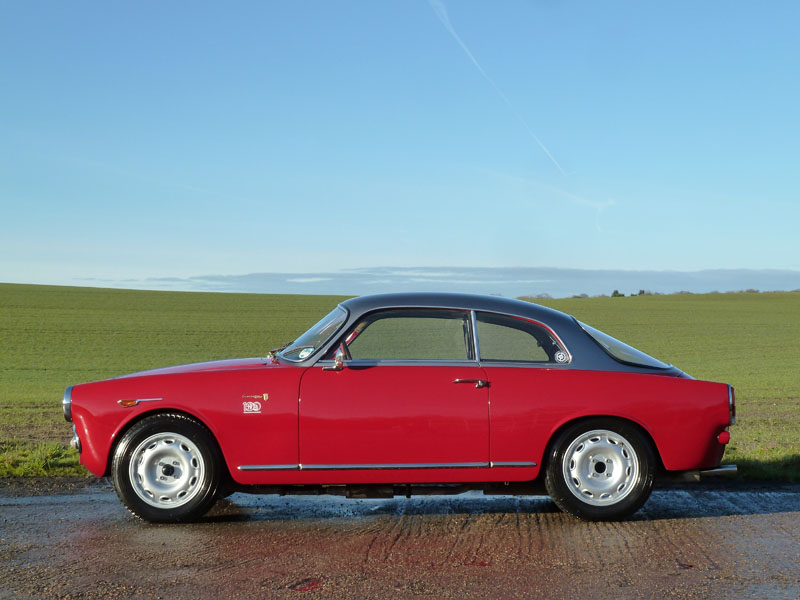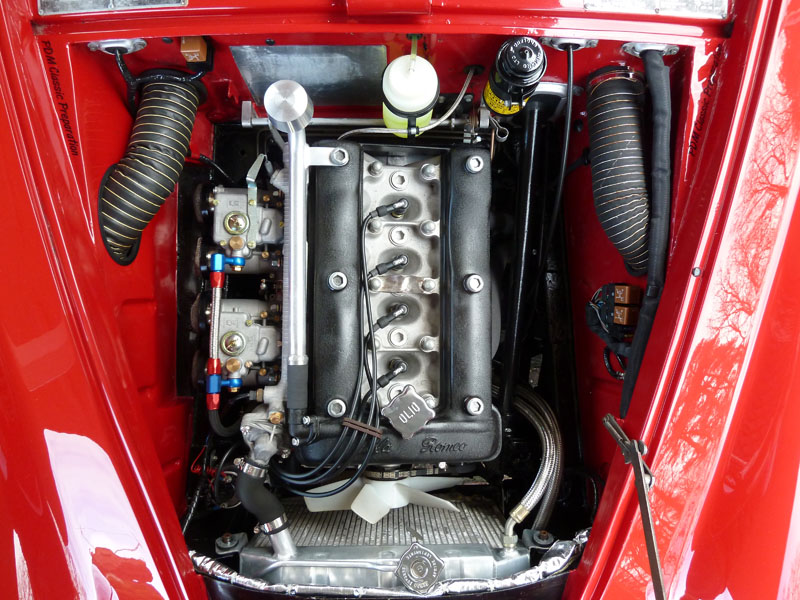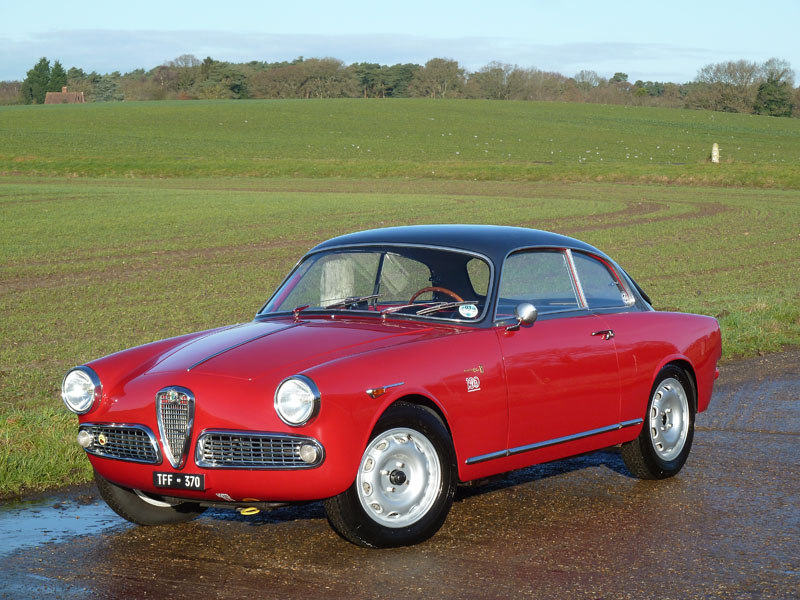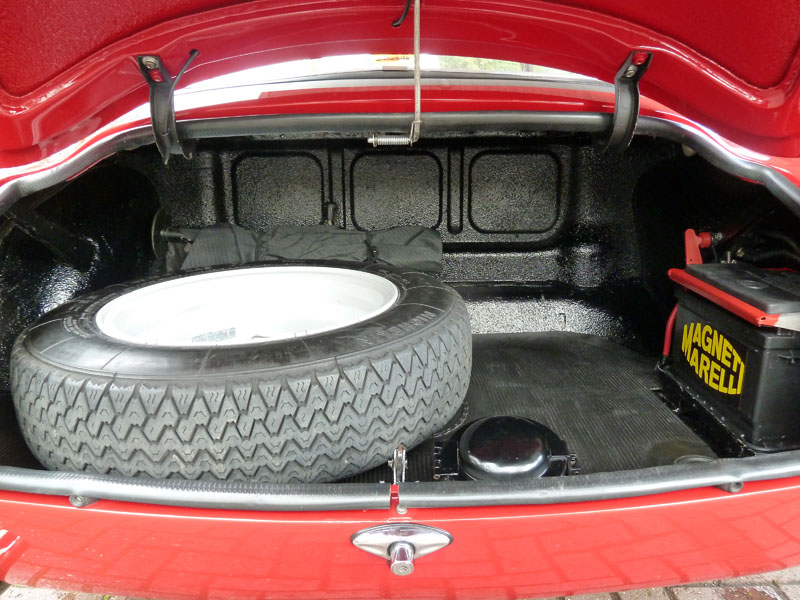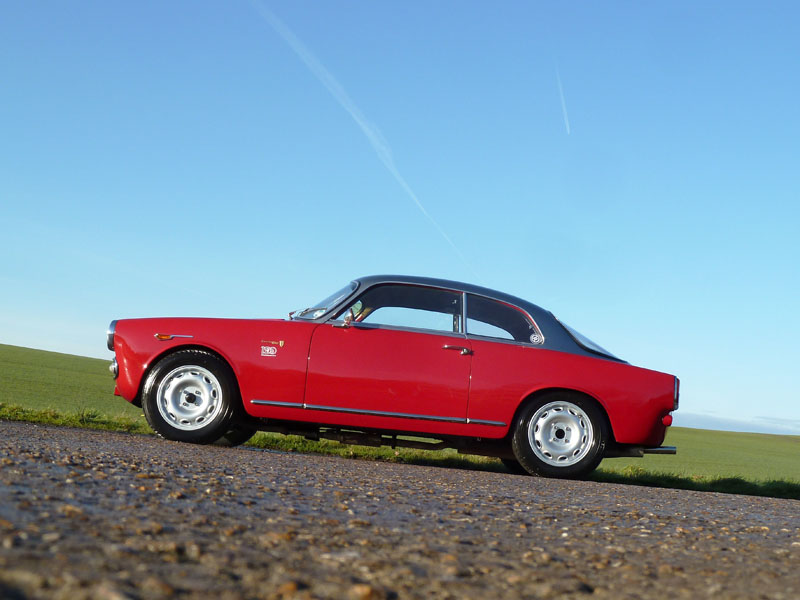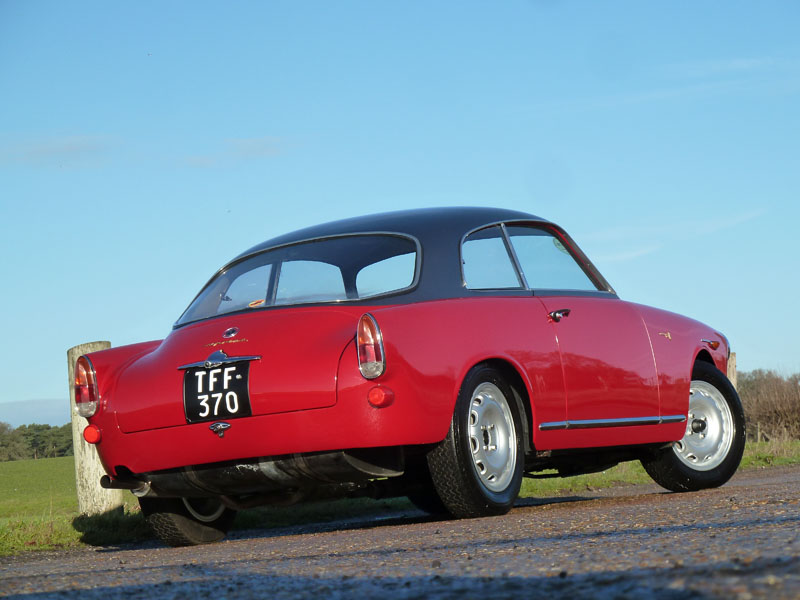 1960 Alfa Romeo Giulietta Sprint
Engine: 1400cc twin-cam four cylinder
Transmission: 5 Speed Manual
Year: 1960
Registration: TFF 370
Mileage:
Exterior Colour: Alfa red and metallic grey
Interior colour and material: Black leather
VIEWING BY APPOINTMENT ONLY PLEASE.
- According to the Alfa Romeo Museum Archives this Giulietta Sprint was manufactured on April 28th 1960 and invoiced by the factory to the UK Alfa Romeo importers Thomson and Taylor (Brooklands) Limited in Cobham, Surrey on May 6th 1960. The car was first registered for road use in England on July 1st 1960 with the number plate 5-RPA. Its original colour was Alfa Red, as it is now.
- The early ownership history of this superlative Giulietta Sprint cannot be totally confirmed, but an ownership history report from the DVLA was kindly obtained by the last owner (at our request) and below is what we were able to discover.
- The first owner that we have a record of is a Mr Malcolm Goldsworthy, who was a farmer from Gorse Hill, near Farningham in Kent. We made contact with Mr Goldsworthy's son who was going to ask his Father when and where he purchased the car, but at the time of typing this history report we had not heard back from him. We do at least know that he owned the car in May 1978 as that is when he changed the registration document with the DVLC for the then new printed version.
- On December 26th 1985 the Sprint was acquired by a Mr Martin Edgar who was only 23 years old at the time. Mr Edgar was living in Coventry when he purchased the car but after a few months he was living in Bromsgrove, before moving to the village of Lochfoot, near Dumfries in Scotland in 1992.
- It is presumed that Mr Edgar experienced some trouble with the engine in the Sprint as he installed a later 105 series GT 1300 Junior engine and five speed gearbox into the car during his ownership, the same unit which powers it to this day. When he went travelling in what is thought to be the early 1990's he left the car in the garage of his Aunt's house in Weybridge, Surrey.
- In 1994 a Mr Don Henshall went to view a house that was for sale as part of a deceased estate in Weybridge. Sitting in the garage was a beautiful Giulietta Sprint which he fell in love with. Although he did not purchase the house, he managed to make contact with Martin Edgar and purchased his Sprint in August 1994, which Mr Edgar was keen to see removed from his late Aunt's garage. To assist the funding of his purchase Mr Henshall sold the original 5-RPA number plate through Elite Registrations of Wiltshire in April 1995. The Henshall very kindly explained the interesting story of his purchase to us when we spoke to him in February 2014.
- A couple of years later Mr Henshall was transferred by his American clothing brand employer from their London office to their New York office. The Sprint could not go with him and his Scottish wife so he sold it in July 1996 to the then chairman of the Giulietta Register who resided near Andover in Hampshire. The original engine block for the Sprint had been stored in Mr Henshall's Wife's parents home near Stirling in Scotland, and after ten or so years of his Father-in-Law seeing it abandoned in his garage, he took it to his local dump and disposed of it!
- In November 1998 the Chairman of the Giulietta Register sold the Sprint due to the purchase of a fabulous Giulietta SZ, and the purchaser was a Mr John Baker of Burford in Oxfordshire. Mr Baker did not keep the car for long and in April 1999 he sold it to a friend of his who lived close to Prescott, the world famous hill climb in Gloucestershire.
- Shortly after Mr Bakers friend acquired the car he moved to Switzerland with his work and took the Sprint with him. The car was showing its age a little and it was decided that a full restoration was required. In December 1999 the car was submitted to Automobil Werkstatt Konig & Sattolo GmbH in Herrliberg, near Zurich. The superb restoration was completed in September 2000 and there are photographs and invoices on file that clearly document the work that was carried out. A re-trim of the interior was carried out at the same time, with lovely thick black leather with red seat piping covering slightly over-padded seats to aid comfort on long journeys.
- It was in this form that the car was enjoyed extensively around Europe for transporting the Gentleman to and from Switzerland and England and also on Giulietta Register tours, reportedly covering many thousands of miles a year. A few track days were also undertaken at the legendary Goodwood Motor Circuit in West Sussex, all proving the car to be an excellent and reliable long distance tourer and sports car.
- In 2008 the engine was entrusted to Alfa Romeo engine expert and racer Chris Whelan of WDL Limited, who rebuilt the engine into one of his 1400cc variants using 77mm Centreline pistons, WDL/CatCam 10.7mm camshafts, a ported cylinder head, an Alfaholics lightened flywheel, and twin Weber 40 DCOE carburettors. The Gentleman informed us that this all produces a very useful and reliable 100+ bhp, which is monitored by an electronic revolution counter. The engine is cooled by a bespoke Pace Products radiator (currently using waterless coolant) which cleverly features a combined oil cooler.
- In 2010 the car was repainted by Sean Watson of The Old Coachworks near Andover, Hampshire, to his usual exceptionally high standard. It was during this repaint that the Gentleman decided to paint the roof in a metallic light grey Alfa Romeo colour, a nod to the livery of some Scuderia del Portello racing Alfa Romeos.
- The gearbox was overhauled in December 2011 by Giulietta expert Chris Robinson of RM Restorations in Andover, Hampshire.
- The Sprint gave the Gentleman many wonderful motoring memories, but after fifteen thoroughly enjoyable and activity filled years and so much development he decided to sell the car and commence another project. We were very grateful to him for contacting us and explaining his intentions to sell the car, and we were delighted to be able to purchase it from him.
- This Giulietta Sprint is a very well known car within both the Giulietta Register and the Goodwood Road Racing Club (GRRC), as the Gentleman was the Treasurer of the Giulietta Register and a regular exhibitor at GRRC events. It is a gorgeous looking car that drives as well as it looks, and one that has proven its reliability during the last fifteen years of fabulous motoring. This special car is certain to be as rewarding to own for the next owner as it was for the previous one, and also much admired wherever it takes them.