1974 Alfa Romeo 2000 GT Veloce SE RHD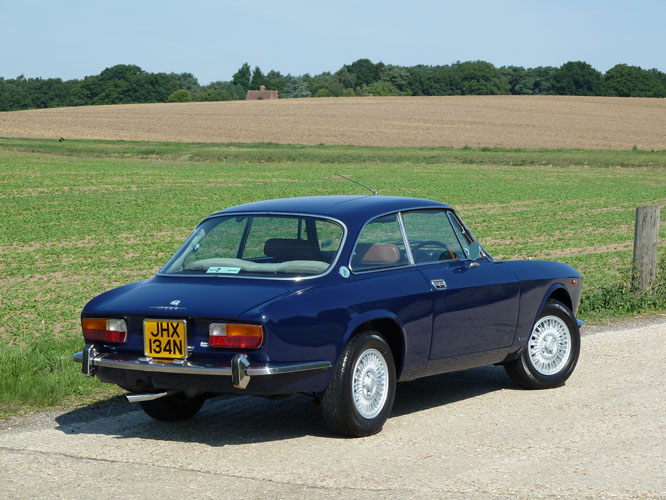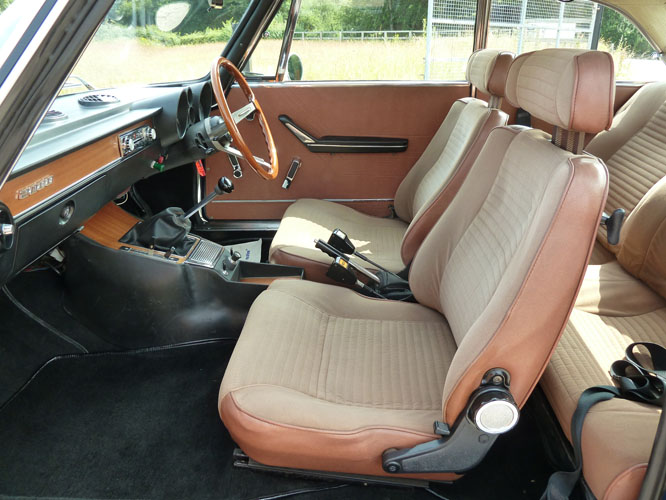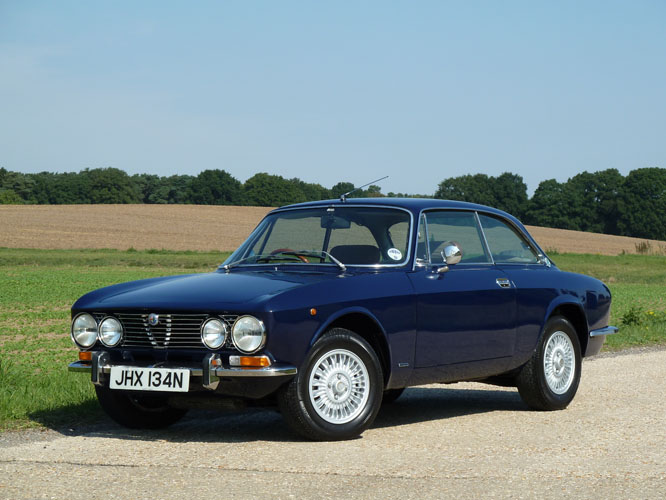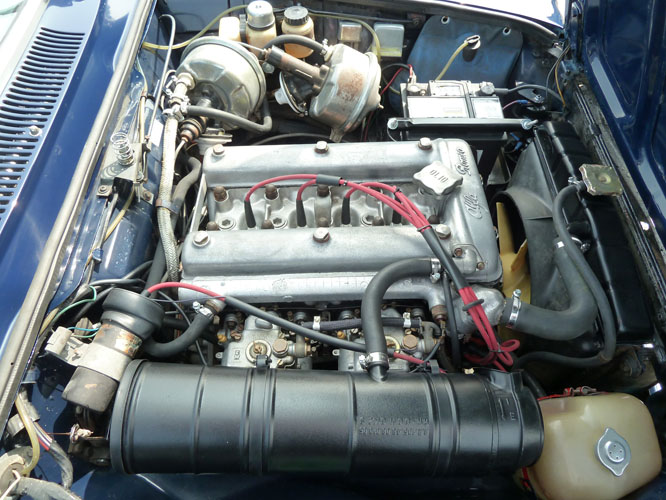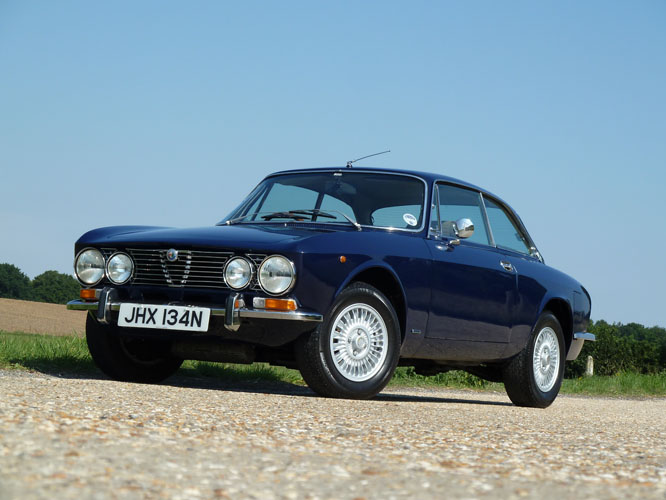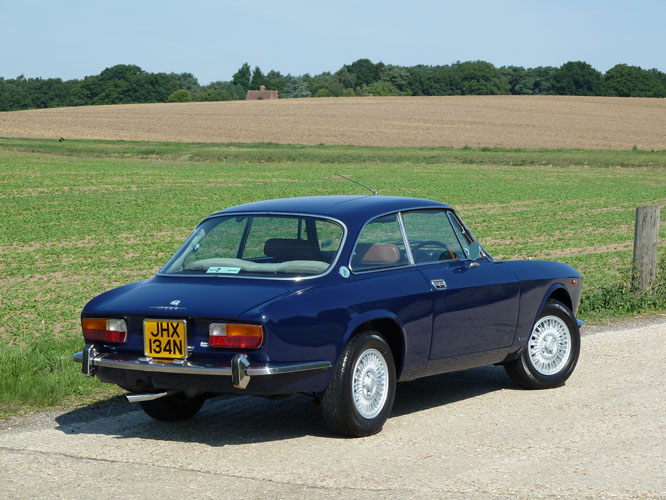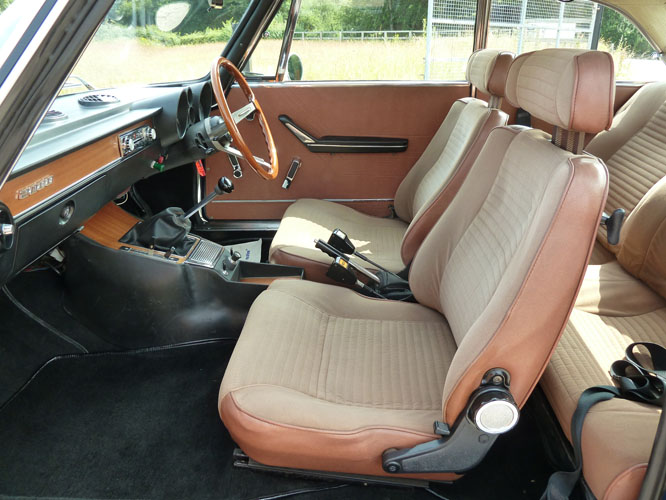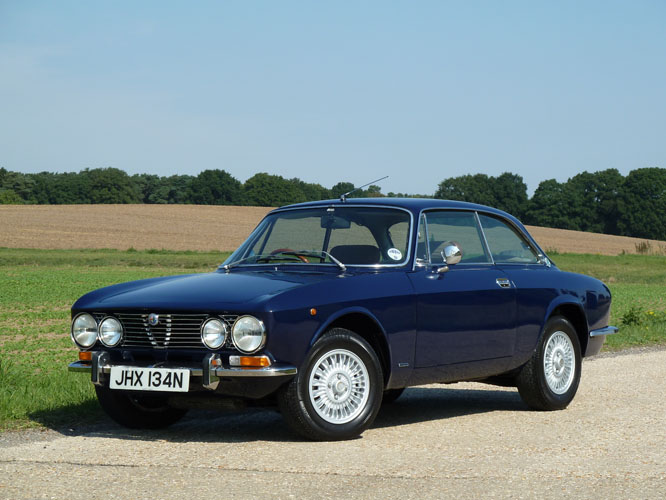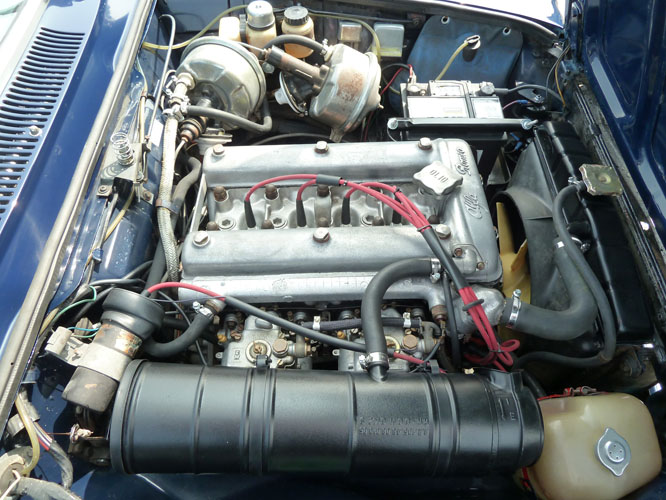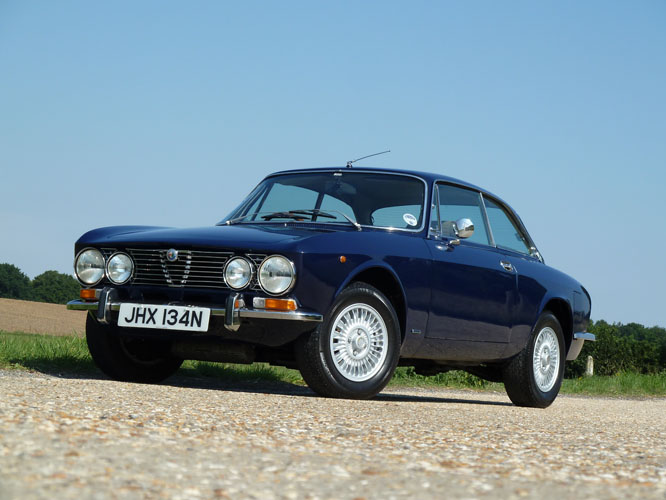 1974 Alfa Romeo 2000 GT Veloce SE RHD
Engine: 1962cc twin-cam four cylinder
Transmission: 5 Speed Manual
Year: 1974
Registration: JHX 134N
Mileage: 31,000
Exterior Colour: Dutch blue
Interior colour and material: Hazlenut cloth
VIEWING BY APPOINTMENT ONLY PLEASE.
- According to the Alfa Romeo Museum archives this GTV was manufactured on April 26th 1974 and invoiced by the factory to Alfa Romeo Great Britain on July 2nd 1974. The original paint colour was Dutch Blue with Hazelnut Cloth interior, just as it is now.
- According to the DVLA ownership history report that we have on file for this lovely GTV, it was sold new by Chipstead of Kensington Limited of Holland Park Avenue in London W11, and first registered on May 16th 1975 as a 2000 GTV SE model. The copy of the V55/3 first registration form states the engine number as being the same as the engine still fitted to the car.
- The first owner is recorded as being a Mr Ian Hassett of Barnet, Hertfordshire. Mr Hassett very kindly informed us when we spoke with him on the telephone in January 2014 that he had owned a red GT 1600 Junior before the GTV. He enjoyed the GTV very much and drove it to the south of France on a couple of occasions, and after two years of ownership he exchanged it for a new Alfetta GTV with the Alan Day Alfa Romeo dealership in Hampstead, London NW3.
- It is presumed that Alan Day sold it June 1977 to the property consultants Smith Melzack & Company of Old Bond Street, London W1X. The car still wears the original front and rear number plates displaying the Alan Day name that would have been fitted at this time.
- In November 1978 the GTV was acquired by a car dealer called CNK Motors, of Finchley Road, Hampstead, London, NW3. It appears that they sold it in January 1979 to a Mr Christopher Lister of Newport Pagnell in Buckinghamshire. It is not clear how long Mr Lister retained the car for due to an amendment to the change of owner section on the back of Mr Lister's V5 registration document for the GTV. It is possible that it was acquired in August 1980 by a company called Weldfab Engineering Limited of Brentford, Middlesex, however we do know that in December 1981 it was acquired by a Mr Harold Davis of Hayes, Middlesex. It is possible due to their similar location that Mr Davis could have been something to do with Weldfab Engineering.
- After the DVLA ownership report on file, the large history folder for this car continues with an MOT certificate dated November 1982 when the odometer was recording just 13,700 miles.
- In November 1985 when about 19,200 miles were recorded on the odometer, this GTV was purchased from a Mr Harold Davis of Hayes, Middlesex by the well known and regarded motoring journalist Richard Bremner.
- Sometime in 1988 Mr Bremner commenced a restoration on the car, during which he fortunately removed some of the items that made the car an SE model, such as the tobacco vinyl roof, and tinted windows. The well known Alfa Romeo trimmers TA and JM Coburn of Swindon supplied some new carpets for the car in May 1989. Part of the restoration is covered in one of Mr Bremners books, Alfa Romeo Giulia Spiders and Coupes, on the front cover of which features the finished car. It appears that the restoration was completed in June 1990.
- In September 1993 when the odometer recorded 26,800 miles, Sussex Alfa overhauled the gearbox and replaced the second gear synchromesh.
- Mr Bremner retained the car until September 1995 when he sold it to a Mr Tim Davies of Bromley, Kent, at which time the odometer recorded about 28,500 miles.
- Mr Davies hardly used the car, appearing to drive it for just a few hundred miles a year before placing it into storage in the summer of 2000. There is then a gap in the history folder from December 2002 until August 2009 when an invoice on file from Alfaman Services in Harrow, Middlesex, details a lot of work and expenditure on the car after recovering it from storage. The odometer was recording 30,800 miles at this time.
- After further very minimal usage, Mr Davies sold the car to a Gentleman in Taunton, Somerset, in October 2011 when the odometer was recording 31,100 miles. In Mr Davies' sixteen years of ownership he had covered only about 2,500 miles.
- Fortunately all of the owners after Mr Davis sold the car in 1985 have been very methodical in retaining documentation on the car such as work invoices and MOT certificates. This has allowed a large history folder to be created containing seventeen previous MOT certificates as well as the selling invoices between the owners.
- This GTV is finished in a wonderful colour combination and is in excellent condition, with the interior presenting very well and having a lovely original feel. It also drives extremely well, just as you would expect a low mileage car to do.
- We need to mention that, as is so often the case, the car sadly does not have mileage history going back to the day it was first registered which is why we cannot be totally certain that the wonderfully low recorded mileage is correct. However, our opinion is that there is every chance that it is correct based on the excellent condition of the notoriously fragile seat fabric, the fact that the car resided in and around London during its early years, and that the large history folder contains so much documentation such as previous MOT certificates. As always, the purchaser must make up their own opinion.