1953 Maserati 160/T4 Turismo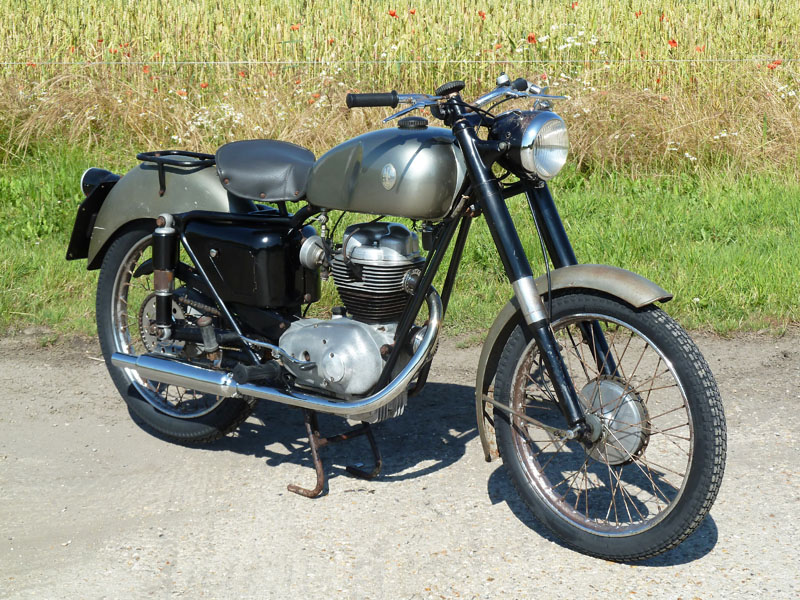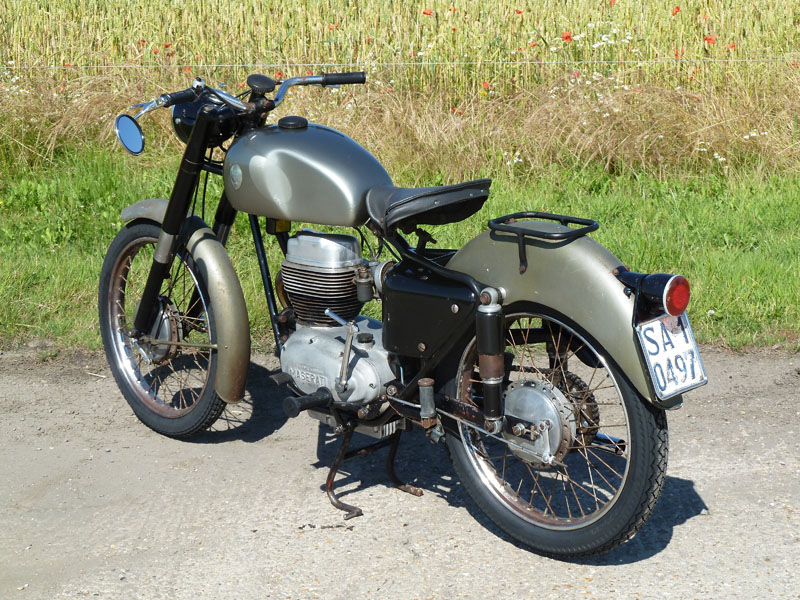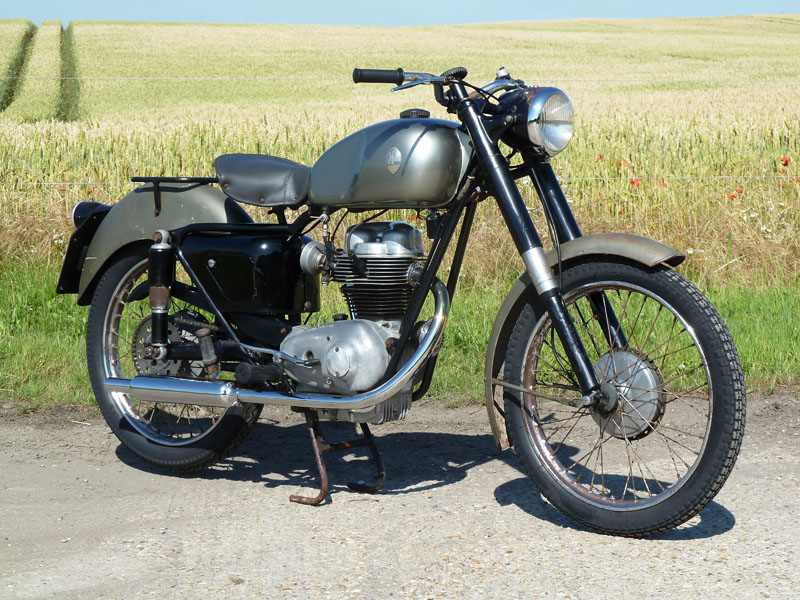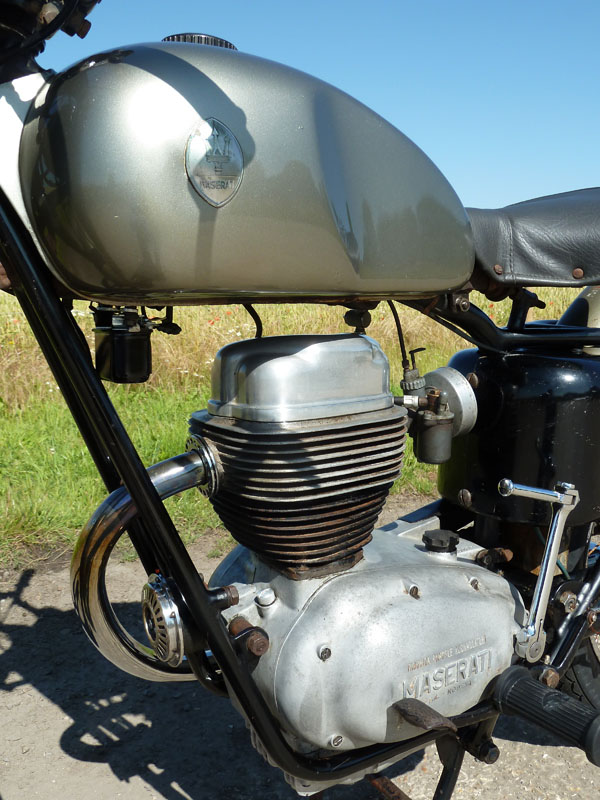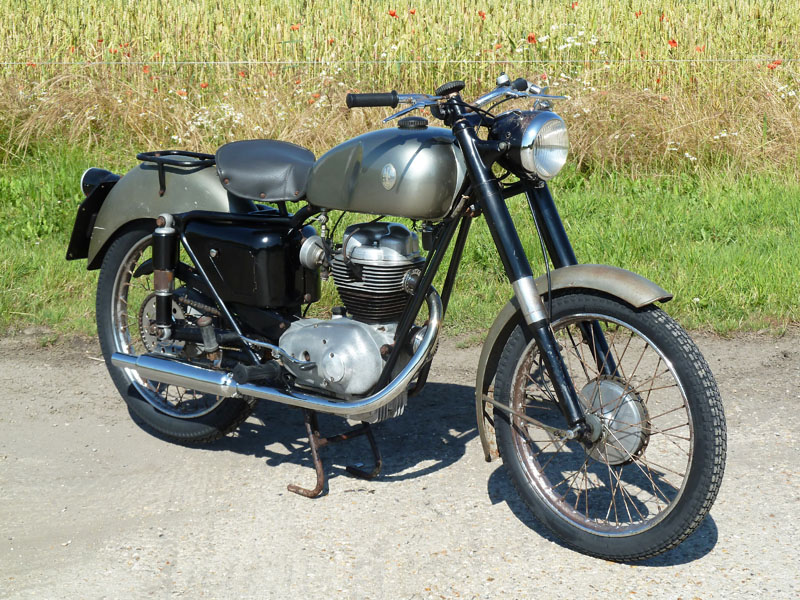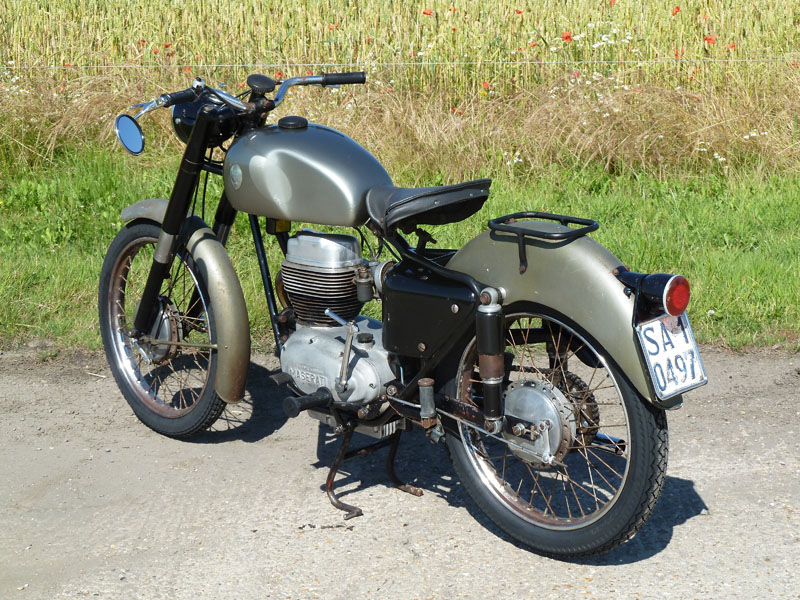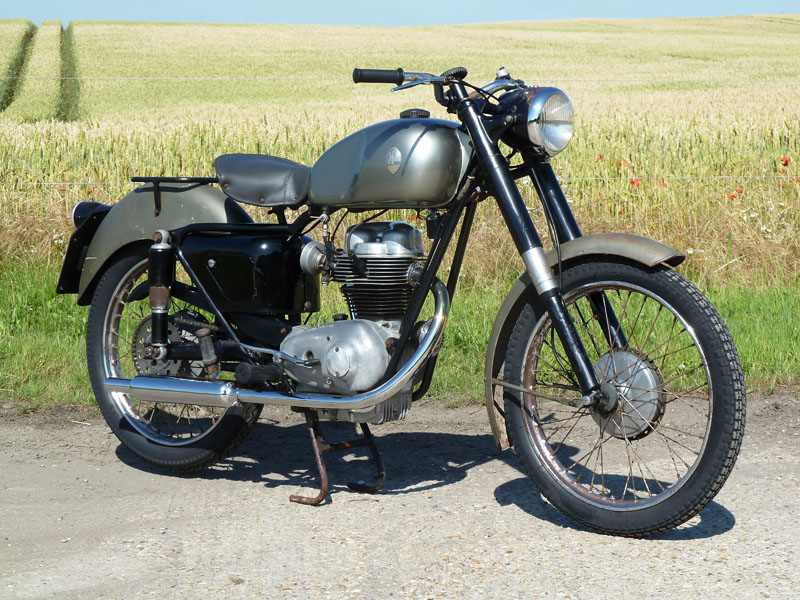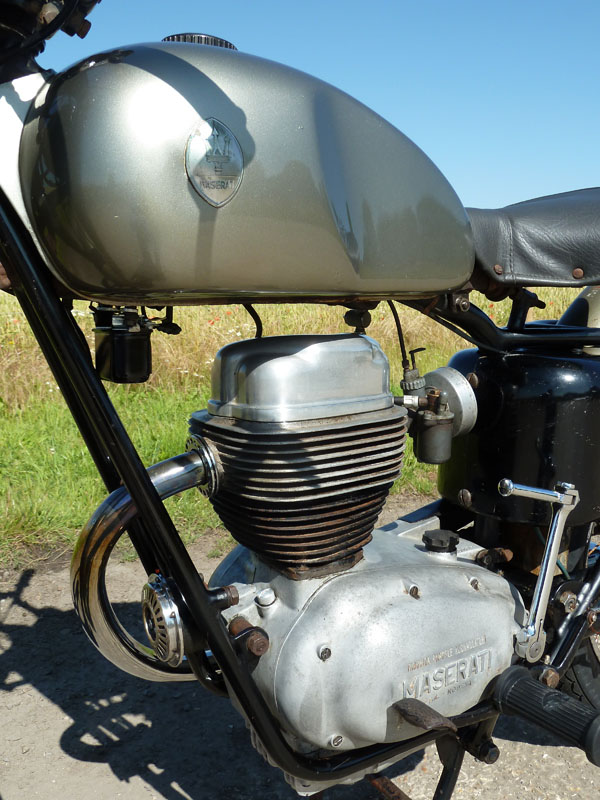 1953 Maserati 160/T4 Turismo
Engine: 158cc 4-stroke single cylinder
Transmission: 4 Speed Manual
Year: 1953
Frame #: 927
Engine #: 927
Registration: 265 UYH (UK)
Mileage:
Exterior Colour: Green and black
Interior colour and material:
- We purchased this Maserati motorcycle for our own collection in Salerno, Italy, in April 2014 and imported it into England the following month. It was sadly sold in December 2014 due to the purchase of another Maserati 160 motorcycle.
- The Automobile Club d'Italia Automobile Public Register report that we obtained states that the Maserati was manufactured on October 6th 1953. It does not state when its first owner Signore Paolo Pierto of Battipaglia (Salerno) purchased the Maserati, but it was acquired on June 18th 1954 by Signore Lucio di Cunzolo. It was registered at this time in the province of Salerno as SA-10497.
- Signore di Cunzolo owned the Moto Maserati agency in Battipaglia in partnership with a Signore Franesco Pesticcio. It is possible that Signore di Cunzolo had sold it to Signore Pierto when it was new.
- When the Maserati agency was closed some years later, Signore di Cunzolo retained a Maserati 250 and Signore Pesticcio retained this Maserati 160.
- Some time in the 1960's Signore Pesticcio gave the motorcycle to his son, who in turn gave it to his son some years later. It was this Gentleman who we purchased the Maserati from.
- Since the 1980's the motorcycle has been stored unused in the Gentleman's garage. He never had the desire to recommission it and get it running again as he preferred to ride his Harley Davidson.
- This is a very rare motorcycle being one of a few made between the years of 1953 to 1959.
- The engine (which is original to this motorcycle) was reported by the factory when new to produce 7.5bhp at 5,500rpm which allowed a top speed of about 100 kilometers per hour.
- Apart from the fuel tank which is believed to have been repainted in the 1980's, this Maserati is in totally original condition.
- In July 2014 Richard Boshier of Chiltern Moto Classics got the engine running after about thirty years of being silent and prepared the motorcycle for The Maserati Centenary parade lap at the Silverstone Classic on Sunday July 27th 2014.
- In July 2014 the Maserati was UK road registered with the plate 265-UYH.
Events we have exhibited and participated this Maserati at:
- The Silverstone Classic, Silverstone, Northamptonshire, July 27th 2014, The Maserati Centenary Display.

A brief history of Maserati motorcycles:
- The sight of a Maserati badge on a classic motorcycle often surprises people, even those most familiar to the exotic Italian marque.
- Wealthy industrialist Adolfo Orsi from Modena purchased the ailing Maserati company from its founding brothers in 1937, and by then Maserati was producing spark plugs and machine tools as well as racing cars. In 1939 Adolfo relocated Maserati to Modena and expanded the company to produce batteries and bulbs too, a diversification that proved very successful during the war years. The car and parts companies were separated in 1947 and Fabbrica Candele e Accumulatori Maserati (FCAM) was formed.
- After business difficulties in 1953 Adolfo decided to divide his remaining companies amongst his siblings, resulting in Adolfo retaining the car manufacturing division and his sister Ida taking control of FCAM.
- Even FIAT cars were financially out of reach for most people after the war so motorcycles and scooters became extremely popular as relatively cheap modes of transport. Many companies diversified or were founded to produce two wheeled motorised transport and Ida Orsi wanted to be involved in this swiftly developing market, so to save money on development costs she purchased an existing company in 1953, Italmoto of Bologna. After relocating Italmoto and the production of its 160cc motorcycle to her own factory in Modena, she simply had the Italmoto badges replaced with Maserati ones and launched the model as the L160/T4. The four-stroke engine produced 7.5hp and had a four-speed gearbox.
- Ida then instructed the design department to come up with a whole new range of motorcycles, the first of which was launched in 1954. The new machine was a 4.8hp 123cc two-stroke (with a three-speed gearbox) known as the L125/T2 which became a successful model for the company.
- At the 1955 Milan Motorcycle Fair Maserati displayed not only their two-stroke 125 and four-stroke 160 machines, but also 175 (175/T4/S) and 250cc (250/T4/GT) motorcycles, both of which had four-stroke engines boasting twin-spark plug ignition, plus four-speed gearboxes. The 125 and 160 were now also available in Turismo Lusso specification.
- In 1956 a range of two-stroke 50cc motorcycles were introduced which featured several different styles of frames suitable for men (50/T2/U and 50/T2/S), women (50/T2/D), and racing (50/T2/SS). All models had a three-speed gearbox and performance for a 50cc was fantastic, especially on the SS whose little 49.6cc engine produced 2.82hp at 6,700rpm (maximum revs being 7,300rpm). A weight of only 49kg resulted in a top speed of 70 to 75kph. Less sporting but a lot more practical however, was the 50/T2/MT which was a three-wheeled pick-up style machine featuring a 2hp engine and three-speed gearbox.
- 1956 also saw the launch of the L/125/TV (Turismo Veloce) which sported a higher state of tune (6hp) than the regular 125 but importantly had a 4-speed gearbox, the gears of which were notoriously fragile due to the factory squeezing a fourth gear within the standard three-speed engine casings.
- Having learnt some lessons with the TV's transmission, the 125/GT/Super (GTS) was launched in 1957 featuring a 7hp two-stroke engine but with a more robust four-speed gearbox within newly designed engine side covers.
- The L/75/T2 model was also launched in 1957 and was very similar in design to the 50/T2/U, but featured a 74cc 4.5hp two-stroke engine and a three-speed gearbox.
- Unfortunately, after 1957 the company experienced financial struggles and FCAM was finally closed in 1960. The Maserati trident would only then be seen on four wheeled vehicles, back where it all began.
- Despite being sensibly priced in their day Maserati motorcycles sold in very small numbers compared to their competitors resulting in all models being extremely rare, with some being rarer than others. Today, the 125 T2 and Turismo Lusso variants are the most common with the 160 not far behind. The 125 TV and GTS models appear extremely rarely and all 50cc and 75cc models are very rare. It is believed that despite adverts appearing at the time launching the 175 model it never progressed from prototype stage and as far as the 250 is concerned, only about twenty are thought to have ever been made.