1972 Alfa Romeo A12 Car Transporter by Scattolini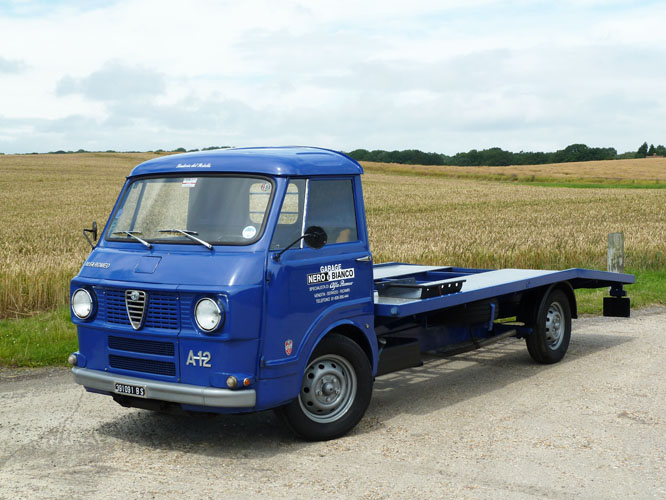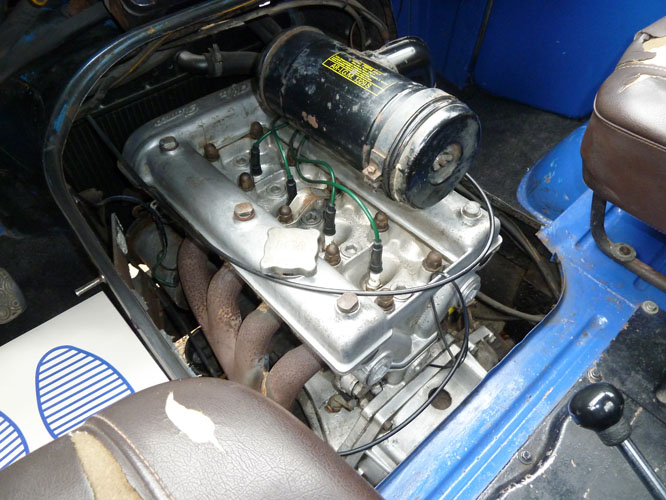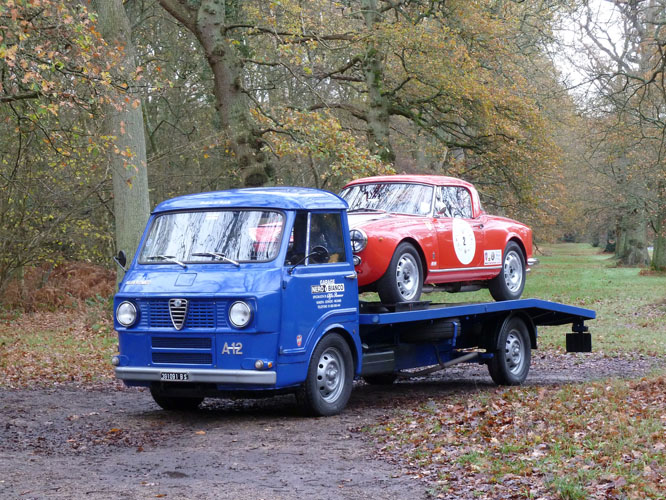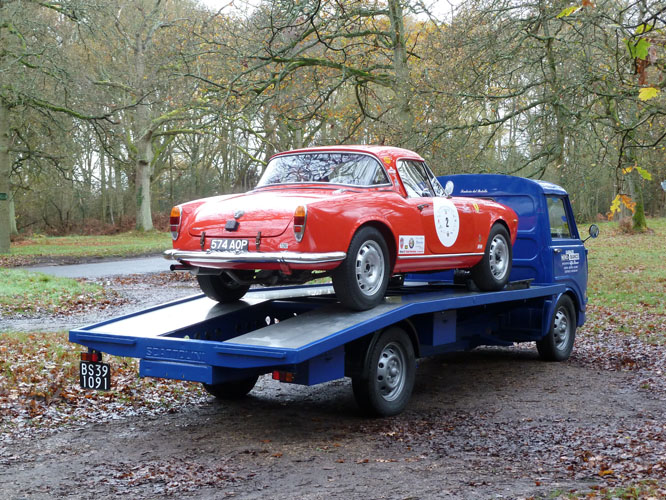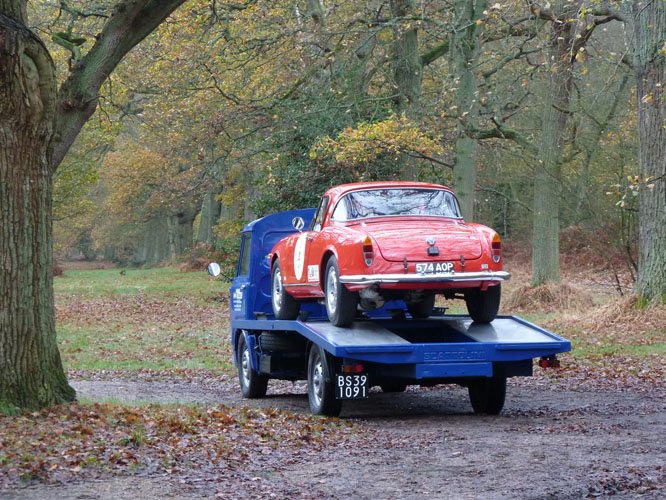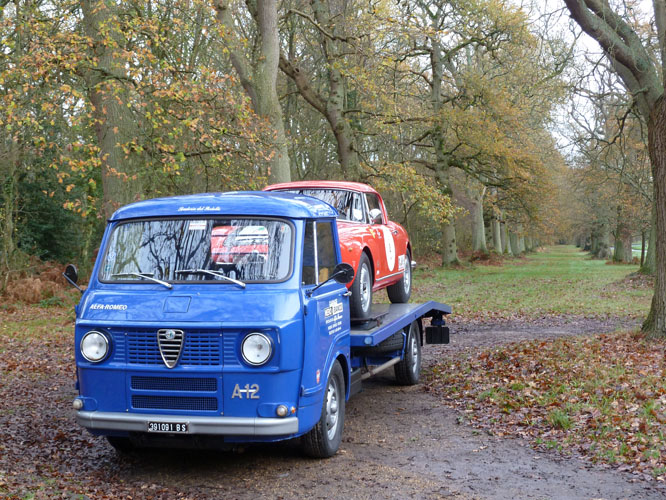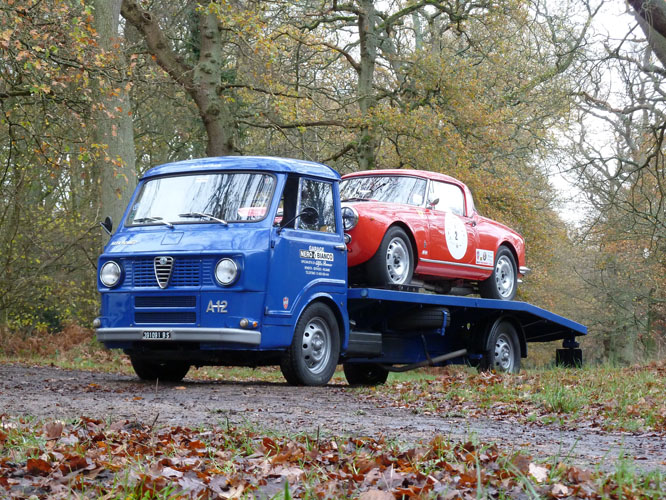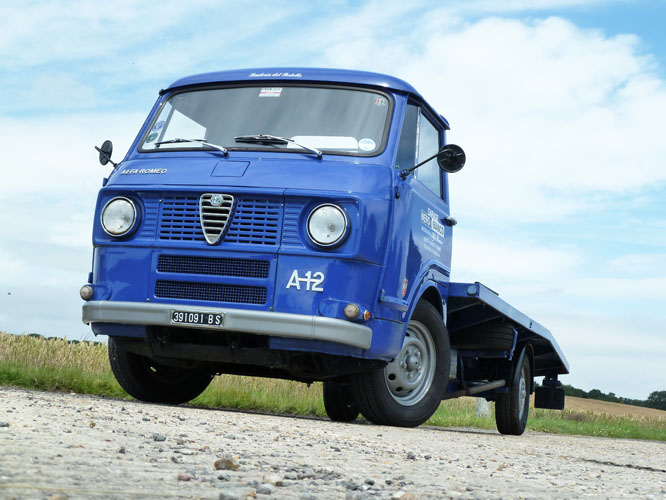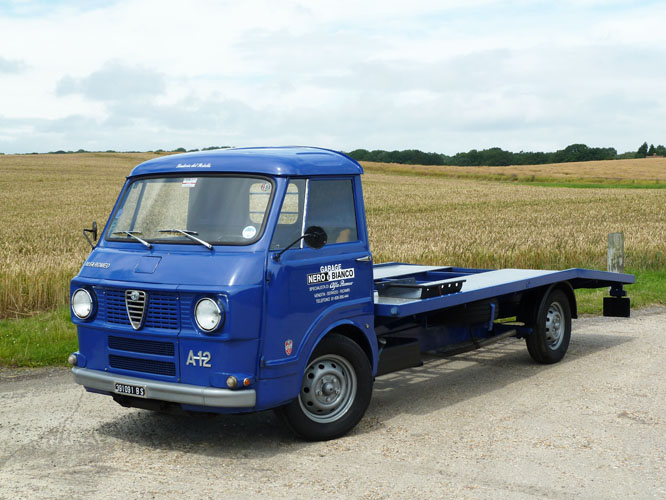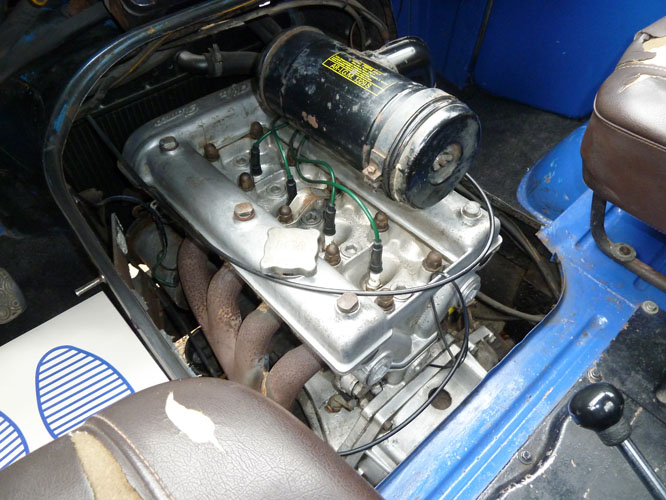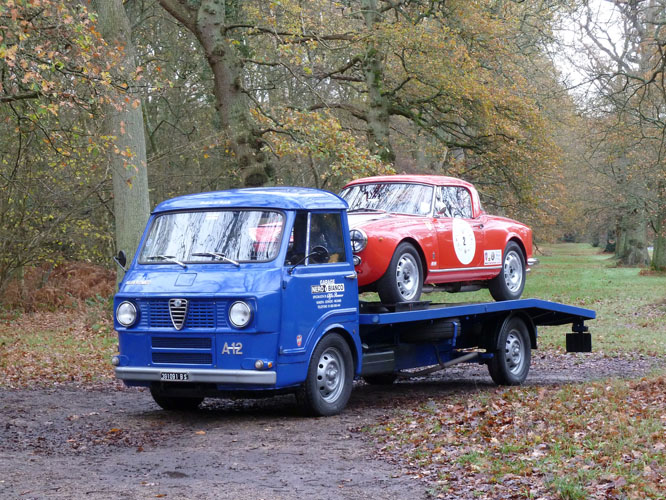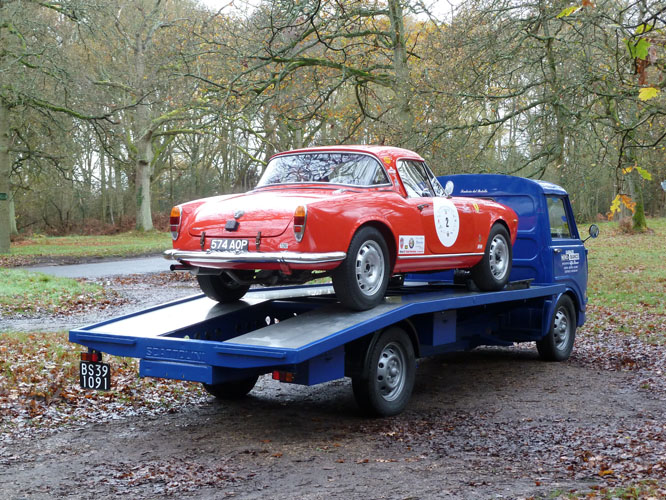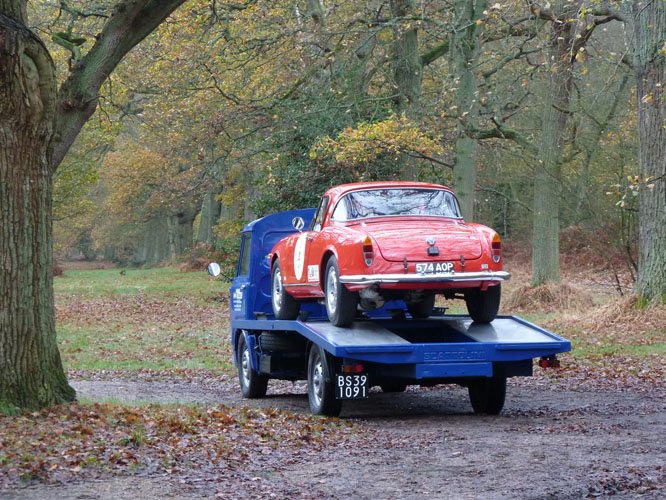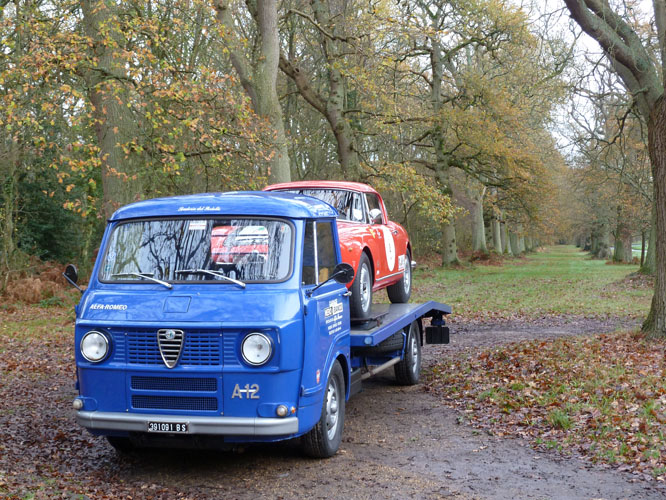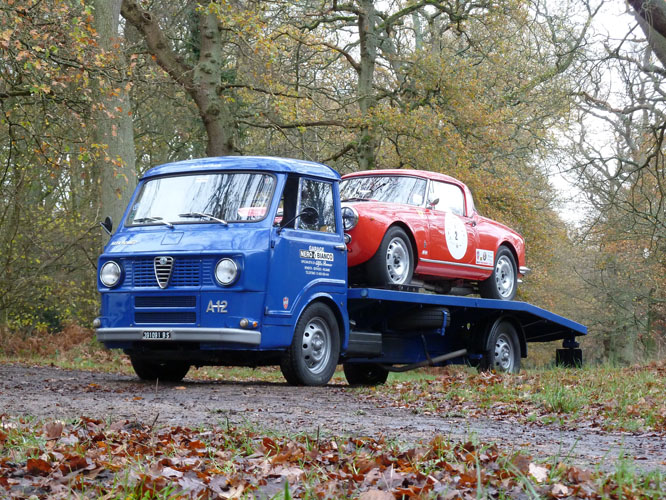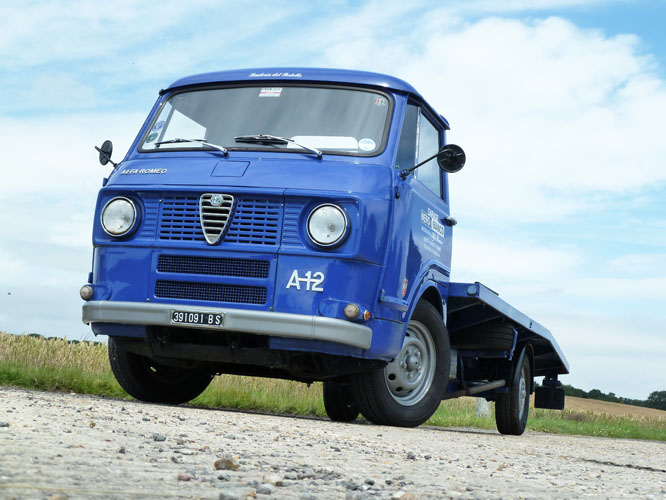 1972 Alfa Romeo A12 Car Transporter by Scattolini
Engine: 1290cc twin-cam four cylinder

Transmission: 4 Speed Manual

Year: 1972

Registration: XJB 609L

Mileage: 61,000

Exterior Colour: Blue

Interior colour and material: Brown vinyl
VIEWING BY APPOINTMENT ONLY PLEASE.
- This A12 joined our Black & White Collection in June 2008 and was sadly sold at the Goodwood Revival auction in September 2012. We regretfully parted with it due to a lack of use, storage difficulties (!), and the purchase of another more usable vehicle (our Giulia Giardinetta).
- We purchased the A12 from a gentleman who lives just east of Turin who used it regularly for his business to transport his collection of cars to film locations.
- Manufactured as a cab and chassis combination on June 19th 1972 and sold new on October 9th 1972 in Palazzolo sull'Oglio which is just west of Brescia in northern Italy. It was then dispatched to the vehicle coachwork constructors Scattolini who are based near Verona for the car transporter body to be fitted which gave it a carrying capacity of 1,000kgs. This work was completed before the end of 1972.
- Road registered in the UK by us in October 2008.
- There are only two A12 Car Transporters known to be in England and very few are left in the world.
- Previously registered in Italy on the Brescia plates of BS 391091 and in England as 465-AGB.
- This A12 has never been fully restored. It was repainted a darker shade of its apparently original blue between five and ten years ago and remains in very good condition. It is not perfect, but very presentable. We carried out a mechanical re-fresh when we purchased it, replacing many steering and drive train components, and it now drives well. Our Giulia Spider Corsa in the photographs is not included in the sale!

Events we have exhibited this Alfa Romeo at:
- Classic and Sportscar Magazine Thatcham Classic, Berkshire - October 11th 2008.
- Classic Motor Show, NEC, Birmingham - November 14th to 16th 2008.
- Alfaholics track day, Castle Combe, Wiltshire - April 4th 2009.
- Race Retro, Stoneleigh Park, Warwickshire - March 12th to 14th 2010.
- National Alfa Weekend, Shelsley Walsh hill climb, Worcestershire - August 21st to 22nd 2010.

A brief history of small Alfa Romeo commercial vehicles:
Few people realise that Alfa Romeo, the historical and charismatic marque that has built some of the finest and most beautiful cars, made a competent range of hard working commercial vehicles in their varied past. In fact, they used to be the oldest commercial vehicle manufacturer in Italy after the mighty FIAT.
Many manufacturers were forced to diversify during the war years and Alfa Romeo was no exception. As well as continuing its car and lorry production it added stationary engines, tractors, and some household appliances to its catalogues, including a few kitchen stoves of which just two are known to survive in the world.
Alfa Romeo produced its first commercial vehicle in 1914 with a lorry based on the 20/30hp car chassis. Many lovely trucks followed and were produced with Alfa Romeo's typical Italian design flair, but by the late 1940's the car and commercial vehicle production lines at Alfa Romeo's Portello factory on the outskirts of Milan began to trip over each other, so the company expanded its production facility in southern Italy at Pomigliano d'Arco near Naples where they manufactured aircraft engines, and relocated commercial vehicle production there in 1948.
The Alfa Romeo Camion (truck) brochure offered a range of large trucks in all shapes and sizes to suit the demanding and various needs of the commercial vehicle purchaser, some bodied by the factory and others by creative coachbuilders who were able to produce almost whatever the client required. Some of the specialist body styles were just as beautiful as the exotic cars of the time, as could only be achieved in Italy.
Alfa Romeo produced a range of large trucks in all shapes and sizes to suit the demanding and various needs of the commercial vehicle purchaser. Their most popular derivatives of the 1950's were the 450 and 900 series which were produced from 1950 until 1959. The Mille was then introduced as its replacement but it was not well received by potential buyers. Customer expectations were getting higher and the competition from the likes of FIAT, Lancia, and OM were getting tougher. The Mille was troubled by reliability issues and its 10,000cc six cylinder diesel engine (later 11,000cc) proved to be underpowered and unreliable. Despite the Mille being a fine looking machine with a larger version of the beautiful Giulietta grille adorning its curvy front, production was to end in 1964, just six years after it was introduced.
What Alfa Romeo really needed was a smaller commercial vehicle, so the early 1950's saw the design and development of something smaller than their current offerings. Launched in early 1954, the "Romeo" was produced alongside the larger Alfa Romeo trucks at the Pomigliano d'Arco factory, and was the first Alfa Romeo commercial vehicle to be made only with left hand drive steering, all other Alfa Romeo trucks having had right hand drive steering. Amazingly this vehicle in all its derivatives and models would be produced until 1983.
The Romeo was rather revolutionary as the petrol engine that powered it was the twin overhead camshaft 1,290cc aluminium unit from the Giulietta road car, and if that wasn't unusual enough, the engine's 37 horse power was delivered through a four speed ZF gearbox to the front wheels. A diesel engine was offered which was equally unorthodox being a supercharged two cylinder unit, but it proved to be unpopular.
Alfa Romeo was not immune to placing detuned versions of its wonderful twin-cam engines into vehicles in which you would not expect to find them. With the rumour circulating in 1951 of Fiat designing a Land Rover style vehicle for the Italian Army, Alfa Romeo designed and produced the 1900M AR51 in just over a year. AR stood for Autovettura da Ricognizione which translates to Reconnaissance Car, and the engine was the twin-cam 1,884cc petrol unit usually found in the 1900 Berlina and Sprint. Sadly they cost too much and after the Italian Army acquired their first batch in 1952 they switched to using the cheaper FIAT Campagnola. Only 2,011 AR51's were manufactured in 1952 and 1953 and there was an AR52 launched in 1954 of which just 154 were built, but it is unsure whether this was simply an updated version of the AR51 or a civilian version (as the Army had cancelled their contract). These were hugely capable machines and their go-anywhere abilities soon gained them the nickname "Matta", roughly translating as "crazy" in recognition of their extraordinary capabilities.
Returning to the subject of the Romeo van, numerous body styles were offered by the factory to suit the needs of most purchasers, but if something more tailored or elaborate was required then a chosen carrozzeria could have provided minibuses, car transporters, advertising units, and mobile market stalls, to name just a few.
In 1956 the Romeo was replaced by the Romeo 2 which was visually identical except for the badging, and the model range was also unchanged. In 1966 the third series of the Romeo was introduced, and although it really should have been called the Romeo 3, it was in fact just known as the Romeo. Production lasted for only about six months or so and differences between it and the Romeo 2 were mainly the adoption of an adjustable driver's seat, and a hydraulic clutch rather than a cable one.
In 1967 the front panel of the Romeo 3 was updated with a wider chrome and mesh grille and became known as the A12 (A for autocarri - truck cab version with open chassis) and F12 (F for furgoni chiusi - closed van version). The 1290cc engine now had 52 hp and in 1973 a four cylinder Perkins Diesel engine was also offered, as fitted to the Giulia Saloon.
Between 1967 and 1971 two models were available alongside the A12 and F12 named the A11 and F11. These were visually identical to the A12 and F12 but had a lighter payload and a lower engine horsepower. Some Italian cities stipulated the carrying capacity and horsepower of commercial vehicles had to be below certain amounts for them to be allowed into the city centre, and therefore the 11's were allowed into places the 12's were not.
The final incarnations of the A and F series vehicles were launched in 1977 and featured black plastic grilles instead of the chrome and metal ones of the earlier models, and the chrome badges were replaced by black stickers. Production sadly ceased in 1983, however, available from the late 1970's was an Iveco Daily based Alfa Romeo AR8 which was a joint venture with Fiat, Iveco, and OM. It's early 1980's replacement was based on the Fiat Ducato and was a result of a collaboration between Fiat, Peugeot, and Citroen. Badged the AR6, it was also the last Alfa Romeo commercial vehicle, and when the Fiat Group purchased Alfa Romeo in 1986, production of Alfa Romeo AR6's was reduced and then finally stopped in 1988.
The Romeo and later A12/F12 ranges were also manufactured in Spain by a company called FADISA (Fabricacion de Automoviles Diesel SA) under licence from Alfa Romeo. Fadisa's logo on the grille badge was very similar to Alfa Romeo's and had Fadisa at the top and Lic. Alfa Romeo at the bottom. The early Romeo variants manufactured in Avila from 1959 were badged as "ROMEO" (as were the Alfa Romeo produced ones), however there were two further badges on the front panel below the windscreen showing FADISA on one side and AVILA on the other. Later versions had a 3-bar grille (rather than six) and "Romeo Fadisa" badging. Coinciding with Alfa Romeo's launch of the A12/F12 range in 1967 was Fadisa's absorption into Spain's Motor Iberica Group. The new owners followed Alfa Romeo's launch and introduced the A12/F12 bodied vehicles but named them the Ebro F100. They were almost visually identical to the Alfa Romeo variants, with a notable difference being the use of earlier Romeo style wheels due to the retention of the Romeo's drum brakes (the Alfa Romeo's now had disk brakes at the front). In 1971 the F100 was replaced by the F108 and featured oblong headlights as opposed to the round ones fitted to the F100's, A12's, and F12's, and production would continue until 1976 when Ebro replaced the F108 with a Nissan derived van.